How to Be a Confident Wife in Your Marriage
No marriage is perfect. No wife can be perfect and strong all of the time. Yet, we have that pressure and expectation that all should be well.
It's not easy being a confident wife throughout!
We lose confidence in ourselves and our partners when things go wrong. We begin to question our qualifications for the role.
There are lots of situations where our confidence as a wife may take a beating. As long as we remember why confidence is so important, and how to regain it, it will all work out.
Who is a confident wife?
A confident wife is the one who can enjoy married life, knowing that they are doing all they can to hold up their side of their arrangement.
Some women still hold on to those traditional views of "honoring" their spouse and working to be the best wife possible. Whether this translates as being a good provider, homemaker, carer, or mother to your children are all signs of a confident woman.
Whatever your chosen role, you need to have the confidence in yourself to perform those tasks with ease and continue to have a happy, healthy marriage.
You need to have the self-confidence in knowing that you are still a woman with the dignity, strength, talents, and personal traits to be the best version of yourself.
Yes, you need the confidence to be a good wife without losing yourself in the process. And this is how you become a confident wife!
Why does a wife lose her confidence?
Stress and trials of life can damage the conviction of a confident wife.
If you got married a while ago, the "honeymoon" phase is almost certainly over, and you are now deep in the heart of marriage. This is where those "for better or worse" vows come into play.
There will be times of trouble where you begin to doubt your worth and lose confidence in your abilities as a wife. Perhaps you are struggling to take care of the kids, home, and other responsibilities, as the pressure mounts up.
Perhaps you are dealing with a time of bad health or low income and struggling to adapt. Feelings of failure, or just the fear of failure, can be enough to limit confidence.
Deeper issues can arise when we then lose confidence in the marriage, not just in ourselves.
There may be times where you question the abilities of your spouse to provide in dark times. You may wonder if they are still as committed or in love as before as you drift apart or fight over problems.
From there, you may end up in a vicious cycle. The more you sink into fear and doubt over the health of the marriage, the worse you feel about your own views.
You might then punish yourself for questioning your partner, increasing your own lack of self-confidence. This deepening wound may affect your relationship further. And on it goes!
How to revive the confidence as a wife?
When that confidence begins to falter and deal with those feelings of doubt over our role as a wife, where should we turn? How to act confident?
The answer to regaining self-confidence as a wife or as a cohesive team could come from a range of different sources.
You might find that one of these solutions resonates best, or that you might want to try a combination.
Turn to your faith.
Many women find that their faith in their chosen God can offer comfort in these difficult times. Those who brought God into their union and married in their place of worship may find that reconnecting can help.
Their confidence as a wife can swell when they focus on the impact of that faith and God's place in the relationship. This belief in unconditional love from a higher being can help with enhanced feelings of acceptance.
Those lacking in self-worth from emotional, physical, or financial hardship may read their religious text and realign their focus.
For others, the deep-rooted belief that a higher power brought the two of you together can be enough to strive to work things out.
Just because you are having a rough month and placing unrealistic expectations on each other doesn't mean that your role or compatibility has changed.
Getting back to the root of faith in that higher power and the relationship's validity can help revive yourself as a confident wife.
Turn to each other.
Turning to your faith is a good starting point for strengthening that foundation and understanding your current crisis in confidence.
But, you also need to have communication with each other to understand the depth of feeling on both sides.
Confidence as a wife can be as much to do with the actions and views of our spouses. When we become detached, confused, and self-doubting due to our separate role, it helps to come together for a while to talk things over.
If you keep telling yourself, "I am not enough right now for the person I love", this can eat away at you if you bottle it up. Give your spouse the chance to respond and soothe those fears.
For some, the solution here could be as simple as a date night. This offers the chance to be alone, away from dependants, problems, and stress, with undivided attention.
Go somewhere you feel happy and secure together. Recapture what it's like to be the person they fell for. Remind each other why you married and why this is going to work.
Alternatively, you could turn to couple's therapy and have a mediator help the process alone. Whatever path you choose, remember that eventually, you are a confident wife!
Also Watch:
Wrapping up
Find your confidence as a wife for your own self-worth!
There are different motivations for wanting to build confidence as a wife. Whether it is due to a feeling of insecurity in a relationship or a disconnect with the person you were, there are answers out there.
The first step is to acknowledge how you feel and realize the validity of your feelings. Then you can delve deeper into the reasons and solutions to help you regain that confidence and become a better wife.
With the right approach, you can not only become the confident wife your spouse deserves but the one you are comfortable being.
Share this article on
Want to have a happier, healthier marriage?
If you feel disconnected or frustrated about the state of your marriage but want to avoid separation and/or divorce, the marriage.com course meant for married couples is an excellent resource to help you overcome the most challenging aspects of being married.
More On This Topic
You May Also Like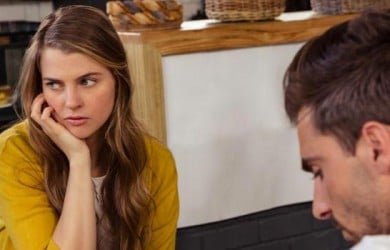 Popular Topics On Married Life