15 ways to break a soul tie with an ex
Have you ever wondered how to break a soul tie with an ex? If you want to know more about this or simply want to know what a soul tie is, this article can help. Keep reading for advice on letting go of a soul tie.
What is a soul tie?
A soul tie occurs when you feel like you have a meaningful connection with another person. You feel like your soul must be tied together with them. This is a deeper connection than you may have experienced with other people, including family and friends.
For more details on the soul ties meaning, check out this video:
5 types of soul ties
If you think that you are experiencing a soul tie, there are a few different types that are common. Here is a look at each of them. You may need to know what type you have with someone when you are interested in learning more about how to break a soul tie with an ex.
1. Closeness
This type of soul tie will cause you to feel a closeness with another person almost immediately. They may also cause you to have various feelings, each of which will be powerful to you.
Related Reading: 

How to Feel Close and Connected With Your Partner
2. Safety
This soul tie occurs when you feel like someone has saved you from something. It may happen when someone comes into your life after you have suffered a loss or gone through a life-changing event.
3. Power
Another type of soul tie may have you feeling like you are getting energy from another person. Even if they aren't around, it could seem like their support is getting you through your day.
4. Intimate
This soul tie happens once you are in an intimate relationship with someone. After you have had sex, this may allow you to have feelings and experience emotions that are difficult to ignore.
5. Long-lasting
A long-lasting soul tie is one that you may not be conscious of and can last long. Upon meeting someone, your soul may entwine, and you may experience feelings for a person for many years.
Related Reading: 

5 Keys of Long Lasting Love
10 Symptoms of soul ties you can recognize
If you are wondering what a soul tie feels like, here are a few signs of soul ties that you may want to pay attention to in your life.
1. You feel an instant connection
Sometimes, you may feel like you have an instant connection with someone. This indicates that there is a soul tie between them.
While you can click with anyone you meet, if this is something that you are able to keep up with and continue feeling for a while, this is likely a type of soul tie.
Related Reading: 

20 Signs You Are Spiritually Connected With Someone
2. You never run out of things to talk about
You may be in a relationship where you feel like you are able to talk about anything at all and never run out of topics. This can be a good thing and a bad thing.
While it can ensure that you keep on communicating, it may also cause you to not be able to talk about serious issues with a mate.
3. You have similar experiences
When you are learning about your partner, you may find out that you have experienced many of the same things. This is a symptom of a soul tie you may not be aware of.
If you have been through some of the same types of trauma as your mate, this can be something that causes you to heal each other or have the same issues when it comes to healing.
4. You think about them constantly
While everyone may think about their significant other a lot when they first start dating, if this doesn't go away and keeps you from getting things done, this may be another sign that you should pay special attention to.
5. You are sometimes thinking the same thing
Perhaps your partner asks you what you want for dinner, and you tell them what you want, and they say they were thinking the same thing.
This is something that can happen in any relationship and may mean that you are often on the same page. However, it may also mean that you are too alike in personality.
6. You feel like you need them to make you whole
If you feel like you wouldn't be a complete person without your partner, this is something that may be problematic. Remember that you are a whole person without anyone else, but you may make sense together.
It isn't bad to feel like you and another person complement each other and are each other's better halves, but you should make sure that you understand that you will still be you even if they leave the relationship.
7. You feel passionate about them
Do you feel passionate about your partner? Do they cause you to feel various emotions, and each one is very powerful? You should also pay attention to this, since it may not be healthy.
While you may have strong feelings of love during any relationship, if they are also causing you to feel other powerful feelings, even negative ones, this is something that should be evaluated further.
Related Reading: 

15 Signs of a Passionate Relationship
8. You may be borderline obsessed with them
Along with feeling very strongly about your partner, you may also become slightly obsessed with them.
You might need to know what they are doing, who they are talking to, and anything else that happens to them during the day. This could happen because you need to know everything about them.
9. You are ignoring things you don't like about them
Many times, you may be ignoring red flags about your partner's behavior because you feel so strongly about them.
Try not to do this. It can not only become dangerous, but it also doesn't allow you to see how a person behaves.
If your mate is doing things that should make you uncomfortable, even if you aren't recognizing it right now, this may bother you later. Bad behaviors or traits are one of the reasons you may consider cutting soul ties with a person.
10. You don't recognize who you are anymore
Sometimes, you might feel like you aren't acting like yourself. This could be because you need to consider breaking soul ties with someone. A toxic soul tie could cause you to change your behavior and act in ways that are not like your normal character.
There are many different methods on how to break a soul tie with an ex. Here are some that may be easy for you to execute once you are ready to cut soul ties with an ex.
1. Pay attention to your gut
Sometimes you may feel like something isn't right in your relationship. This is when you should take the time to listen to your gut. If you have a feeling like you need to change your relationship, or at least talk to your partner about how you feel, this is something that you should do.
2. Think about your decision
Once you take the time to think about what you want, you also need to decide what you want to do about your relationship and your life. This could include learning more about how to break soul ties.
3. Decide to do it
When you have thought about what you want to do, it is time to start planning the next phase of your life. After discovering how to break a soul tie with an ex, you can choose what you will do and execute your plan.
After all, you owe it to yourself to live your life as you want. If someone keeps you from doing that, you may need to get them out of your life.
Related Reading: 

Ways to Make a Strong Decision Together
4. Don't talk to them
One way to rid someone of your life is to stop communicating with them. Even if you haven't told your ex that you are trying to break a soul tie with them, you can still stop talking to them on all fronts.
This can give you time to process how you feel, and it may also help you stop thinking about them so much.
5. Work on yourself
Take the time to work on yourself. You need to make sure that you pay attention to your own needs and health so you don't become sick or suffer from too much stress yourself. Try to get the right amount of sleep, eat a healthy diet, and exercise regularly.
Related Reading: 

10 Ways on How to Put Yourself First in a Relationship and Why
6. Take a social media break
Taking a break from social media may also be on your list of things to try for how to break a soul tie with your ex. Research states that staying away from social media or limiting yourself to a few minutes a day can help improve your mood and make you feel less lonely and anxious.
It may also help you stay away from your ex since you won't be seeing their posts or trying to DM them to see how they are.
7. Write down how you feel
Anytime you are able to write down how you feel, this could improve your mental health or overall well-being.
This is something that can also improve your mood. Try writing down thoughts when you are having a rough day or deciding what you want to do about breaking soul ties.
8. Stay with a friend
Sometimes a change of scenery may be in order. Consider staying with a friend when you are attempting the process of how to break a soul tie with an ex. Not only will they be able to distract you, but they can also provide you with a bit of advice and guidance.
Additionally, telling your story and your situation to someone you trust may help you determine exactly how you want to handle the situation of how to break a soul tie with an ex.
Related Reading: 

10 Ways to Help a Friend in a Bad Relationship
9. Confide in friends
Even if you don't stay with a friend, you can still talk to them about how you feel. You may be surprised that your friends have special insight into this matter, but it is possible.
Besides that, they will be able to offer you some of the support you need to get through this severing of a soul tie that is weighing you down.
10. Stay busy
Another thing you can do is stay busy. When you are busy working, having a social life, or just taking care of yourself, it may be harder to think about your ex, soul ties, and anything else that isn't right in front of you.
In other words, this can give you the time you need to process your feelings, so they will be easier to manage when you stop and take a break.
11. Talk to a counselor
You should always talk to a counselor when you feel like you need to. They can help you process your feelings, learn more about how to break a soul tie with an ex, and much more. You can consider relationship counseling or individual counseling, whatever you think will work well for your purposes.
12. Address your self esteem
Some people may be experiencing a soul tie with the wrong person because of low self-esteem. On the other hand, you may be experiencing an issue with your self-esteem when you haven't broken a toxic soul tie with someone.
This is something else that a therapist can help with, or you can remember that you should take breaks when you are stressed or anxious. A break can improve your mental health, especially if you take a few minutes to go outside and enjoy nature and the world around you.
13. Remember what your goal is
It is a good idea to never lose sight of your goal. You need to reach your goal of how to break a soul tie with an ex so that you don't have to think about them and feel connected to them anymore, especially if this is affecting many aspects of your life.
Keep working at it and celebrate successes. Always lean on your support system when you need to or if you need a kind word.
14. Get a hobby
If you don't know anything that will help you keep busy, it may be time to start a new hobby. You may want to learn how to cook something by watching videos on how to do it or learn a new language.
These activities can take up your time and prevent you from thinking about someone when you know you shouldn't.
15. Move on with your life
After some time, it may be time to move on. You can start dating again, get a plant, or adopt a pet, which can help you stop thinking about your ex. One of the best ways related to how to break a soul tie with an ex is to do your best to stop thinking about them.
Do everything you can to keep moving on with your life, so you can see where your journey takes you. Before you know it, you may find someone else to think about.
Related Reading: 

15 Ways on How to Accept and Move on From a Relationship
FAQs
Let's discuss some of the most asked questions about soul ties and twin flames.
Do soul ties affect men?
Both men and women can be affected by soul ties. Anytime someone has grown close to another person, whether they have been sexually intimate with each other or not, it is possible that they may develop a soul tie. If they have gotten intimate with each other, they may be experiencing sexual soul ties.
Can soul ties be one-sided?
A soul tie can be one-sided. One person in a relationship may feel like they have a special connection to their partner, and the other one may not feel the same way about them.
Are a soul tie and twin flame the same?
They are not the same. In general terms, a soul tie is usually a person you have a sexual relationship with, while a twin flame can be anyone in your life, even a friend or family member. However, this isn't always the case.
Can you break a soul tie?
Yes, it is possible to break a soul tie if this is something that you want to do. However, doing so may take time and energy. Furthermore, you may need to work with a counselor or therapist for the most help.
What happens when you break a soul tie?
Once you break soul ties, you may feel like you don't have such a deep connection with someone. You may be able to forget how they made you feel and change your behavior for the better.
For instance, if your soul tie was causing you to be nervous and try to please them all the time when you break this connection, you might start to feel like yourself again.
Takeaway
There are so many things to consider when you are finding out how to break a soul tie with an ex. Once you notice any signs in your relationship and aren't happy with them, it may be time to end the relationship and start breaking your soul tie with a specific person.
It is possible to do so, especially if you stay focused on your goal or work with a counselor when you need more help.
Share this article on
Want to have a happier, healthier marriage?
If you feel disconnected or frustrated about the state of your marriage but want to avoid separation and/or divorce, the marriage.com course meant for married couples is an excellent resource to help you overcome the most challenging aspects of being married.
More On This Topic
You May Also Like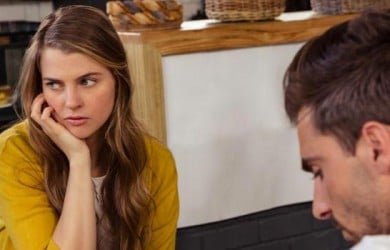 Popular Topics On Married Life