Soul Tie: Meaning, Symptoms and How to Break Them
People often wonder what connects them to others and why they feel so connected to some people and not others.
The answer may lie in our soul ties. We all have these unseen connections to others that exist outside of our normal social interactions. We may feel close to certain people in our families, our circle of friends, or even co-workers that we simply do not understand.
Have you ever noticed that you feel inexplicably drawn to a certain person even though you do not know them personally?
You may also notice this connection when you are with that person or when you have interactions with those people that trigger strong emotions. Let's learn a bit about what a soul tie is and how to identify one in your life.
What are soul ties?
Soul ties are relationships that we develop with others during our lives. They can be positive or negative, but they have a powerful impact on our lives.
The way we feel about our soul ties is a reflection of how we think about ourselves. If we feel negative about our soul ties, we may feel trapped or stuck in our circumstances, and our lives may seem meaningless.
In short, soul ties means 'binding your life to another person.' It's basically something that binds two people together forever. The bond can be strong and shallow, but more often than not, it is very deep and meaningful.
It's like a spiritual bond between two people, giving them a sense of fulfillment and happiness in their relationship. Know more about it here.
How do soul ties start?
Soul ties start when we are deeply in love and feel extremely close to someone. Every relationship is unique, and some can be deeper than others.
There is no set rule for soul ties, as each one of us has our own set of experiences in life. Since these soul ties are created at a deep level within ourselves, we often don't remember having this connection before in our lives.
However, we may notice that we start feeling a strong emotional pull towards a particular person when we meet them for the first time. The feelings that we have for someone are not rational thoughts. They are instinctive and emotional responses that we experience deep inside us.
A relationship based on strong emotional connections often develops into a lifelong soul tie because of the deep love that the two people feel for each other. Sometimes a person will fall in love with you without even knowing it!
You can't force someone to love you, but if a person is attracted to you, they will likely have a soul tie with you as well.
10 symptoms of a soul tie
Many people are unaware that they may have a soul tie.
If you are one of these people, here are 10 signs that you may have a soul tie. If you identify with any of these symptoms of soul ties, it may be time to explore what this means for your life:
1. You relate to your partner's issues as if they were your own
Sometimes, people with soul ties take on their significant other's problems as if they were their own. You may feel compelled to give your energy to help your partner when they are having a bad day or having a hard time with something. This may leave you feeling drained and exhausted.
2. You find yourself constantly seeking approval from your partner
It can be easy to feel like you need to be validated by your partner in order to be loved. This can cause you to crave your partner's approval and want to please them in any way that you can. You may even sacrifice your own happiness in order to achieve this.
3. You are constantly afraid of upsetting your partner
Even when you attempt to maintain your independence and do things for yourself, you may still feel that you need to be in constant contact with your partner to avoid upsetting them.
This may cause you to be very anxious when you are not able to get in contact with them and it can cause you to second guess your decisions out of fear that they may react negatively to them.
4. You feel jealous and resentful towards your partner
Feeling jealous and resentful towards your partner may be a sign that you have a soul tie. You may be subconsciously resenting the fact that you cannot live your own life the way that you want to. Or you may be jealous of your partner's freedom and independence.
Related Reading: 

15 Tips on How to Stop Being Jealous in Your Relationship
5. You have difficulty making plans for the future
Having trouble making plans for the future can be a sign of a soul tie. You may feel that you don't have any control over your future and feel powerless to make positive changes in your life. You may feel that you have very little to look forward to.
This can lead to feelings of hopelessness and depression.
6. You find it difficult to get through the day on your own
You may also find that it is hard for you to get through the day without the assistance of your significant other.
You may find yourself relying on them for support or just feeling the need to have someone around all the time. If you find that you have to rely on the help of your significant other regularly, this can be a sign of a soul tie.
7. You feel as though your life is not your own
You may also feel like you are living someone else life and not your own. You may feel as though you have no control over your own life, and it seems as though you have little or no control over what happens around you.
You may feel like you have lost your identity and no longer feel like the true version of yourself. This can leave you feeling lonely and depressed.
8. You feel as though you need their approval or validation
It may also be that you feel that you need the approval of your significant other in order to feel good about yourself and believe that you are doing things correctly.
You may feel as though you have to have their approval for everything you do or feel you need their validation for every decision you make. This may leave you feeling like you are not good enough for yourself, which can be discouraging and lead to feelings of depression.
9. You feel angry, hurt, or sad when you are not with them
You may also find yourself feeling angry, hurt, or sad when you are not with your significant other. You may feel as though they have abandoned you and that you are no longer important to them.
You may feel as though you have lost everything, and there is nothing left for you to hold on to. This can leave you feeling helpless and hopeless which can eventually lead to depression.
Check out these signs of abandonment issues:
10. You are filled with anxiety and worry when they are gone
You may also find that you have a lot of anxiety and worry about what is going to happen when you are away from your significant other. You may feel as though you are going to miss them and that you are going to regret your decision not to see them.
You may feel as though you will never be able to experience happiness without them in your life.
This anxiety can make you upset and angry and cause you to start worrying excessively about what will happen without your significant other by your side. This can leave you feeling stressed and anxious, which can lead to depression.
How to break a soul tie: 15 effective ways
You may be struggling with a soul tie, which is defined as a connection between two people that goes beyond typical friendship or family ties. You may be wondering how to break a soul tie.
Here are 15 effective ways to break a soul tie and improve your life:
1. Create a "Soul Mate Map"
Name it anything you want and list all the reasons you do not want to be connected anymore to that person.
If you have had a loving relationship with this person in the past, it is likely that you feel great love for them even now; but by reminding yourself of all the reasons why you are better off without them in your life, it will be easier to let go of this soul tie.
You can use your map as a daily reminder of why this person does not belong in your life. This helps you release the negative emotions associated with them.
2. Place an image of the person on your altar in your house
Wondering how to get rid of soul ties? Keep their picture on the altar for at least a week. This helps to create distance from the person and makes it harder for you to think about the ways you used to connect with them.
Ideally, you should try to keep this image of the person you are no longer connected to for the rest of your life, as it will help you prevent them from coming into your life again in the future.
It is also a good idea to place the image in a spot where you can view it every day as a reminder that you do not want to reconnect with this person again.
3. Keep your distance physically
Avoid visiting places where you know you are likely to run into them. Also, for cutting soul ties, limit your time on social media so you can avoid looking at posts from your old friends and family.
Be careful about who you associate with because being around the wrong people can hinder your progress towards wholeness and happiness.
4. Declutter your room of things that remind you of this person
Throw away any photos you have of them or the clothes they used to own. These will only serve as a reminder of your broken relationship.
Although you may be tempted to hold onto these things as a way to hold on to the memories of your past relationship, you will find that these things will only make you feel more depressed and frustrated.
Instead, focus on creating new memories that have nothing to do with your past relationship. This will allow you to move forward with your life and find new meaning for your life.
5. Make an effort to spend more time doing activities that you enjoy
This will help you relax your mind and forget about the past. Try to avoid thinking about your ex as much as possible and instead focus on the present and the future. This is a great way to help you deal with the pain of losing someone you loved so dearly.
6. Look for a distraction
Deviate your mind to help you get your mind off your ex and the painful feelings you are experiencing as a result. This can be as simple as walking in the park or having a few drinks with your friends after work.
It is important that you do not allow yourself to dwell on the past and focus on the positive things that are happening in your life today. This will help you stay positive and motivated so that you can succeed in your journey to healing and self-love.
Related Reading: 

10 Ways of Being Present in a Relationship

7. Journaling
Journaling can also help you overcome the pain you are feeling after a breakup by allowing you to express your feelings on paper in a safe way.
Writing about your feelings can help you process your emotions and give you the courage to move on with your life in a positive way.
You can also use your journal to record your thoughts and experiences to help you reflect on what happened in the past so you can learn from it and make better choices in the future.
8. Focus on developing new and healthy relationships
This is an important step on the road to healing because it can help you avoid feeling lonely and isolated as you heal from your heartbreak. Developing close bonds with other friends and family members can leave you feeling happy and secure and improve your self-esteem at the same time.
9. A hot bath
Take a hot bath on a regular basis to relax your body and calm your mind after a bad day
Hot baths can also help soothe your muscles and help you recover from an injury or a physical injury such as a sprain or a broken bone. Taking a hot bath is a great way to relieve stress and anxiety after a long day and help you relax and unwind after a long day of work.
10. Bring exercise into your routine
Regular exercise can also help relieve stress and anxiety after a breakup by improving your physical health and fitness at the same time
Doing aerobic exercise for 30 minutes daily can help relieve stress, improve your sleep, and improve your mental health. Working out on a regular basis can also help you look and feel good and improve your overall health as well.
Try to incorporate at least 30 minutes of cardiovascular exercise into your exercise routine three times a week to improve your mental and physical health.
11. Join a support group in your community
Consider joining a support group in your community where you can meet other people going through the same thing
This is a great way to share your experiences with other people and get emotional support when you need it most. It can also help you realize that you are not alone and that other people are going through similar experiences as well.
12. Be intentional in taking care of yourself
Do your best to take care of yourself while you are recovering from a breakup. It is very important that you take time for yourself and focus on your own well-being during this process.
If you are not able to spend time with your friends and family because you are too busy focusing on your emotional health, try to focus on taking good care of yourself instead.
13. Get plenty of rest while you recover from a breakup
Sleep is one of the most important aspects of maintaining good health, and it is even more important when you are going through a breakup. Getting plenty of rest every night can help you cope with the stress you are feeling and improve your mood at the same time.
14. Make a list of things you love to do
Try to take the time to do the things you enjoy and that are important to you while recovering from a breakup.
If you make time to take care of the things that matter to you, it can help take your mind off your breakup and provide you with some much-needed stress relief. Make a list of things you love to do and do them as often as possible.
15. Take a break from social media
Learn to take a break from social media and other distractions so you can focus on healing from your breakup.
It can be hard to process your emotions when you're constantly surrounded by distracting messages and updates from people on social media and it can be very damaging to your mental health. Give yourself a break from social media and dedicate time to relaxing and focusing on your recovery.
More questions on breaking a soul tie
Check out more questions on breaking a soul tie with someone:
How do I know if I broke a soul tie?
Wondering, "Can soul ties be broken?" Breaking a soul tie is a spiritual process; there is no surefire way to know whether or not you have successfully broken one.
However, you may experience a sense of freedom, release, and emotional healing after cutting ties with a person or a past experience.
You may also feel less attached or emotionally dependent on that person or experience. It is important to engage in healthy habits and seek support from trusted friends or professionals during this process.
Can you be in love with a soul tie?
It's possible to confuse the intense emotional connection of a soul tie with love, but they are not the same thing. A soul tie is a bond formed between two people, often through shared experiences or physical intimacy, and can be unhealthy or destructive.
On the other hand, love is a deep affection and care for another person's well-being and growth rooted in mutual respect and trust. It's important to recognize the difference between the two and seek help if you find yourself trapped in an unhealthy soul tie.
Takeaway
Breaking a soul tie can be a difficult and emotional process, but it's essential for your mental and spiritual health. Couples therapy can be particularly helpful for addressing the impact of a soul tie on a relationship.
The 15 effective ways of how to break a soul tie offer practical strategies for releasing yourself from unhealthy bonds with people or past experiences. Whether it's seeking support from loved ones, practicing self-care, or seeking spiritual guidance, there are many ways to begin the process of letting go.
It's important to be patient with yourself and remember that healing is a journey. With time and effort, you can free yourself from a soul tie's emotional and spiritual burden and move forward with renewed peace and freedom.
Share this article on
Want to have a happier, healthier marriage?
If you feel disconnected or frustrated about the state of your marriage but want to avoid separation and/or divorce, the marriage.com course meant for married couples is an excellent resource to help you overcome the most challenging aspects of being married.
Learn More On This Topic
You May Also Like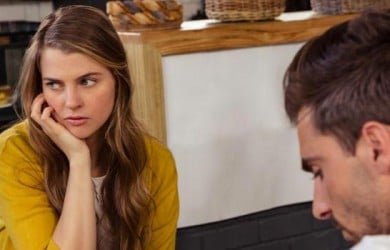 Popular Topics On Married Life