Unhealthy Soul Tie: Signs & How to Break it
Unhealthy soul ties can be emotionally draining and psychologically damaging, often trapping individuals in cycles of manipulation, control, and emotional distress. While the concept of a "soul tie" can imply a deep, meaningful connection, not all such ties are beneficial.
In fact, some can be downright toxic, affecting not just your emotional well-being but also your ability to make rational decisions.
Soul ties can be beautiful anchors in healthy relationships, they can also serve as chains that bind you to emotional distress, manipulation, and even abuse. Recognizing the signs of an unhealthy soul tie is the first step toward liberation.
Whether romantic, platonic, or familial, these unhealthy bonds can have long-lasting negative impacts if not addressed.
What is an unhealthy soul tie?
An unhealthy soul tie is a deep emotional or psychological connection with another person that becomes detrimental to one's well-being.
Unlike healthy bonds that lead to growth, mutual respect, and emotional support, unhealthy soul ties are characterized by manipulation, control, and emotional or even physical abuse.
These ties can form in various types of relationships—romantic, platonic, or familial—and often lead to a cycle of dependency and emotional distress.
The individual may feel trapped, unable to break free from the relationship despite recognizing its negative impact. Over time, an unhealthy soul tie can erode self-esteem, impair judgment, and lead to a diminished sense of self-worth.
What are the signs of an unhealthy soul tie: 9 signs
Recognizing an unhealthy soul tie is crucial for emotional well-being. These deep emotional bonds can be harmful, trapping you in a cycle of dependency and unhappiness. Here are 9 telling signs.
1. Emotional dependency
One of the most telling signs of an unhealthy soul tie is an overwhelming emotional dependency on the other person. You may feel incomplete or anxious without their approval or presence, leading to a cycle of emotional highs and lows that are dependent on their actions or moods.
2. Loss of personal identity
In an unhealthy soul tie, you may find that you've lost your sense of self and individuality. Your thoughts, opinions, and even your daily activities may become increasingly aligned with the other person's, to the detriment of your own personal growth and self-expression.
3. Manipulation and control
If you find that the other person is manipulating you emotionally, financially, or even physically, this is a strong indicator of an unhealthy soul tie. Manipulative behaviors can include guilt-tripping, gaslighting, and using affection or attention as a bargaining tool.
4. Isolation from other relationships
An unhealthy soul tie often leads to isolation from friends and family. The person you're tied to may discourage or forbid you from spending time with others, effectively cutting you off from your support network and making you more dependent on them.
5. Constant drama and emotional turmoil
Relationships with unhealthy soul ties are often fraught with drama. Whether it's constant arguments, emotional outbursts, or an endless cycle of breaking up and making up, the emotional climate is rarely stable or nurturing.
6. Physical or emotional abuse
Any form of abuse—be it physical, emotional, or psychological—is a glaring sign of an unhealthy soul tie. Abuse is never acceptable in any relationship and is a clear indicator that the relationship is not only unhealthy but also dangerous.
7. Obsessive thoughts
If you find that you're constantly thinking about the other person to the point where it interferes with your daily activities or mental well-being, this could be a sign of an unhealthy soul tie. Obsessive thoughts can also manifest as extreme jealousy or possessiveness.
8. Neglected self-care
In an unhealthy soul tie, you may neglect your own needs and well-being to please the other person. This can include neglecting your health, abandoning your hobbies, or even sacrificing your own happiness and emotional well-being.
9. Inability to envision a future without them
One of the most subtle yet telling signs is the inability to imagine your life without the other person, even if you're aware that the relationship is damaging. This emotional entanglement makes it difficult to take steps toward breaking unhealthy soul ties.
Can an unhealthy soul tie be broken?
Yes, an unhealthy soul tie can be broken.
A soul tie is a deep emotional connection, often negative, that binds two people. To break it, one must first recognize its existence and acknowledge its toxicity. Healing begins by distancing oneself from the person involved and setting boundaries.
Seek support from friends, therapy, or spiritual guidance to process emotions and regain personal strength. Self-care and self-love play crucial roles in the process.
Through time, reflection, and personal growth, the unhealthy soul tie can be gradually dissolved, allowing for healing, liberation, and the possibility of forming healthier connections in the future.
How can you break an unhealthy soul tie: 7 ways
Breaking free from an unhealthy soul tie is essential for your emotional health. If you're feeling stuck in a damaging relationship, here are 7 ways how to break soul ties with someone:
1. Identify the soul tie
The first step in breaking an unhealthy soul tie is acknowledging its existence. Take time to reflect on the relationship and the signs that it's unhealthy. This self-awareness is crucial for taking further steps to sever the tie.
2. Seek professional help
Sometimes, the emotional and psychological entanglements are too complex to untangle alone. Therapists or counselors can provide valuable insights and coping strategies. They can also offer a safe space to explore your feelings and concerns.
3. Set boundaries
Establishing clear emotional and physical boundaries is essential. This could mean limiting contact with the person or, in extreme cases, cutting off contact entirely. Boundaries serve to protect your emotional well-being and can be a clear signal to the other person that the dynamic needs to change.
4. Communicate openly
If it's safe and appropriate to do so, communicate your concerns and intentions to the other person. Honest communication can sometimes lead to mutual understanding and a healthier relationship dynamic, although this isn't always possible in severely unhealthy ties.
5. Reconnect with yourself
Spend time rediscovering who you are outside of the relationship. This is a vital step in finding yourself. Engage in activities that bring you joy and fulfillment, and reconnect with friends and family who offer emotional support and affirmation.
6. Practice self-care
Prioritize your own well-being by engaging in self-care activities. This can include exercise, meditation, or simply taking time to relax and do things that make you happy. Self-care can help rebuild your self-esteem and emotional resilience, making it easier to break the soul tie.
7. Seek support from loved ones
Don't underestimate the power of a strong support network. Friends and family can offer emotional support, practical advice, and a different perspective on the relationship. Sometimes, just knowing that someone is there for you can make a significant difference in your ability to break an unhealthy soul tie.
Commonly asked questions
Explore these frequently asked questions for insights into soul ties—what they are, how to nurture healthy ones, break ungodly soul ties, the effect of soul ties, and the consequences of staying entangled.
Is it possible to have a healthy soul tie or connection with someone?
Yes, it is possible to have a healthy soul tie or connection with someone. Healthy soul ties are formed through mutual respect, trust, love, and shared values.
These connections can be nurturing, supportive, and enriching, promoting personal growth and happiness. They often withstand challenges and time, providing a sense of emotional and spiritual bonding that enhances both individuals' lives.
How can I prevent unhealthy soul ties in future relationships?
To prevent unhealthy soul ties in future relationships, it's crucial to set and maintain clear boundaries. Prioritize self-awareness and self-worth, ensuring that you're entering relationships from a position of strength, not neediness.
Communicate openly and honestly with your partner, addressing any concerns early on. Be discerning in your choice of partners, looking for compatibility in values and goals. Seek therapy or counseling to work on past wounds and patterns that may lead to unhealthy ties.
How long do soul ties last?
The duration of soul ties varies greatly. Some may last a lifetime, while others fade over time or with distance from the person involved. The strength and permanence of a soul tie depend on the emotional intensity of the relationship, the depth of connection, and the ongoing interactions between individuals.
Can you fix an unhealthy soul tie?
Yes, you can work on fixing an unhealthy soul tie. Begin by acknowledging its existence and seeking professional help, if necessary, such as therapy or counseling. Establish and enforce boundaries to protect yourself from further harm.
Focus on personal healing, self-love, and growth. Over time, with effort and self-care, you can weaken and eventually break the unhealthy soul tie, allowing for recovery and healthier connections.
Check out the video to understand what happens when you break an unhealthy soul tie:
What are the consequences of staying in an unhealthy soul tie?
Staying in an unhealthy soul tie can have detrimental consequences. It can lead to emotional and psychological distress, erode self-esteem, and hinder personal growth.
Unhealthy ties may perpetuate toxic behaviors and patterns, keeping individuals trapped in cycles of pain and dysfunction.
In extreme cases, they can lead to abusive or codependent relationships. It's essential to recognize these consequences and take steps to either heal the tie or, when necessary, sever it to protect one's well-being and happiness.
Building more constructive ties
Knowing the signs of a bad emotional connection, or "unhealthy soul tie," and what happens after you break a soul tie is important for your happiness.
These bad ties can make you feel stuck and unhappy. The good news is once you know how to break unhealthy soul ties, you can break free. You can talk to a therapist, set limits, and lean on friends and family for support.
A good relationship should make you feel better, not worse. By taking steps to break these bad ties, you make room for better, happier relationships in your life.
Share this article on
Want to have a happier, healthier marriage?
If you feel disconnected or frustrated about the state of your marriage but want to avoid separation and/or divorce, the marriage.com course meant for married couples is an excellent resource to help you overcome the most challenging aspects of being married.
You May Also Like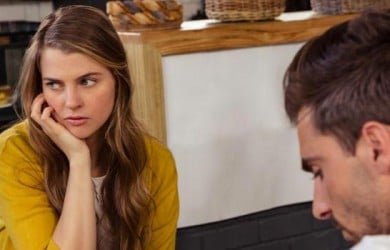 Popular Topics On Married Life