10 Basic Rights for Everyone in a Relationship
Much like how the government of your region has granted you certain rights, you should be aware that you have rights in every relationship as well. While you may not know exactly what your rights are, after you read this article, you will have a better understanding of basic after you read this article. Keep reading for more information.
What are individual rights?
Individual rights are the rights allowed to a person under their government. For example, in the United States, the Constitution allows for individual rights for each citizen of the country. No person is legally allowed to infringe on the rights of an individual in any way.
Importance of rights in a relationship
It is necessary to have basic rights in a relationship for the relationship to be fair for both parties. A good way to go about this is to agree about what each of you expects and write these things down. Together you can make a list of the rights of your relationship and follow them.
Keep in mind that it can be a good idea to set boundaries in a relationship for many reasons, including helping you get what you want and aid in staying true to yourself. This may also be beneficial for your self-esteem.
Additionally, you may want to write a list of basic rights in a relationship, so neither of you ever have to feel like you are in an uncomfortable situation with each other.
To look at another reason that setting boundaries is a good idea, watch this video:
What are the basic rights in a relationship?
Basic rights in a relationship refer to the rights and responsibilities that a person will have in a relationship.
Many basic rights may be suited for a given relationship, such as being treated fairly or feeling safe. It is up to you and your partner to determine the best rights for your relationship.
Discuss with them and decide upon your relationship rights. Be sure that both parties are heard and that the rules that you come up with together are fair and attainable.
Related Reading: Why Is Accepting Responsibilities in a Relationship Important?
10 basic rights for everyone in a relationship
Here are examples of a few basic rights in a relationship that you may find helpful. Keep in mind that every couple will likely have a different list of rights in a relationship, and this is to be expected.
Take your time and decide together what your bill of rights will look like. There are no wrong answers!
1. The right to boundaries
One of the most important rights that you may want to think about is the right to have boundaries. This means you should decide what you want to do and what you don't want to do.
You may also not want to be pressured to do anything. This includes sexual boundaries. Your mate must understand that you shouldn't be forced to do anything sexually, even if they want to if you don't give consent.
Related Reading: 6 Types of Boundaries in Relationships & How to Maintain Them
2. The right to have your privacy respected
Something else that you may think is a basic right in relationships is the right to privacy. Perhaps you would like to know that your partner will never go through your phone, emails, mail, or social media pages.
This is reasonable to expect. Another aspect of this is to have your feelings and space that is just for you.
Related Reading: How Much Privacy in a Relationship Is Acceptable?
3. The right to express yourself
If you have been in a relationship, you are probably aware that there can be disagreements, your partner may do things that you disagree with, or they could even hurt your feelings.
You can decide that a crucial relationship right for you is that you won't be silenced. Instead, you should be able to speak up when you feel you have been wronged or you disagree with something.
4. The right to leave the relationship
Not all relationships will work out, so you should reserve the right to leave any relationship you are uncomfortable with. Along with basic rights in a relationship, there are also wants and needs that you may have as an individual.
If these are not being met, you might want to leave a relationship. You are free to do this, and your partner and any potential partners should understand that this is the case.
5. The right to avoid parenting
As a couple, you are supposed to be a lot of things to each other, but a parent is not one of those things.
If one person ends up being too needy and expects you to parent them essentially, it is okay for this to be a deal-breaker. For this reason, it may be on your list of basic rights in a relationship.
6. The right to see your friends
Just because you are in a relationship, there's no reason that you shouldn't be able to hang out with your friends when you want to. The same goes for communicating with them.
After all, you likely want to keep up with them. This is to be expected, and your partner should understand this. Be sure that you extend your mate the same courtesy as well.
7. The right to be respected and treated as an equal
In a pairing, you should have the right to be respected and equal to the other person in the relationship. For example, you need to be able to make decisions together, especially if these choices will impact both of you.
Both perspectives need to be a part of the process regarding discussions and decisions. If someone doesn't treat you as their equal, they may not be the one for you.
Related Reading: 20 Signs of Disrespect in a Relationship and How to Deal With It
8. The right to refuse physical touch with anyone, at any time, for any reason
While it seems like a prospective mate would be responsible enough to trust that you might not want to be touched all the time, this may not be the case. It could be necessary to place a rule about physical touch in your basic rights.
Of course, this doesn't mean that you aren't attracted to your partner; it simply means that you may not want to be touched on certain days or when you are busy doing something else. Make sure that you take the time to explain this one to your mate, so they know exactly what you expect from them.
Related Reading: How to Say No to Sex: 17 Ways to Feel Comfortable and Confident
9. The right to dates
It may be imperative that you go on dates or spend special time with your partner. If this is the case, you will want to include a right about dates in your list.
This doesn't mean that you expect them to take you out to expensive restaurants every night, but it does mean that you want them to figure out how to date you, whatever this means to the both of you. Together you can agree to the specific terms.
Related Reading: 4 Expert Tips on Best Romantic Date Ideas for Couples
10. The right to be right and wrong
Sometimes, you may mess up and do or say the wrong thing. However, you will also do or say the right thing upon occasion. It is fine either way, especially if you are in a relationship where the rules have been established beforehand.
It is okay to mess up sometimes, and both of you should forgive and forget at times. This could be a necessary addition to the list of basic rights in a relationship.
Also Try: What Am I Doing Wrong In My Relationship Quiz
Making your own Relationships Bill of Rights
If you don't know where to begin when making a Relationship bill of rights for your purposes, you may want to utilize the rights mentioned above. Moreover, you can research online to see what other couples use for their relationships.
Another approach to take is thinking about both parties separately. For example, you could first consider a girlfriend rights in a relationship list and then think about the rules related to the boyfriend.
Then, as a duo, you can decide what makes sense and draft a copy of your relationship rights that you will both be able to follow and are proud of.
If you are not currently in a relationship, you may simply want to write a list of basic rights in a relationship that you would like to see followed the next time you are in a couple.
Conclusion
When it comes to assessing basic rights in a relationship, it is up to you to decide what you expect in a partnership. If you are in a couple already, you can determine together what you expect out of your relationship.
This is essentially the rules that you will follow throughout your pairing. It is designed to protect both of you from getting hurt and being disrespected.
You may want to use the rules suggested above or come up with others on your own. Think about aspects that are important to you and write rules about them.
Allow your mate to do the same. You can comprise your basic rights in the relationship list together. This may be a source of bonding between you and help you learn more about each other.
Share this article on
Want to have a happier, healthier marriage?
If you feel disconnected or frustrated about the state of your marriage but want to avoid separation and/or divorce, the marriage.com course meant for married couples is an excellent resource to help you overcome the most challenging aspects of being married.
More On This Topic
You May Also Like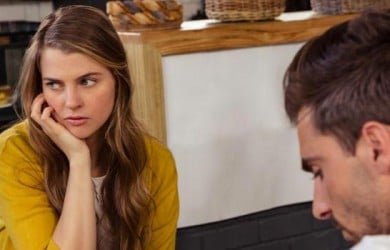 Popular Topics On Married Life