Do Soul Ties Affect Men? 10 Ways They Do
A deep connection that consumes a person is often referenced as a "soul tie," a connection that some believe can be deemed spiritual. These have the potential for forming within most any sort of relationship.
Still, the suggestion is they are well known for developing following sex or physical intimacy.
People tend to mistake soul ties and soulmates since these can be comparable, except that soul ties have the potential for toxicity where soulmates do not. Some believe when these are positive, it can be an almost religious experience. But do soul ties affect men in this way?
The suggestion is that men carry a degree of "toxic masculinity," making them appear more cautious when believing in fate. For them, everything needs to have more logic and be visible to the naked eye.
That doesn't have to be the stereotype, though. The problem is, as a rule, men have the reputation of lacking in fully understanding their emotions and knowing how to express these.
In saying that, it might not be that gentlemen don't experience soul ties; all humans should have that capacity. They might not recognize what they're dealing with nor know how to put it into words.
Find out how to comprehend soul ties and how these can be broken with Dr. Margaret Nagib on this podcast.
What are soul ties?
When describing the notion of soul ties, it can be said that essentially one or both people in a couplehood feel that the other completes them in every possible way.
The idea is that you have known each other even before the meeting and are literally "tied" to one another.
How do men deal with soul ties?
Men will be the first to admit that their approach when it comes to partnerships is one comprised of facts and logic. Often if there were concerns over the fact that you might have missed a text or didn't call, he would be less likely to reach out.
Logic will dictate that you will contact him when you're available. That's a pretty fair and reasonable suggestion.
In that vein, when pondering do soul ties affect men, most certainly, as a human being with normal emotions, thoughts, and ideas, everyone will experience intense feelings towards another person. But each person will react differently.
The way a man would likely deal with what they would construe as soul ties would be to try to cover up the intense emotion to function as usual.
It doesn't mean he won't have symptoms of soul ties. Still, understanding and knowing how to perceive or, most importantly, act on these are distinct. This book goes into detail on soul ties.
How will a man recognize that he has developed a soul tie?
In the Christian faith, the suggestion is that good soul ties will bind individuals together with the pair and have a deep bond. There is also the potential for toxic soul ties based on control. Here are merely a few signs that a man can tell if he has developed a soul tie.
1. There is an intense attachment
The soul tie meaning is essentially a more profound connection than you would generally have in a standard partnership. The "tie" to that person is powerful because of that connection you establish, often through physical intimacy.
Related Reading: 

Emotional Attachment – Is This Fiery Phenomenon Unhealthy for You?
2. A person can generate powerful emotions
Some men tend to control their emotions, or that's the consensus. Do soul ties affect men? The indication is that their strength is "palpable." No matter the experience, whether incredible or horrific, these will be dramatized.
This video discusses "ungodly" soul ties.
That means if you incur an individual who has the power to bring you to the brink of ecstasy with merely a "grin" or cause you to become "riled" beyond the point you've ever been, the probability is there for this to be a soul tie.
3. The person feels familiar
Among the most common and dependable indicators is you will feel as though you somehow knew this individual even though you've never met them.
People who develop a soul tie believe the person "completes" them and will release their guard relatively fast, taking minimal time to get to know them.
4. Timing is everything
It will be easier to answer the question – what does a soul tie feel like when you reflect on the moment it showed up in your life. Often it's at a pivotal point, making the experience almost "life-changing."
There is usually something monumental happening, or perhaps the timing is perfect in bringing something you require.
Perhaps, they want to provide a romantic partnership, comfort at the wrong time, or even a potential career opportunity. The experience is nothing short of powerful.
10 ways soul ties affect men
The answer would have to be yes in trying to discern whether men have soul ties. As a human, any human, the intensity of the bond would be notable regardless of gender.
When trying to figure out what it means to be soul tied, the explanation is that two people are exceptionally "intertwined" to the extent that separation would be unbearable, making it necessary for them to have constant togetherness.
The world is a bit different today, with people being somewhat more isolating, independent, and even individualistic, so finding someone to call a soul tie might be a rarity. But some people work very hard to break them if they come upon them, finding them too "binding."
How soul ties affect men: They uniquely affect each man. No two people are alike. Some take a more logical, factual approach, while others lean more emotionally. It depends on your "chemistry," so to speak.
The suggestion is these connections will affect everyone's mind, soul, and how they perceive their surroundings. A gentleman will recognize signs a man has a soul tie because the experience is so profound the connection can only be authentic.
Thus, the "aliases" of "soul bonds" or "heart bonds." The connections can be either positive or unhealthy. We'll look at a few symptoms of soul ties that are unhealthy.
1. The mind is affected
An effect of soul ties is thoughts of this other person continually plague the individual without the ability to focus on other things.
2. Manipulation is perceived
A common question is do soul ties affect men. As a rule, men can be as vulnerable to emotion as women, especially when it reaches a particular level of intensity.
Still, when these ties become unhealthy, it can be challenging to break them. Often, men and women can sense they're being used with a soul tie partner, albeit it's not always evident. The idea of walking away, though, isn't a thought.
Related Reading: 

25 Examples of Manipulation in Relationships
3. Friendship is lopsided
Even if this is a close friend relationship, it's challenging to allow yourself to be free to be who you are or express genuine emotions.
Related Reading: 

Relationship Feels Like Friendship:15 Signs and Ways to Fix It
4. Do soul ties last forever?
It's curious if soul ties last forever since, in many cases, the person who has the connection wants to remain in the partnership despite the fact it's unhealthy for them.
5. Toxicity forms
When the soul tie becomes toxic, it can create adverse reactions in partners, including jealousy and anger. That can include either men or women answering the question do soul ties affect men.
Related Reading: 

The Psychology of Toxic Relationships
6. Plotting ways to make the partnership functional
You go out of your way to analyze and assess the relationship constantly to find a way to make it healthier.
7. There is no longer a sense of self or individuality
When you can't detect your individuality, or you feel you've become lost in the partnership, the soul tie is not healthy. You also could be neglecting things you enjoy or other friends.
8. Values and morals are being neglected
Do soul ties affect men? Yes. Some men are so engrossed in a partnership that they forego the sense of right and wrong to indulge in the relationship instead.
Related Reading: 

11 Core Relationship Values Every Couple Must Have
9. Fantasies and desires go against your grain
This person consumes your thoughts and fantasies despite the fact they're not an individual you would usually be attracted to. It becomes a priority, though, to pursue this relationship regardless.
10. Insecurity and low self-esteem set in
The feelings that you're not enough are consistent in your mind when with this individual.
Related Reading: 

16 Signs of Insecurity in Relationships
Final thought
A primary question concerning this topic is, do soul ties affect men? Some men face the idea of emotions and feelings with a local approach and with facts. But that doesn't make them immune to the effects of feelings or emotions.
Some might not be overly demonstrative, but then not all humans are. That doesn't mean they don't feel. It just means they do so differently. When there's an intense, powerful connection, we all as human beings will be affected by that, but in our unique way.
Share this article on
Want to have a happier, healthier marriage?
If you feel disconnected or frustrated about the state of your marriage but want to avoid separation and/or divorce, the marriage.com course meant for married couples is an excellent resource to help you overcome the most challenging aspects of being married.
More On This Topic
You May Also Like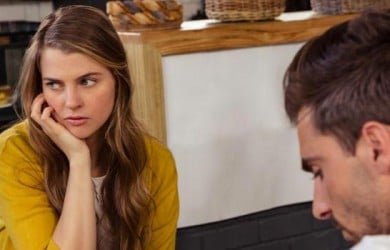 Popular Topics On Married Life