How to Deal With Eye Rolling in a Relationship: 5 Ways
Rolling your eyes might seem like a small, harmless gesture. But eye rolling in a relationship could potentially raise some alarm bells.
Eye-rolling is a natural nonverbal cue communicating a lack of respect or interest. It's like you're scoffing or sighing with your eyes. Within that split second, a roll of the eye can shut down communication and chip away at the trust between you and your partner.
If you or your partner have been guilty of eye rolling in your relationship, you need to address the issue before it causes irreversible damage. Understanding and addressing eye-rolling can help you build stronger and healthier relationships.
Why do people roll their eyes? The psychology behind eye-rolling
Our eyes can betray our innermost thoughts, feelings, and emotions. Just like smiling expresses happiness or shrugging your shoulders indicates uncertainty, our eyes also have a lot to say about our feelings.
Eye-rolling is a very peculiar nonverbal cue unique to human beings. This simple act conveys a wide range of emotions, from sarcasm and disbelief to boredom and frustration. In most contexts, eye-rolling is often seen as a passive or immature sign of aggression.
But what causes someone to roll their eyes in the first place?
From a psychological perspective, eye-rolling is a sign of defensiveness or contempt. Eye-rolling is like a coin with two sides: when someone feels attacked or dismissed, they may roll their eyes to signal that they are not taking the other person seriously. Similarly, when someone feels superior or dismissive towards someone else, they may roll their eyes to communicate that they find the other people's ideas or behavior unimportant or foolish.
It's worth noting that eye-rolling isn't always intentional and can happen as a reflex. It's important to consider the context, the person's behavior, and the relationship before jumping to conclusions.
What does eye-rolling communicate?
When someone rolls their eyes, it can convey a range of emotions or feelings, such as:
Disbelief or skepticism — When you hear something that sounds untrue, rolling your eyes is another way of saying, "I don't believe that one bit!"

Boredom or disinterest — If you're having a boring conversation, all you want to do is end the conversation ASAP. In such cases, eye-rolling is a subtle way of pleading, "get me out of here already!"

Sarcasm or irony — Sometimes, eye-rolling is the optic equivalent of a sarcastic or ironic tone.

Frustration or impatience — People may roll their eyes when they are frustrated or impatient with a situation or someone else. It's like they're saying, "I can't believe I have to deal with this right now."

Disrespect or contempt — People roll their eyes when they feel someone doesn't deserve their respect or attention. Through this subtle act, they send a loud and clear message: you're wasting my time!

Defensiveness — Eye-rolling can sometimes be a defense response when you feel disrespected or attacked.

Fatigue or exhaustion — Sometimes, an eye-roll can simply mean, "I don't have the energy for this."

Stress or anxiety — Stress and anxiety can make you feel more frustrated and impatient with someone, causing you to roll your eyes at them.

Feeling superior — Some people roll their eyes at others when they feel better or more knowledgeable than them.

Feeling underestimated — If someone underestimates you or your abilities, you may roll your eyes as if to say, "you clearly don't know me at all."
The simple act of rolling your eyes can say a lot. Though not always intentional, it betrays your true, unfiltered feelings about a situation or person.
But what does it mean when you or your romantic partner do it to each other?
The meaning behind eye-rolling in relationships
When it comes to relationships, eye-rolling can have a different meaning depending on the context and the person doing it. Sometimes, the overall body language and tone suggest that eye-rolling is harmless.
In general, though, eye rolling in a relationship can be a major red flag that something isn't right. It can indicate one of two things.
First, eye-rolling may indicate that one or both partners feel dismissed, unimportant, or disrespected. For example, if your partner rolls their eyes at you when you're telling them a story or sharing an idea, they probably don't consider it worth their time or attention.
Second, eye-rolling can be a sign of contempt or feelings of superiority. For example, if your partner shares an achievement with you that you think is small, you might roll your eyes at them because you feel you're more knowledgeable or have more accomplishments than them.
Moreover, eye-rolling can be a sign of emotional detachment. If one partner frequently rolls their eyes, it might mean they are no longer invested in the relationship. On the contrary, the relationship feels like a burden or something they have to put up with.
The impact of eye-rolling on relationships
Eye-rolling may seem like a small gesture, but it can have a long-lasting impact on a relationship. Though the occasional eye-roll is normal, constantly doing so can shut down communication and erode trust— two important pillars of a strong relationship.
Here are a few ways that eye-rolling can negatively impact relationships:
Damages Communication

— Eye-rolling can make one partner feel dismissed, unimportant, or even disrespected. These feelings can lead to a

breakdown in communication

and make it difficult for couples to talk about their concerns openly and honestly.

Erodes Trust

— When one partner rolls their eyes at the other, it can communicate that they don't respect, trust, or value their ideas and feelings. Even once is enough to erode whatever trust and respect there was previously.

Creates Resentment

— Eye rolling in a relationship can make one partner feel unimportant or even demeaned. Over time, this can lead to resentment and bitterness towards the other partner.

Leads to Emotional Disconnection

— If one partner frequently rolls their eyes, it might be because they are not emotionally invested in the relationship anymore.

Undermines Intimacy

— Since eye-rolling erodes trust, it can also create a barrier to

intimacy

. This makes it difficult for partners to feel close and connected to each other.
Open and honest communication, mutual respect, and a willingness to work on the relationship can help to prevent and overcome the negative effects of eye rolling in a relationship.
5 productive ways to respond to eye-rolling in a relationship
Whether you're in a new or long-term relationship, eye-rolling can be very frustrating, hurtful, and overall counterproductive to a relationship.
But your relationship doesn't have to be doomed.
Understanding the reasons behind eye-rolling and responding in a productive manner can help overcome its harmful impact on a relationship. Here are five strategies you and your partner can benefit from.
1. Communicate openly and honestly
One of the most effective ways to respond to eye rolling in a relationship is to communicate openly and honestly about your feelings. Talk to your partner about how their constant eye-rolling makes you feel small and unimportant, and ask them why they do it.
If you're doing eye rolling in a relationship and wondering how to stop rolling your eyes, try using your words instead of your eyes. Tell your partner what you're feeling instead of rolling your eyes and letting their imagination run wild.
It's essential to have these conversations in a non-accusatory way. Remember that communication is a two-way street, and understanding each other's perspectives can do wonders.
Related Reading

: 

How to Be Honest in a Relationship 10 Practical Ways
2. Practice empathy
Sometimes, your partner may be rolling their eyes at you because they feel defensive or belittled by you.
Try to put yourself in your partner's shoes and understand that they might feel insecure or disrespected.
Instead of getting defensive or angry, see whether some empathy and compassion can help de-escalate the situation until you can have some healthy communication.
3. Set boundaries
If the eye-rolling gets out of hand, it might be time to set some boundaries to salvage your relationship. Setting boundaries can help you establish what is and isn't acceptable behavior. Make sure that the boundaries are clear and specific without being overly restrictive or controlling.
For example, you can set a boundary that if your partner rolls their eyes at you, you will stop the conversation until they are ready to listen and communicate respectfully.
Related Reading

: 

6 Types of Boundaries in Relationships and How to Maintain Them
4. Seek professional help
Sometimes, eye rolling in a relationship may be a symptom of deeper issues that require professional help to resolve. Therapy or relationship counseling can help you and your partner understand any underlying issues and eye rolling meaning.
5. Take a break
Sometimes, taking a break from the conversation or interaction can be helpful when eye-rolling gets out of hand. This can help de-escalate the situation, allowing both partners to regulate their emotions.
Just be sure to establish a clear time frame for when you will come back, and honor it.
FAQs
Here are some frequently asked questions about eye rolling in a relationship.
Is eye-rolling a red flag?
If eye-rolling is frequent in your relationship, it can be a red flag. It's a sign of deeper issues in the relationship, such as a lack of trust or respect.
Is eye-rolling always a bad thing in a relationship?
Eye-rolling isn't always a bad thing. Depending on the context and overall body language, eye rolling in a relationship can actually be a playful or affectionate gesture. But if your partner doesn't appreciate it, tone it down.
Takeaway
Eye-rolling is a subtle yet powerful gesture that can speak volumes about our true feelings in a relationship. While the one-off eye-roll is harmless, eye rolling in a relationship can be a major red flag if it happens frequently.
But don't let this small gesture ruin what you and your partner have built. Instead, try to understand the reasons for it and respond with open communication, empathy, and boundary-setting.
If all else fails, seek professional help to determine the root cause of eye-rolling.
Share this article on
Want to have a happier, healthier marriage?
If you feel disconnected or frustrated about the state of your marriage but want to avoid separation and/or divorce, the marriage.com course meant for married couples is an excellent resource to help you overcome the most challenging aspects of being married.
More On This Topic
You May Also Like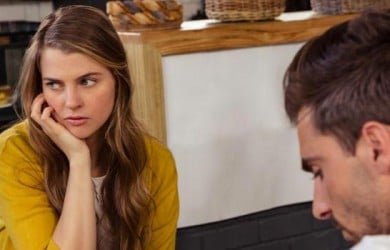 Popular Topics On Married Life