How to Be Honest in a Relationship: 10 Practical Ways
Is honesty really the best policy? Whether you've been on the giving or receiving end of relationship deceit, you know that nothing crushes love quite like a web of lies. That's why learning how to be honest in a relationship is so important.
Everyone has their reasons for being dishonest. They may want to avoid getting "in trouble" or to avoid relationship conflict. They are little white lies and lies to cover a wrong committed.
Whatever the cause, dishonesty can quickly spiral out of control and ruin the amazing relationship you've been building.
Your relationship must be honest and truthful if it's going to succeed. Learning, to be honest, isn't always easy, but it is always worth it.
Do little white lies count as relationship deception?
How honest should you be in a relationship?
What are some examples of honesty?
Keep reading to find out why it pays to be honest in romantic relationships.
Importance of honesty in relationships
The step toward honesty you should take first is understanding the benefits of being truthful. Here are some upsides to telling the difficult truth:
Honesty is a teacher
As you start your journey of being honest in a relationship and experience both easy and difficult examples of honesty in your own life, you will learn and grow as a person.
Your partner will trust you
It is no surprise that couples who trust each other experience more fulfilling relationships. When you display honesty and trust in a relationship, you deepen your connection to your spouse.
You will be a better friend
Being honest is one of the top qualities of a good friend. They have integrity, are trustworthy, and are dependable. Your friends will appreciate the step toward honesty you take every time you tell them the truth.
Related Reading: 

How Important Is Integrity in Relationships
You will have a good reputation
Another great reason to learn how to be honest in a relationship is that people respect someone honest and truthful. Your reputation at work, in love, and with friends will be impeccable when you regularly tell the truth to those around you.
You'll create peace in your relationship
Lies create chaos in a relationship. On the other hand, when building honesty in a relationship, there are no lies to keep track of and no hurt feelings to take care of. Your relationship is peaceful.
It deepens emotional intimacy
Emotional intimacy is an unmatched closeness. Studies have shown that emotional intimacy helps couples to buffer daily stress and enhances romantic well-being and sexual satisfaction.
In this video, Jennah Dohms talks about how honesty can transform your life for the better.
Related Reading: 

What is Emotional Intimacy?
How to build more trust and honesty in a relationship?
The step toward honesty that can be the most challenging is learning to be patient. Being honest in a relationship isn't always easy, especially for those who have difficulty communicating.
Keep at it. Don't let yourself become frustrated or overwhelmed by it. Learn how to communicate with your spouse, and the words will flow easily in time.
Learning how to be honest in a relationship also means taking a good look in the mirror. Being honest about your strengths and weaknesses can help you identify areas in your personality that could use some work – like your ability to tell the truth.
Ask yourself:
Am I someone who frequently exaggerates?
Do I always follow through on my plans?
Do I try and wiggle out of situations where saying the truth will make me uncomfortable?
By doing a self-examination, you will become a more honest and truthful person.
10 ways to be honest in a relationship
Now that you know how important honesty is in relationships, here are ten ways to be more honest in your relationship or marriage with your spouse.
1. Communicate openly with your love
One tip for how to be honest in a relationship is to talk to your spouse often.
Couples who communicate openly about how they feel experience happier, more fulfilling relationships, but communication about a problem isn't always easy.
Build an honest relationship by communicating your needs to your spouse. This should be done when:
You want your spouse to know when you feel happy/sad/stressed/excited

There is a problem in the relationship

You need to confess something, or

You simply want to get to know each other better
Communicating, even when the subject matter is difficult or uncomfortable, will strengthen honesty and trust in a relationship.
Not great at pouring out your heart? We've got you covered. Even if you're not ready to get married, our pre-marriage course can help you build better communication, problem solve as a team, and build a more robust overall relationship.
2. Make the choice to be faithful
When we think of honesty in a relationship, we often think of the issue of fidelity first.
Part of being honest and truthful in a relationship is to be loyal in mind and body.
When you purposely spend time with someone you are attracted to (emotionally or physically) other than your partner, you're choosing to be tempted.
When you refuse to be put in potentially compromising situations with other people, you choose to be faithful.
Even when nobody is watching, choosing to be faithful creates a loyal heart that your partner can trust.
3. Do unto others
The step toward honesty that is easiest to remember is The Golden Rule. Whatever is hurtful to you, do not do to any other person.
Don't do anything to your spouse that you wouldn't want them to do to you. This would include flirting with other people, conducting an inappropriate emotional relationship with someone else, or sharing personal information about them with others.
4. Surround yourself with honest people
Another tip for how to be honest in a relationship is to have honest friends.
People tend to take on the characteristics and qualities of the closest people. One way you can learn how to be honest in a relationship is by having good examples of honesty in your own life.
Having friends who are wonderful listeners and confidants will inspire you to take trust seriously.
5. Be kind when being honest
How honest should you be in a relationship? Remember that being honest in a relationship doesn't have to mean being rude.
Relationship honesty doesn't mean blurting out the cold, hard truth, especially when unprompted.
Your job isn't to truth-bomb your spouse into an argument or to make them feel bad about themselves.
Instead, use tact and be respectful when speaking to your partner. This will ensure your relationship honesty works toward building trust, not hurt feelings.
Related Reading: 

How to Handle a Lack of Trust in a Relationship
6. Don't be afraid to say you don't know something
One key to learning how to be honest with someone is admitting ignorance.
It can be hard to admit when we don't know what a word means or aren't up on the latest social or political issues.
However, you create the reputation as someone honest and truthful when you choose to say, "I'm not very that educated on the subject. Can you share your thoughts with me?" instead of blindly guessing through a conversation.
Related Reading: 

How to Deal with Ignorance in a Relationship
7. Follow through on your promises
One of the biggest tips for being honest in a relationship is to say what you mean and do what you say.
If you promise your spouse you will pick them up from work, be there on time.

If you tease an exciting date night, follow through and plan the best date.

If you say you'll call or text during lunch, do it.
The more you follow through on your word, the easier it will be to build trust with your spouse. Of course, some situations beyond your control may occasionally prevent you from living up to your word. This is understandable, so long as it doesn't become a habit.
You can build honesty in a relationship by following through on your promises and showing your spouse you are dependable and trustworthy.
8. Admit when you are wrong
How honest should you be in a relationship? When it comes to admitting you are wrong: very.
Nobody likes stubborn love. When you are wrong, don't be afraid to admit it. Being honest about your part in an argument or wrongdoing is difficult, but lying to your partner or blaming them for something they didn't do is gaslighting.
Show your partner that you love and respect them and that they can trust you even under difficult circumstances by admitting when you are in the wrong.
9. Keep secrets a secret
When your spouse trusts you, they are willing to be vulnerable and share their deepest thoughts and fears with you.
How would it feel for them if they knew you were sharing these vulnerable truths with your friends, family, or coworkers? They would be devastated.
Once honesty in a relationship is lost, it is nearly impossible to get it back to where it used to be. Don't lose your partner's trust. Show them you are loyal and loving by keeping their secrets locked in your heart.
10. Don't embellish
Another tip on how to be honest in a relationship is to retrain how you think. An example of honesty in this regard includes not embellishing the stories you tell.
We know that exaggerations make for a great story, but they also make it difficult for your partner to trust the severity of what you're saying.
Frequently adding white lies to stories also trains your brain to think of small lies as acceptable. The more comfortable you become with telling white lies, the easier it will be to transition to bigger falsehoods.
Learning to be truthful when you relay stories and conversations will improve your overall honesty.
Wrapping up
Learning how to be honest in a relationship is always worth the effort. By showing honesty and trust in a relationship, you build a deeper connection with your partner and a great reputation with others in your life.
You can build an honest relationship by communicating with your partner, examining your behavior, and choosing to surround yourself with honest people.
The golden rule is a great baseline for honesty. Don't do anything to your spouse that you wouldn't want to be done to you.
By choosing to be faithful and true, you are building the foundation of a lasting and happy relationship.
Share this article on
Want to have a happier, healthier marriage?
If you feel disconnected or frustrated about the state of your marriage but want to avoid separation and/or divorce, the marriage.com course meant for married couples is an excellent resource to help you overcome the most challenging aspects of being married.
More On This Topic
You May Also Like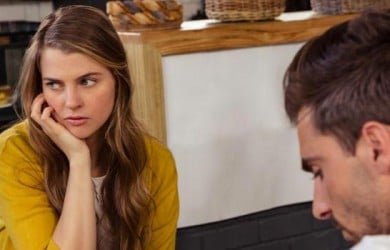 Popular Topics On Married Life