Admiration Is an Essential Part of a Relationship
What is the secret to a great relationship? The first thing that comes to mind is love, of course. Kindness and respect should be on everybody's wish list. Yet there's another element that is an essential part of a relationship: admiration. Without admiration, love fades and bitterness and disdain can take its place.
We've all seen those couples who denigrate and criticize each other in public. It's a safe bet that their relationship won't go the distance. Two people who interact in such toxic ways do not admire each other. If you don't admire your partner, there can be no deep bond of intimacy and the relationship is destined to dissolve.
Why is admiration such an essential part of a relationship?
To admire someone means to respect that person. You respect what they stand for, how they interact with their loved ones and with their community. This makes you want to rise to a higher level as you seek to be the inspiration for their admiration. "You make me want to be a better person," the Jack Nicholson character says to a woman he admires (and loves) in the movie "As Good As It Gets". That is what we want to feel when we are with the right person!
This feeling works in tandem. We admire the person we are in love with, and we have a need for them to admire us, too. This self-perpetuating back and forth nourishes the relationship and helps propel each person to be their best self.
There are several levels of admiration. When we first meet someone we are interested in, we most likely admire them for superficial reasons—they are attractive to us, or we like their sense of style.
As we get to know them better, our admiration shifts from the exterior to the interior. We admire their commitment to their work. We admire their passion for a sport. We admire how they treat their parents, friends, pet dog…how they interact with those around them. We admire their core values.
If admiration remains focused on the exterior, love cannot take root and grow. You end up like the couple that fights in public.
Related Reading: Appreciating And Valuing Your Spouse
How does a couple deepen their sense of mutual admiration?
1. Respect each other's passions
Contrary to popular thought, a loving couple does not have to spend all their spare time together. In fact, couples who pursue separate passions report that this helps keep their marriage fresh and exciting. There's a balance to this, of course. But spending a couple of hours doing "your own thing", be it trail running, or taking a cooking class, or volunteering at the community center and then coming home and sharing your experience with your partner is a sure way to deepen your shared admiration for each other. You sense your partner's feeling of accomplishment and you are proud of them.
2. Keep growing
Supporting each other's professional trajectory is part of nourishing admiration. Is there anything you can be doing to help your partner move forward with their career? Is there anything they can be doing for you? These are good conversations to have. When you get that promotion, you can be sure that your spouse will be right there, with admiration in their eyes.
3. Verbalize it
"I admire how you ________" can be just as meaningful as "I love you." Remember to tell your spouse how much you admire them. It can be especially welcome when they are feeling down or depressed. Reminding them that they have gifts worth recognizing may be just the thing they need to hear.
4. Create a list
Right now, list three things you admire about your partner. Hang on to that list. Add to it from time to time. Refer to it when going through a rough patch.
Related Reading: Ways to Show Appreciation to the Love of Your Life
What happens when a partner doesn't feel admired?
As surprising as it may seem, a spouse who cheats does not always stray for sex, it can be because they weren't receiving admiration and appreciation at home. The woman whose husband pays little attention to her at home is primed to be seduced by the fellow at work who listens to her and tells her that her critical thinking skills are awesome. The man whose wife is wrapped up in the children and no longer makes an effort to engage with her husband is easy prey for a woman who looks at him when he talks, with admiration in her eyes.
In other words, in our love relationships, we need to feel admired as well as loved and desired.
It's important to keep admiration at the forefront when we are invested in our relationships. Love is not enough to keep a marriage strong and vibrant. Tell your spouse today why you admire them. It may just open a whole new conversation topic for you both.
Share this article on
Want to have a happier, healthier marriage?
If you feel disconnected or frustrated about the state of your marriage but want to avoid separation and/or divorce, the marriage.com course meant for married couples is an excellent resource to help you overcome the most challenging aspects of being married.
More On This Topic
You May Also Like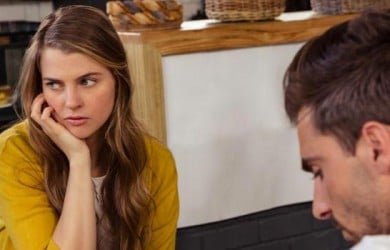 Popular Topics On Married Life