5 Ideas to Build Non-sexual Intimacy and Feel Close
Generally, people believe that non-sexual intimacy won't create bonds between partners. What if there are ways to show affection without being sexually active? Learn more in this guide.
According to many beliefs and society's standards, sex is the most important activity couples need to be intimate. Unarguably, sex is great and often makes partners connect profoundly. Good hot shower sex or quick make-out in the kitchen is exhilarating.
But sex isn't everything you need to sustain your relationship. As time passes and you experience fluctuating life events together, the spark fades. Therefore, you need more than sexual intimacy to keep your relationship going.
Thankfully, other non-sexual intimacy ideas can make spouses closer to each other than before. You can be in non-sexual intimacy, which can blossom into something significant that lasts long.
While we are not saying that sex is insignificant, the ability to create bonds without being sexual can result in a successful relationship.
Focusing on other things to create intimacy in your relationship is the best. That's why we've curated a list of ways to be intimate without sex. Also, you will learn non-sexual turn-on examples and couples intimacy ideas.
What does non-sexual intimacy mean
In layperson's terms, non-sexual intimacy is an act of bonding with your partner without sexual intercourse. It involves non-sexual touch or connecting with your spouse without sex. Non-sexual intimacy is also called intimacy without sex. It includes touches that show your intimate feelings without thinking about sexual activity.
Intimacy allows partners to share their deepest thoughts and emotions, but many people think you can only do this through sexual activities. The truth is, you can express your feelings and love without involving sex. These can also be done in both verbal and non-verbal ways.
Sharing emotional intimacy will be easy if you are emotionally close, safe, and comfortable with your spouse. Meanwhile, non-sexual relationships or intimacy ideas may lead to sex, but it doesn't have to be.
One may wonder why non-sexual intimacy ideas would be worth considering. Well, the need for intimacy without intercourse may happen due to several reasons. For example, suppose one partner is involved in an accident that makes physical contact impossible. In that case, non-sexual touch may be the best option.
Also, some religious restrictions might prevent you from engaging in sex with your partner. In other instances, you and your partner may be stressed or going through some devastating life events. In cases like that, sex may be the last thing on your mind, making you adopt a non-sexual relationship.
Regardless of the reason for adopting non-sexual intimacy, it can be eye-opening and an act that will make your relationship last longer.
How intimacy without sex benefit you and your partner
Are there any benefits attached to couples' intimacy ideas? How does intimacy without intercourse help couples?
We all know that sexual intimacy increases partners' bond, but can partners still love each other as much as before without it? Absolutely. Intimacy without sex has many benefits for spouses.
First, a non-sexual relationship helps partners see beyond their physical attributes. Usually, most of us base our relationships on traits such as looks, dress, etc. When you engage in intimacy without intercourse, your attention shifts from looks to other things your partner has.
For example, if you have not noticed your partner's behavior, you may start observing them since you need other things to be close to them. In addition, non-sexual intimacy increases trust between partners. When there is no reliance on sex, individuals become more compassionate and care more for each other.
Another way intimacy benefits couples is that it improves their communication skill. There is a common habit among some couples. It involves having make-up sex without resolving their issues properly or going for relationship counseling.
Consequently, this only leads to pent-up anger or a partner holding grudges. With no sexual touch out of the way, couples can sit and discuss their problems without covering them up with sex.
Building intimacy without sex – getting started
Like any other life activity, non-sexual touch or intimacy without intercourse requires discussion and planning. To start with, you and your partner must communicate and agree. Find a serene and calm environment without distractions to talk. Then, state your reasons for the choice and ensure you understand it individually.
In other words, ensure you are not choosing the path to suit your partner. Otherwise, it might backfire later in your relationship.
Both partners should speak up and be heard in the discussion. Also, try not to mince words and express your feelings about the decision clearly. That helps to clear up any confusion.
After this, don't set high expectations for your partner. You are both determined to focus on other essential things about yourself. Expecting your partner to act in a certain way might lead to disappointment eventually.
Also, be ready to discover new things about each other. Since sexual activity is out of the way, you will start observing your partner differently. To ease up your tension, you can ask your partner for help. Cajole them to tell you how they want to be loved and cared for without sex.
Then, ask yourself how you would like to be loved in a non-sexual way. Whatever you arrive at, inform your partner. You both can then list the different ways to be intimate without sex. We have a list of non-sexual intimacy ideas you can try out. Check out the following paragraphs.
25 non-sexual intimacy to feel close and intimate
Going through a new change, like having no sexual intimacy in your relationship for the first time, can be challenging. The following ideas will make the process enjoyable for you and your partner. Here they are:
1. Learn to hold your partner's hand
One top non-sexual touch and turn-on example are holding your partner's hand.
Whether in your house or the public, holding hands as a couple is reassuring, caring, and romantic. It says, "I love you, and you are mine." It doesn't have to be planned as well. It can be random when your partner walks by or when you see a crowd.
Related Reading: 

The 6 Ways of Holding Hands Reveal a Lot About Your Relationship
2. Cuddle
One of the ways to be intimate without intercourse is cuddling. It might sometimes lead to sex, but it doesn't have to be. It always feels good to have bodily contact with your other half.
According to research, cuddling brings pleasant sensations, reduces stress hormones and stimulates feel-good hormones like dopamine. It is a way to connect in a non-sexual touch, deepening bonding.
3. Smile at your partner
Generally, smiling is a selfless act. In fact, in some cultures and religions, it is a must to smile at your partner and neighbors.
In a romantic relationship, smiling is one of the ways to be intimate without intercourse. Also, it is a way to elevate someone's mood and make them think positively. You may even discover that you love each other in many ways without sexual activity.
4. Check up on each other
Do you want to know how to have intimacy without intercourse? Make it a routine to check on your partner.
Life is full of ups and downs. You might encounter events or people that frustrate or stress you out as you do your daily activities. At this stage, you need your partner. Who knows? Talking about an issue might be the only way to change your mood positively.
5. Learn to communicate consistently
Do you want to know what turns a woman on non-sexually? Make communication a routine.
The role that communication performs in a relationship can't be displaced easily. It is the first action for couples seeking a healthy relationship. It ensures you and your partner are in harmony. It also ensures you understand each other and can navigate life challenges easily.
6. Plan a scheduled talk time
Regular communication is different from scheduled one. With a planned conversation, you look forward to it and talk about any issues freely. It may take time to get used to it, but it is worth it.
7. Exercise together
Do you seek non-sexual intimacy ideas? Try to stay fit together. Naturally, doing things together as a couple is the best way to connect.
Exercise is a good and healthy way to stay in touch if you are both busy. With your partner by your side, you get enough motivation to work out and feel good.
Related Reading: 

7 Reasons Why Exercising Together Will Improve Your Relationship
8. Dance together
Dancing is another great non-sexual touch example. Remember how life issues can knock you down; nothing a little dance in your living room can't fix. It is an organic way to de-stress and relax.
And you know the bonus? You get to do it with your partner, the closest person to your heart. Besides, it also aids the release of some happy hormones in your body. Before you know it, you are already considering solutions to your problems.
9. Cook together
Often, some couples don't even realize they are bonding in the kitchen together. Sometimes, you don't need to help your partner; your presence alone can push them into having random conversations you can laugh over. It ensures the connection between partners in a non-sexual manner.
Related Reading: 

40 Romantic Dinner Ideas at Home for Couples
10. Watch a movie together
Do you seek how to be intimate without sex? Binge-watch a movie together.
Watching a movie together seems an obvious way to bond with your partner. However, some couples still don't get the hang of it. The psychology behind this activity is that it is an opportunity to form a friendship with your partner.
Even though the love is apparent, not many spouses talk in the early stage of their relationship. With a chance to do so, there is a reminder of the important things in their life. It's a wake-up call to what matters and a way to build a good habit in their relationship.
11. Kiss
Kissing is a common way to show passion and intimacy in a relationship. However, it can pass for non-sexual intimacy. Be careful, though; it might lead to sex.
If you believe this is your case, feel free to skip it. Nonetheless, a light kiss before and after bed, randomly, in your house, or in public won't hurt.
12. Massage
Massages are heavenly! They feel calm and divine. Also, they are healthy and one of the best ways to release stress and frustration. You can learn it for love if you don't know how to.
Besides this, massages are ways to release some happy hormones in the body, according to research. It can help to reduce stress and alleviate pain in your body. Also, they boost your immune system and trigger your awareness.
13. Have a list of things to do
To truly understand and manage the journey without sexual intimacy, you must prepare well ahead. One way to ease things for you and your spouse is to create a list of activities to do together in a week.
These chores may include cooking, watching a movie, doing laundry, strolling, etc. You will never run out of ideas with a comprehensive list. Also, try to update the list with new non-sexual intimacy ideas.
14. Go on a romantic date
One of the non-sexual turn-on examples you need is a romantic date. It's obvious. But some couples need help with this simple activity. They may cherish it at the beginning of their relationship but get tired.
No matter how boring your relationship is, take some time off to leave the house. Remember how it was when you and your partner were courting; recreate those moments now.
15. Break a habit for your partner
Do you want to know how to be intimate without sex? Change for your spouse. One of the rare non-sexual intimacy ideas is to stop a habit your partner usually complains about. Secretly, we all wish our partners are perfect without flaws.
Knowing this isn't possible, the best attitude is to correct it with love and hope our partner changes for us. If sex is out of the way, intentionally try to stop doing something your partner doesn't like. Then, watch them glow with happiness.
16. Read a book and discuss
Reading a book together as a couple is a non-sexual intimacy and doubles as a way to exercise your brain.
Go to the bookstore and speak a book randomly, or if you both have a favorite, choose it. Then, schedule a time to read it and discuss its findings. You may also argue intelligently and compare ideas.
17. Stay in bed a little longer after waking up
Do you want to know how to be sexually intimate without intercourse? Don't leave the bed in a hurry in the morning. It's understandable if you have a job that demands punctuality or 100% commitment.
However, always stay back a few times to spend time with your partner before you jump out of bed. You don't have to discuss anything; stay, hold hands, and breathe. It's relaxing!
18. Play music while you are in the car
Another non-sexual intimacy you can use right now is to play your partner's favorite music. Watch them jump up happily and sing along. You can join them to sing and shout over the music.
19. Be playful
The child in you isn't dead yet, even though you are older. If you need to connect with your partner in a non-sexual way, act like children. For instance, chase each other around your house and grin infectiously. Allow yourself to have fun and play together. Life is too short.
20. Play games together
Connect non-sexually with your partner over any game. This game can be chess, wordplay, or any puzzle. It can also be a digital game where you keep score; it doesn't matter.
21. Repeat some love affirmations
Love affirmations are subtle ways to reassure your partner that you love them. They also show your thoughtfulness and awareness. Write a list of love affirmations and ensure your partner hears or sees them daily. That means telling them or writing text messages.
Watch this video to learn some tips for good relationship communication:
22. Use love emojis
We are in the social media era, so it's best to use them fully. Smileys, emojis, and stickers are ways to garnish your text and make it look less boring. You can show that you love your partner by using them consistently.
Do you want to know what you will be having for dinner? Throw in some kisses, and you might get an exciting meal.
23. Serve breakfast in bed
Look for a weekend when you both don't have to work or rush anywhere and eat your breakfast in bed. It's refreshing and often sets a good mood for the rest of the day. Be careful, however, as this act may lead to sex.
24. Shop together
A weekend activity that is non-sexual intimacy is going to the grocery store together. It makes it easy to bond and communicate as well. This activity can start from your house, where you list the things you need in the house together.
Strolling, pushing the cart, haggling prices, and checking product write-ups are non-sexual romances.
25. Help your spouse with one chore
Do you want to know some non-sexual turn-ons? Relieve your partner in a task. You don't necessarily have to know how to do it, but your intention to help your partner pushes you to learn. It also makes your partner happy, knowing you are trying to help out.
Some commonly asked questions
Here are the answers to some pressing questions that can help clarify your doubts about non-sexual intimacy and how to achieve it:
What is considered non-sexual touch?
Some ways to get intimate with your spouse without intercourse or touch are cuddling, hugging, holding hands, sitting close together, and maintaining eye contact. Also, you can maintain a light touch, kiss your partner's foreheads, cheeks, and shoulders or pat each other.
What are examples of non-sexual intimacy?
Examples of nonsexual intimacy are holding hands, pecking, hugging, and engaging in activities or chores together.
In a nutshell
Sex appears to be the basis and foundation of a romantic relationship, but it doesn't have to be true.
Couples can connect profoundly through non-sexual intimacy. That means engaging in certain activities to be intimate with your partner without sex. At first, navigating it seems challenging, but it has many benefits for spouses. This guide suggests 25 ways to be intimate without sex.
Share this article on
Want to have a happier, healthier marriage?
If you feel disconnected or frustrated about the state of your marriage but want to avoid separation and/or divorce, the marriage.com course meant for married couples is an excellent resource to help you overcome the most challenging aspects of being married.
Learn More On This Topic
You May Also Like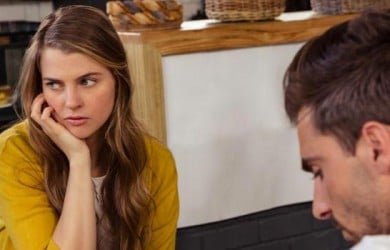 Popular Topics On Married Life