30 Long-Distance Relationship Gifts Ideas
Long-distance relationships can be challenging to manage. You make every effort to keep that someone special close to you. Gifts for long-distance relationships help ensure the time until your next visit.
Long-distance relationships can be stressful, but there are tons of tips and Idr gifts to mitigate the agony.
Gifts for long-distance couples make the separation more bearable — especially if a trip to see your partner isn't convenient all the time.
Sending each other meaningful long-distance gifts can make you feel more connected, regardless of the miles in between.
A study shows gifts can delay the timing of relationship dissolution, not save an unhealthy one. Therefore, use them to help a good relationship endure, not turn poor into a successful one.
Also watch:
The following list of long-distance relationship gifts will make finding a unique and interesting gift easier. Check out our selection of long-distance gift ideas and choose your favorite.
Related Reading: 5 Ways You Can Spice up a Long-Distance Relationship 


Something practical and significant

1. Dual-zone watch
A dual-zone watch is something practical as well as thoughtful. Instead of calculating the time difference between you 24/7, all your partner needs to do is glance at their watch and know when to call you.
2. Coordinates bracelet
Your significant other can carry you with them everywhere with a customized coordinates bracelet with coordinates in latitude and longitude engraved. It is a lasting memento of how willing you are to make your relationship work.
3. Portable charger
If you live in different time zones, you don't want to miss out on a rare opportunity to communicate just because your phone doesn't have sufficient battery left. Get your partner a portable cell phone power bank to stay connected anytime you want.
4. Calendar Planner
Apart from being a practical gift, this is also a little more special as you can fill it out with all the dates you'll be seeing each other over the coming year. Don't forget to add anniversaries and other special dates that are important to both of you.
5. Webcam light
No doubt, in a long-distance relationship you want to see your loved one as often as you can. One of the more practical long-distance relationship gifts is a webcam light as you will be able to see them clearly and feel they are closer.
6. Lap desk
You want them to be comfortable during those long conversations you have? This gift is perfect for holding tablets and phones. They will, also, be able to have a nice chat while having dinner with you.
7. Over the weekend luggage
Noticed your loved one's luggage is wearing off and needs an upgrade? One of the best long-distance relationship gifts is a carry-on bag your partner can use when coming to see you.
This is one of the long-distance relationship gifts for him that is both thoughtful and practical.
Related Reading: 10 Ways to Survive and Thrive in a Long Distance Relationship
Be personal

1. Photobook
This gift can make your partner very happy as it will consist of pictures of all the beautiful memories you have to date. You don't need to be very crafty and creative, as photo books can be simple and easy to create.
2. Charm bracelets
Jewelry is a gift that everyone likes to receive, and a monogram charm bracelet is a timeless classic. Have her initials engraved on it to let her know that she's always on your mind.
3. Care package
Compile your partner's favorite things, such as comfy t-shirts, snacks, and supplies. To make your care package a little extra special, add some cute pictures of you both together.
4. Engraved promise ring
Engrave your anniversary date along with small cheesy quotes or initials on your promise ring and slip it on your partner's finger. The ring will be a constant reminder of your love.
5. Conversation Starters
From time to time you might exhaust interesting topics. To add more romance and get to know each other use these conversation starters.
Whether you just started dating or you have been together for years this gift will bring you closer for sure.
Related Reading: How to Sext – Sexting Tips, Rules, and Examples 
Be in touch
1. "Open when" letters
Send a stack of letters that let you connect with your partner when you are not together in person. Tailor them to be opened at a specific moment and fill them with your funny, sweet, and affectionate thoughts.
You can even include pictures or treats to make them extra special.
2. A basket full of sugar
Everybody in this world enjoys some sugary treats and that makes this long-distance relationship gift a sure win.
You can send a basket full of their favorite items such as chocolates, candies, cookies, and some delicious cupcakes/brownies.
3. A ticket
Looking for things to send to your boyfriend or girlfriend? If you truly want to bring a smile on your loved one's face, then the best gift of all is the one that enables them to come and see you in person.
A study shows that a gift perceived as desirable can increase the perceived similarity rating. Similarity, in turn, affects the evaluations of the relationship's future potential, therefore choose carefully your gifts.
Related Reading: 10 Tips for Long-Distance Relationships 
Be sweet
1. Scented soap or favorite perfume
Do you know what their favorite scent is? Perhaps you know what perfume they were using the day you met? When they are far from you, the gift of scent can bring you closer.
Long-distance relationship gifts for her don't need to be expensive, as long as they show you know her and have put in the effort.
2. Long-distance touch lamp
If you are looking for cute things to send to your boyfriend, consider the touch lamp. The lamp connects to wifi, and when one person touches there, the other person's lamp will light up. They will know anytime you think of them.
3. Quote mug
Remind your loved one of yourself every single morning with a quote mug. Even better, write some long distance related quotes of your own, on a picture-perfect photo message mug and pair it with your favorite snapshot of you both.
4. Countdown Clock
Countdown clock can be set anywhere from one minute to 1999 days. If you don't want to calculate manually or simply want to see the countdown to the next time you get to see each other, this is a great gift.
You will always be aware of the target day when you get to be reunited.
5. Bouquet of flowers
Flowers are always refreshing. The best way to make your significant other happy is to send them a bouquet of their favorite flowers every month or so.
You can miss it as this is one of the classic and most treasured gifts for a long-distance girlfriend.
6. His and her pillowcases
Couple pillowcases let your partner know that they are always on your mind. These are a thoughtful reminder that you're together in spirit, and they will look beautiful together once you're finally reunited. If you want your face to be the last thing they see before going to bed this is the perfect gift.
7. Book of emails and texts
If you are looking for cute things to send to your girlfriend you can create a love book of all the emails and texts you exchanged. Throw in some great photos for extra credit.
Also, this helps both of you make sure you never lose those precious texts regardless of the phone you use.
Related Reading: 9 Ways to Make Him Feel Special in a Long Distance Relationship 
Be silly
1. Photo magnet
Any time they reach out to get a snack they will see your face. Therefore make it silly so you can make them laugh even when you are away.
2. Selfie stick
When you are in a long-distance relationship, you exchange a lot of photos. Help your partner make the best possible photos.
As one of the more practical and thoughtful long-distance gifts for her, you're sure to get more photos that will brighten your day.
3. Boyfriend/girlfriend body pillow
They might not be able to hug you, but they will be able to hug a full-size version pillow until the real deal comes.
Make them laugh by adding a funny photo of you on it sleeping or goofing around. They can hug it and long for the day to replace the pillow with you.
4. Love coupons
Take time to create personalized love coupons your partner can use when you get together next time. Make sure to include romantic, funny, and daring activities to make it interesting.
5. Pickup lines
Happy couples never stop seducing each other. Flirt with them as if you were still at the beginning of your relationship with pick up lines. Create a stack, so you never miss out on a chance to send them one and make their day.
Related Reading: Communication Advice for Long Distance Relationships 


6. Custom illustration of you together
Find an artist locally to do a custom illustration of both of you to send to your partner and bring a smile to their face. This is a great surprise for a long-distance boyfriend that he will want to show to his friends.
7. Breaking news video
Surprise your partner with a custom made video message. This is especially great if you are spending some special occasions apart.
However, even if you want to tell them you miss them, or announce your arrival, this is a perfect present. This is, for sure, one of the best gifts for a long-distance boyfriend that will make him feel special.
8. Matching undies
Order matching undies online and have them delivered to your partner so they can remember you every time they wear those comfy or sexy pair of undies.
Also, it is one of the more fun things to send your long-distance boyfriend or girlfriend to keep intimacy when apart.
Related Reading: How to Make a Long Distance Relationship Work 
Share this article on
Want to have a happier, healthier marriage?
If you feel disconnected or frustrated about the state of your marriage but want to avoid separation and/or divorce, the marriage.com course meant for married couples is an excellent resource to help you overcome the most challenging aspects of being married.
You May Also Like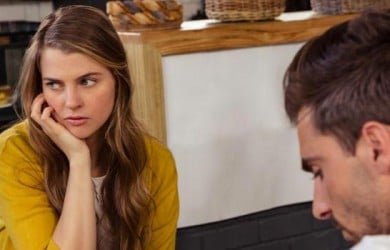 Popular Topics On Married Life