Healthy, Wealthy and Wise: Marriages That Go the Distance
No one enters into marriage planning to someday file for separation. But, with divorce statistics hovering around 50%, it is important to be thoughtful about maintaining a relationship's health. The belief that romantic love will last forever without conscious effort leaves even the most devoted couple at risk of marital breakdown. With so many pressures on marriage, loving couples can find themselves confronting health, financial and trust issues.
Successfully married couples realize that challenges are normal. Most important, they identify unconditional love, commitment, communication and humor as the key to avoiding a relationship breakdown and consequently, a divorce.
In contrast, divorce is linked to problematic communication, unmet expectations, financial disputes and breakdown in trust. While both married couples and those who ultimately divorce may face similar obstacles, those who overcome difficulties show a willingness to access supports, talk about issues and purposefully engage in efforts to rebuild trust.
Here are some wellness-based points for your marriage to go the distance:
1. Start early in practicing healthy communication
While communication may seem like something we should all know how to do effectively, when emotions run high, the way we express ourselves can be the first thing that deteriorates. Too often, articulate, kind people find themselves using blaming, hurtful words to express feeling hurt. From day one, as a couple, come to an agreement about how you are going to resolve disputes. Make a commitment that you will avoid name-calling and abusive tactics. Instead focus on identifying the issue, owning how you feel with "I" statements and expressing what you need to feel better. Never threaten separation during an argument.
2. Make finances transparent and talk about them
No matter how much people say, "It's not about the money" when it comes to marriage and divorce, it absolutely can be "all about the money". Too little money, differences in financial contribution to the overall household expenses, spending habits and un-agreed upon financial goals contribute to conflict. These are not conversations that should wait until you say, "I do". Discuss money openly and the stress, anxiety or excitement that goes with it.
3. Accept that bad things happen to good people
Wedding vows are more than a script for a romantic scene. They are meaningful. Remember that there is a real possibility that one or both of you may suffer an illness, an accident or a negative experience that could impair your ability to function. It is one thing to vow to stand by your spouse in sickness and in health but entirely different to become a caregiver. Physical and mental health issues place additional stress on marriages. It is essential to create a safety net comprised of financial, emotional and physical resources to support you should something go wrong. Don't wait until something bad happens.
4. Love unconditionally
When we invest in a meaningful, committed relationship, we make the decision to accept another human being without conditions. This means that we accept that our partner is not perfect and will, sometimes, do things that we disagree with. Do not set out with an expectation that you can change the things in your partner that you don't like. Instead, love fully – faults and all.
5. Listen with kindness
When some people describe themselves as good communicators, they are referring to their ability to express their own needs and feelings. Equally important, is the ability to listen to your spouse with empathy. Avoid formulating your response while your partner is still talking as this gets in the way of truly understanding feelings and needs.
6. Trust is essential
People engage in behaviors that erode trust without being mindful. Too often, people say, "I don't know how it happened". This is faulty reasoning. Whether an extramarital affair, accumulating debt without your spouse knowing or keeping secrets, these problems are the outcome of many choices and decisions. Be conscious of what you say and do. Wise couples are transparent about their decisions, feelings, and needs. Your spouse should be the first to know if you are having difficulties and not left vulnerable to hear about it from a third party.
Marriages that go the distance are made up of people who talk openly, value trust and act with kindness. The health and wellness of the relationship depend upon purposefully loving behaviors.
Share this article on
Want to have a happier, healthier marriage?
If you feel disconnected or frustrated about the state of your marriage but want to avoid separation and/or divorce, the marriage.com course meant for married couples is an excellent resource to help you overcome the most challenging aspects of being married.
More On This Topic
You May Also Like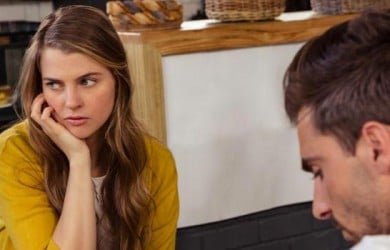 Popular Topics On Married Life