6 Key Ways to Manage Financial Disagreements in Marriage
Even the strongest couples butt heads now and then. Being on the same page isn't always possible.
Financial issues in relationships or financial arguments in marriage are inevitable. But while some disagreements are fleeting, others can cause serious cracks in the foundation of a relationship.
Financial disagreements in marriage often fall into the latter, and problems can be exacerbated when you and your partner have different financial priorities.
Working towards financial alignment, however, can help you and your partner meet on solid ground.
How to get on the same financial page as your partner
According to a Fidelity "Couples & Money" 2018 study, 46% of couples agree that their biggest relationship challenge is money.
So, how to get on the same page with your spouse and do away with the financial disagreements in marriage?
If you and your partner are struggling to align the plot of your financial story, here are some tips that can help:
1. Prioritize the important stuff
Not all financial disagreements in marriage are created equal. Some, like an occasional luxury purchase, can lead to small squabbles, but others, if left unaddressed, can lead to significant problems now and in the future.
For example, insurance (which 39% of couples admitted to fighting about in a recent survey) is a financial decision you'll want to address before you need it.
So, how to discuss finances with your spouse? How to deal with money issues in a relationship?
Here are a few financial categories that are worth prioritizing and planning around for managing financial disagreements in marriage.
More than 50% of couples walk down the aisle with debt trailing behind them. For 40% of those couples, the debt will become a pain point in their marriage.
And it's easy to see why – between mortgages, auto loans, student loans, credit cards, retail cards, and personal loans, the average consumer can quickly find themselves digging out of thousands upon thousands of dollars in debt.
Numerous payments not only impact your monthly budget, but a debt that isn't properly managed can erode credit scores, making it harder to find affordable financing should the need arise.
For most of us, insurance payments are a part of life. Homeowners and auto insurance are often legally required by states and lenders, which only adds to auto and mortgage payment obligations.
And health insurance, which adds a certain amount to the monthly budget, plays a vital role in protecting us from even more costly medical bills.
Yet, it's a topic that can be so stressful that nearly one-quarter of couples surveyed avoid discussing the matter, which can potentially lead to financial disagreements in marriage.
For couples, the when, where, and how of retirement are important questions to answer, especially when the answers often have one important theme in common: money. Saving for retirement is an important aspect of financial planning for couples.
A conversation about retirement can make a world of difference, with couples who incorporate a financial advisor joining the ranks of those more likely to agree on a retirement path.
A couple's budget is as much a topic worth discussing as it is an exercise in building a healthier financial relationship with your partner.
Budgeting allows couples to take into account all of their financial obligations as well as their wants and desires. And, because budgeting offers a plan to move forward, it can help couples avoid some of the financial pitfalls that cause deep-rooted marital issues.
Mortgaging or refinancing a home
A mortgage is a big commitment and one that can't be easily lifted in the event of financial hardships.
When mixed with a lack of communication, the financial burden of a mortgage or refinance can be immense, especially if partners don't enter into it under the same pretenses.
Being transparent about your expectations and reservations can make the next 15 to 30 years much easier and avert financial disagreements in marriage.
If one partner has student loan debt, it can be hard to view it as a mutual expense — especially if the debt was taken out before the relationship began.
However, one person's debt can quickly turn into a couple's burden, especially if it's preventing them from hitting financial goals like saving for a home.
That can lead to resentment and distrust in the relationship. It's important to set clear boundaries and come up with a debt payment plan that works for both parties.
And honesty is key here — have a long talk about individual creditworthiness and financial history to avoid any surprises and hiccups along the way.
2. Schedule a time to talk about your budget
A healthy relationship depends on communication, and financial solidarity hinges on productive conversations. But that doesn't mean you should save financial discussions for times when financial differences creep up or when money emergencies occur.
Scheduling a regular budgeting meeting can keep couples on track while minimizing financial disagreements in marriage.
It also, as she points out, allows couples to avoid letting financial discussions overshadow the whole relationship. If you have a specific time to discuss it, you can avoid some of the hostility.
And remember, talking about your finances doesn't have to be all doom and gloom. Make time to discuss the fun stuff, like saving for a common goal or using the extra money on a joint vacation.
Spending wisely can help bring partners together; once your larger financial obligations are in order, that's when the fun planning and saving can start.
Wilke also suggests that if one person has an aptitude for financial management, they may want to consider taking the lead. (Though don't let it feel like one person is "parenting" over the other.) In the end, financial discussions and resulting actions should be a team effort.
3. Focus on trust and communication
When we think about infidelity in a marriage, it's easy to conjure up visions of a cheating spouse, but Wilke points out that financial secrecy is another example. "It becomes a trust issue," she said.
"Sometimes one of the spouses, it could be either one, is spending money without notifying the other person. It really creates a lot of havoc on their financial budget."
However, "If you have good communication, you can avoid some of the [financial issues] from the get-go," she offers. And communication about goals and aspirations, like retirement or home purchases, plays a vital role in maintaining a healthy relationship.
Don't wait for an argument of financial emergency to have the conversation. Partners should enter into conversations about finances as a team and avoid letting feelings of hostility lead to negative tones.
4. Consider outside help
There are many reasons couples consider divorce, but according to Divorce Magazine, money troubles are often at the top of the list.
That doesn't mean that financial differences are an automatic pathway to divorce, but it does mean that some couples may need a little help when addressing those differences.
If you're unable to engage in productive conversations about your finances, or if they are so significant that solving them on your own seems impossible, it may be time to consider a financial therapist, like Wilke, who can help partners discuss financial differences as well as any deep-rooted relationship or personal issues that may be driving their concerns.
Similarly, a financial coach that specializes in marriage finances can help couples create a financial plan that addresses their unique needs. It can also help make it easier for partners to remain accountable to their financial plan – and each other.
5. Have a strategy for splitting expenses
In a relationship, it's possible for one partner to make more (sometimes significantly more) money than the other. That's why it's important to set clear expectations around how to split expenses.
What works best is different for every couple. For some, splitting everything 50-50 is the most logical strategy, while others may not feel an even split is the fairest option.
Regardless, an honest and open communication is crucial and can help one partner avoid stretching themselves too thin financially and avoid financial disagreements in marriage.
You'll want to consider individual salaries as well as individual expenses, including small items like after-work drinks or any subscription services. The logistics of how things should be paid for will also need to be a part of the conversation.
If you opt for joint bank accounts, how much should each partner contribute to the communal pot? Or, are separate accounts your safest strategy?
Remember, what you establish now doesn't need to be the strategy forever. Reevaluate your financial balancing act regularly and after big, joint purchases like a car or home.
As you figure out your approach, do your best to ignore the peanut gallery. Many outsiders may have opinions about what you should or should not do as a couple, but those decisions remain squarely on both your shoulders.
They should center around your relationship and what works best for both of you.
6. Remember to compromise
There are certain financial decisions that should be fairly concrete, like budgeting, retirement plans, and debt management. But that doesn't mean one partner should consistently forgo everything they need or want.
It also doesn't mean that a couple should live in misery due to a lack of concessions. Remember that both partners often have to give up some ground to reach a happy medium and a healthy financial balance.
If your budget allows, small things like taking a vacation or "splurging" on something special may help you minimize conflict and help both partners feel like their voice, and their desires are heard.
Of course, just make sure that any concessions don't set your relationship or your finances down a hazardous path.
Also Watch:

Wrapping up
What works best for every couple is different. Nevertheless, the advice given in this article can help you figure out the best way to deal with financial disagreements in marriage.
Don't hesitate to seek advice from a professional to deal with your financial concerns. An expert can help you create a unique financial plan to address your needs.
Lastly, remember that open and honest communication is crucial to avert financial disagreements in marriage and get on the same page with your partner. So, do not procrastinate and build a healthy financial relationship with your spouse by honestly communicating with them.
Share this article on
Want to have a happier, healthier marriage?
If you feel disconnected or frustrated about the state of your marriage but want to avoid separation and/or divorce, the marriage.com course meant for married couples is an excellent resource to help you overcome the most challenging aspects of being married.
More On This Topic
You May Also Like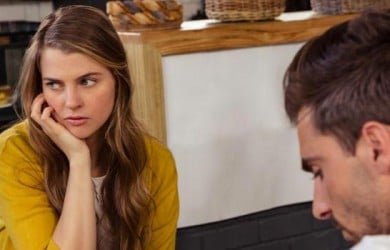 Popular Topics On Married Life