Money and Marriage – How to Split Finances
Ever wondered how to split your money in the marriage? Couples approach their finances in different ways. Some pile it all together and have a shared fund out of which everything is bought. Some don't do that, but keep separate accounts and share only the expenses such as the rent or family holidays. If you feel that splitting finances with your spouse are the right thing to do, here are a few tips on how to do that.
Why people choose to split their finances in marriage
Many of us feel somewhat pressured to have a shared fund in marriage, it comes almost as a demonstration of love. Still, this is an attitude that isn't founded in reality. It is only a cultural and sociological construct. In reality, money has nothing to do with love, and this goes either way round.
And don't think you're being selfish if you feel that you and your spouse shouldn't share an account and expenses. In fact, it is the opposite – if you feel that you are doing so under pressure, you are allowing a lot of unspoken frustration to build up, and you aren't communicating openly with your spouse.
Mostly, people choose to separate their finances when one or both feel the imbalance is too big. One spends much more and earns much less. Or, in other instances, partners just like to keep their financial independence and not to have to agree with the other's approach to money and expenditures. Or, the shared account is just creating too many problems and disagreements, and the spouses would welcome the relief of not having to tend to their partners' financial behavior.
How to be fair in a marriage with split finances?
If you choose to split your finances, there are a few important things you will need to be mindful of so that you don't abuse this system and your spouse's trust. You are not doing that to earn money, but you aim for both of you to be happy with the arrangement. In other words, if you just divide the expenses in dollars, one will be severely underprivileged.
Related: How to Strike the Right Balance Between Marriage and Money?
The fairest way of doing things hides in percentages. For the partner who is making more this might seem unfair at the first glance, but it is the most reasonable arrangement. How it's done? Do your math. See how much money you need for your shared expenses in dollars, then calculate what percentage of each of yours wage the exact half of the amount in dollars makes. It sounds tricky but it really isn't. And it's the fairest way to contribute to your marriage's fund, with both setting aside 30% of your earnings, for example, and having the rest to your discretion.
What are the alternatives?
It is also possible to make some other arrangement, of course. You can, for example, keep contributing to your shared fund with the majority of your incomes, but agree on an "allowance". This allowance can be a sum in dollars or percentages of your earnings that each of you gets to spend on whatever they please, while the rest is still mutual.
Or, you may agree on which expenses will be taken care by you, and which by your spouse. In other words, one of the spouses will pay the utility bills, while the other will cover the mortgage. One will pay for daily expenses and food, and the other will take care of family holidays.
Related: How To Avoid Financial Problems in Your Marriage
And for the marriages in which one partner works and the other doesn't, it may still be possible to keep separate finances, with both contributing. The working partner, will, of course, be assigned to bring in the money, while the unemployed partner will be in charge of finding ways to cut off expenses as much as possible, with coupons and such. And the working partner can, in turn for the lower expenses, set up an account for a "spousal salary" to which they will deposit some money for the non-working spouse.
Psychological issues with split finances
In marriage with separate bills, communication is as important as when you share finances. In this case, it will be about the respect, the needs and values, and the fact that splitting finances doesn't mean not being dedicated to your shared life. On the contrary, it presents a grown-up decision in accordance with your system of values. The only thing now is to revisit the decision regularly and talk openly about whether you still feel it is the right thing for your marriage.
Share this article on
Want to have a happier, healthier marriage?
If you feel disconnected or frustrated about the state of your marriage but want to avoid separation and/or divorce, the marriage.com course meant for married couples is an excellent resource to help you overcome the most challenging aspects of being married.
Learn More On This Topic
You May Also Like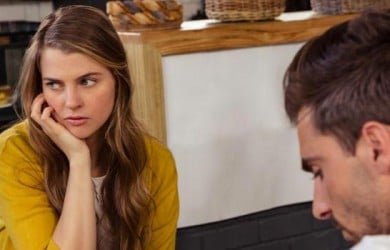 Popular Topics On Married Life