4 Warning Signs You Need Marriage Finance Counseling
One of the greatest misconceptions about marriage counseling is you shouldn't go unless you are on the brink of divorce. However, the reality is that seeing a counselor is what all married couples should do, at least a couple of times per year. It's something that should be treated as a preventative measure rather than a last ditch effort.
The same thing could be said for seeking financial marriage counseling too. That's because financial marriage counselors have the knowledge and skills required to help to create a stable financial foundation for your home.
But if you feel that hiring an expert financial marriage counseling is something that you simply cannot afford to do. Here are four warning signs that you should definitely consider if you are uncertain about getting some marriage finance counseling for the sake of your relationship.
1. It seems that you're always fighting about money
Virtually all couples argue, but if you and your spouse are constantly doing it, that means there is an issue that has yet to get resolved.
Dealing with financial stress in a marriage can often augment an argument and you and your spouse might find yourself in a situation where you can't seem to come to a resolution.
So, if you're always fighting about money, not only are you bringing stress into the relationship but your money problems aren't going away either. In fact, they're probably only getting worse.
Financial counseling for couples is something that can help to relieve both matters. Discussing your finances together can help you understand how you and your spouse symbolize money in their lives.
Marriage and financial counseling or financial marriage counseling is important to make the both of you comfortable and less defensive in the matters of bills, savings, debts, and financial goals.
2. You're never on top of your bills
If you're always late in paying your bills, especially if it's to the extent that you're constantly being charged late fees or it's affecting your credit, this is a good reason to get some couples financial counseling.
Financial marriage counseling can help you to figure out if you're living above your means, what things you can afford to go without and how to establish a budget that can make paying your bills on time possible.
Through financial marriage counseling you are able to open the lines of communication between you and your spouse, that allows the both of you to address each others concerns about financial issues and their possible solutions.
3. There is a lot of credit debt
Although the average American household owes around $15,000, that doesn't mean it's something that should be treated casually.
Owing a credit card company thousands of dollars and then only paying the bare minimum each month means that you'll never get out of the hole. You might find yourself in a scenario where you only end up paying for the late fee and interest charges, and your debt is nowhere near to being minimized.
Money management counseling or marital financial counseling can provide you some great tips on how to pay the debt that you have and how to stay out of debt in the future. Not only will this help you reduce your overall debt but in time improve your credit rating as well.
You can also opt for free financial counseling for couples if available near you to find better ways to handle your debt. Always remember, no matter what you decide it has to be mutually agreed upon by the both of you. The idea here is to handle you debt as a couple.
4. One (or both) of you are impulse shoppers
Being financially responsible consists of putting what is needed before what is desired. This means there always needs to be money for the mortgage (or rent), your vehicles, you utilities and other living expenses.
There also needs to be money set aside for a savings account and retirement plan. But if you and/or your spouse are impulse shoppers, there's a pretty good chance that you're not paying all of your bills as they come in and that you might not have any savings too.
Shopping can turn into an addiction just like anything else and before you know it you start exhibiting signs of financial irresponsibility. If you sense this might be an issue, you're going to need help to break the habit.
Money counseling or financial couples counseling can help you to track your spending habits by creating a budget so that you and your spouse do not end up pointing fingers at one another. Keeping a track of your finances would free you from the stress of worrying about what and how much you buy.
5. You feel controlled with money in the relationship
This is a problem that sometimes gets overlooked. Your spouse is your partner not your parent. That being said, if you feel like they use money in order to control you (i.e., they cut you off from accounts at will, they spend at their leisure but give you strict spending rules, etc.), that's a form of abuse that needs to be addressed.
No one should feel like they should have to beg for money or that one person has total control of the household income without their partner's input.
If that's what's happening in your home, solicit financial marriage counseling or you can also talk to a marriage counselor. They both can help to create a balance in this area which will help to create a healthier marriage for you both.
Money in today's age is an evil that has become necessary for our survival. On one hand it can help us attain many worldly pleasures, and on the other it can bring out the worst in us. Financial problems are on the leading causes of martial problems.
However, smart couples know not to allow money to become the focal point of all their problems, and when going gets tough they do not shy away from seeking help. So, no matter how hard it might seem, if you are facing financial problems in your marriage you can always find solace through financial marriage counseling.
Share this article on
Want to have a happier, healthier marriage?
If you feel disconnected or frustrated about the state of your marriage but want to avoid separation and/or divorce, the marriage.com course meant for married couples is an excellent resource to help you overcome the most challenging aspects of being married.
More On This Topic
You May Also Like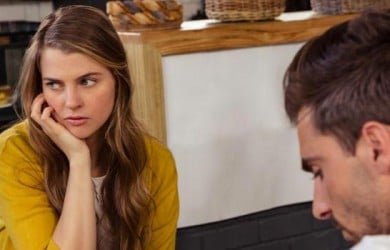 Popular Topics On Married Life