3 Steps for Successful Finances in the Marriage
Financial faithfulness is the practice of recognising that essentially everything belongs to God, and that money is not the route to happiness.
By practising financial faithfulness, you can easily manage your finances in your marriage according to the bible and achieve a faithful, happy life and a solid marriage. One that is free from conflict and not dominated by money. Afterall, financial strife can be the cause of many a marriage break up. The following three steps for successful finances in the marriage, from the bible, will ensure that you solidify your marriage, and your faith, but also lead a financially stable life too.
And what's not to love about that?!
1. Love and compromise
The first and probably most important 'managing finance in marriage' bible verse comes from
(1 Corinthians 13:4, 5) it says, "love is patient and kind", "love does not demand its own way".
This principle, when applied with all dealings to do with finance, will ensure that married couples will make their financial choices wisely, and with their husband, or Wife in mind. And in a manner that cannot compromise their love for each other, for the sake of their own needs. It's not just a great notion of finances in marriage but also for all marriages, all of the time.
If you really love somebody, and you want something – but your partner doesn't. If you take a patient and kind approach and adopt the principle of not demanding your own way. And your partner operates in the same way too. You'll easily reach a compromise on a financial commitment so that both parties are happy with the outcome.
Now that might not necessarily always mean that you decide to buy whatever it is you are desiring. And equally, it doesn't mean that you decide not to buy it. Whatever choice you make, when you make it in a patient, kind and undemanding way with your partner, it will be impossible to take action that you both cannot agree on (especially if you know that both of you are working on being kind and not demanding your own way).
2. A well-used phrase, not so well practised
There are many 'managing finances in marriage' bible verses that offer a system for actually managing money in a practical and wise sense. So it may appear to be strange, or even lazy that the next verse we have used is perhaps related to a common and well-known phrase, particularly for married couples.
'For richer or poorer'.
A common phrase it may be, but it's not so easily practised. And when you consider that we are discussing finances in marriage. With the intention of helping you to enjoy a wonderfully happy and blessed marriage, and a balanced perspective on finance (from the perspective of the bible and its teachings), you'll see that it makes sense. Because it's so important that the notion of richer, or poorer is applied in a marriage.
"A bowl of soup with someone you love is better than steak with someone you hate" Proverbs 15:17"
What a wonderful world it would be if love shone brighter than money. If financial hard times hit you, consider principle one, and use that notion to work with your partner through the demands of money. Whether you have lots of it, or not, when you try this, the only outcome will be one that brings you closer together and solid as a couple.
Remember if you can't handle a small amount of responsibility or money with integrity, how will you ever be given the responsibility of a larger amount?
"Whoever can be trusted with very little can also be trusted with much, and whoever is dishonest with very little will also be dishonest with much. So if you have not been trustworthy in handling worldly wealth, who will trust you with true riches? Luke 16:1-13
3. A more practical approach to finances in marriage
There are many verses related to finances in marriage in the bible, many of which discuss the importance of planning, and discipline.
When you plan and are disciplined with the execution of your plan, and you plan together as a couple. You are both in agreement about your financial limitations, opportunities and boundaries, and how you will manage your decisions or fix problems that may arise over the years as Husband and Wife. Which makes life run smoother and allows you to hand the responsibility of seeking out or manifesting money over to your faith more easily and reduces conflict in your life and relationship.
You could include in your plan a strategy for how you both plan to handle any common problems or disagreements that may occur during your life together.
This way, many of the financial challenges that most people face will be handled effectively, and you can always refer to the bible to seek advice on how to formulate your plan.
Here's what the bible has to say on this notion.
"Without planning based on biblical values, goals, and priorities, money becomes a hard taskmaster and, like a leaf caught up in a whirlwind, we get swept into the world's pursuit of earthly treasures (Luke 12:13-23; 1 Tim. 6:6-10)" – www.Bible.org.
"If our financial planning is to work, it will require discipline and commitment so our plans are translated into actions. We must follow through on our good intentions" (Prov. 14:23).
With these three finances in marriage bible strategies, you'll soon be achieving a balanced, mutually respectful, and enjoyable marriage – and relationship with money. Here's to your long and happy life together.
P.S. Isn't it interesting that our approach toward marriage should need to be managed in the same way that our approach to money should be – almost as if handling money, is a relationship in itself, we think so.
Share this article on
Want to have a happier, healthier marriage?
If you feel disconnected or frustrated about the state of your marriage but want to avoid separation and/or divorce, the marriage.com course meant for married couples is an excellent resource to help you overcome the most challenging aspects of being married.
Learn More On This Topic
You May Also Like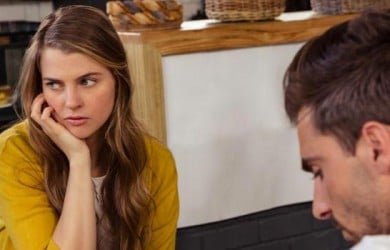 Popular Topics On Married Life