How to Love an Empath: 15 Secrets of Loving an Empath
If you are in love with an empath, you may notice that your relationship is a little bit different than others you might have experienced. There are a few reasons for this. However, there are specific ways that you can love an empath, which will help you build your bond and keep it strong.
Here's a look at how to love an empath, including 15 secrets you may want to know.
What is an empath in a relationship?
An empath is a person that seems as if they are sensitive, but it is really much more than that. They are sometimes able to feel the emotions that others around them feel. In some cases, an empath might actually feel the vibe of a room or place.
This can cause them to want to keep to themselves and not go out and will often make them run through a course of emotions, depending on the situation.
How do empaths show their love?
In empath relationships, an empath will love their partner with everything they have. In fact, they may have a hard time worrying about their own needs over their mate's. On the other hand, sometimes closeness might make them feel overwhelmed.
If you are thinking about being in a relationship with an empath, consider letting them tell you when they want to be touched or caressed. As you become closer in your relationship, there's a good chance you will be able to tell for yourself when they want to be held and when they need to have their own space.
Also Try: 

Am I An Empath Or Codependent Quiz
How does an empath know they are in love?
An empath knows they are in love because they can feel it. Since their emotions and feelings are so intense, they may end up loving you very deeply, but this is something that makes them special.
You won't be able to deny that an empath loves you, so you'll know where you stand with them. This may be similar to what occurs when you are making love to an empath as well.
Who can empaths fall in love with?
An empath can fall in love with whoever they want to, but it may not work out if the person they fall for isn't able to express their feelings. In the case of empaths romantic relationships, they will be more compatible with someone who isn't afraid to show emotions and will allow others to as well.
Also Try: 

Are You an Empath

?
15 secrets of loving an empath
These 15 secrets can help you learn more about how to love an empath.
One of the worst things you can do to an empath, especially if you are trying to learn more about how to love an empath woman, is to lie to them. They need you to be honest with them at all times. The good news is that they will usually be honest with you as well.
Most people feel like honesty is crucial in any romantic relationship, and a relationship with an empath is no different.
Also Try: 

Honesty Quiz for Couples
Don't pressure them to talk
There are times when an empath will not be able to clearly talk about how they are feeling. When this happens, do your best not to pressure them. Let them take the time they need to get their thoughts together, and when they are ready, they will share with you how they are feeling.
On the other hand, you need to let them speak whenever they need to. If they have something that they need to say, it is beneficial to allow them to get it off their chest. Even when you think that they are saying things that don't make sense to you, this doesn't mean that it doesn't make sense to them.
Also Try: 

Quiz: Are You Open with Your Partner

?
When you are learning how to love an empath, you need to let them be who they are. Do not try to change them or tell them how they are acting wrong.
They will likely seem sensitive, be avoidant of certain situations, and might keep a distance from you at times, but these are all things that you should expect. This is part of the process of loving an empath.
Give them time to do their own thing
During times when an empath seems withdrawn or exhausted, allow them to do their own thing. If you notice that they aren't acting like themselves, give them some space and let them be alone. When they are ready to talk or hang out, they will let you know.
Also Try: 

When Will I Fall in Love Quiz
Don't expect them to be social
One of the things you may notice about empaths in relationships is that they don't always want to be social. If they tell you they don't want to go out or hang with your friends, sometimes it is okay to go alone. It can be overwhelming to be around others for empaths, especially if the location will be loud and vibrant.
Something else you should consider when it comes to how to deal with an empath is that you need to let them love you. At times, intimacy may overwhelm them, so while you are getting to know each other, you should allow them to tell you when they want to cuddle or become intimate.
Also Try: 

Who Loves Who More Quiz
If you are in love with an empath, it is fine to appreciate their abilities. In fact, you should. They may seem like they feel too many things or are too passionate about certain issues, but these may be the exact things you love about them. This indicates that they have plenty of strength and determination.
When it comes to empath and relationships, they may become overwhelmed from time to time. Once you notice that this is the case, help them with whatever they need to be done. If they require assistance cleaning up the house or finishing a project, share the load with them.
They may not be able to get through the tasks themselves, but with your help, an empath can start to feel better and get more accomplished.
Also Try: 

Why Do I Love Them So Much Quiz
Anytime you feel like the empath that you are in a relationship with needs something to cheer them up, suggest that they go out in nature. Sometimes, an empath may feel better when they are outside. You might want to consider going on an outdoor getaway or visiting a park.
Tell them what you need from them
While you are learning how to date an empath, you should keep in mind that they may not understand exactly what you need from them.
It is best to be polite but clear about what you need out of the relationship if there is anything lacking. For instance, if you would like their help with something that they aren't freely giving, it's okay to let them know.
Also Try: 

What Are My Emotional Needs

?
Loud noises may cause an empath to become frazzled, so when you can, it is better to keep your home quiet. You don't want them to develop anxiety.
This may cramp your style a bit, but you can always invest in some high-quality headphones, where you will be able to enjoy your music, TV, and gaming in a way that won't disturb your partner.
This could be trying for you when you are working on how to love an empath, but it is a small price to pay to keep them comfortable.
Take the time to have fun
Make time to have fun sometimes. Given the way an empath feels the pain and emotions of others, this can lead to them feeling upset or lousy at times. You might be able to improve their mood by having fun together. Play board games, cook dinner together or watch a funny movie.
Also Try: 

When It Comes To Fun, Are You Compatible

?
Even though an empath may seem like they are fragile and will fall apart, this doesn't mean that you should underestimate them. An empath is usually strong and excels in their career goals, so keep this in mind when you are finding out how to love an empath.
Refrain from hurting an empath
Do your best not to hurt an empath. If you hurt them, they may have a hard time trusting you, and they might also take it personally, even if you didn't mean for them to.
Try to talk about issues with them and be honest with them, and these things should be able to diffuse some hurtful situations. This is one of the biggest factors in terms of how to love an empath.
For further details on how to love an empath, look at this video:
How to know if you are an empath?
If you are trying to determine for sure if you are an empath, you may consider the items in this article. Do you find yourself feeling the emotions of others or becoming overwhelmed in crowds?
Perhaps you take injustices personally and need alone time to deal with how you feel about them. If these things ring true for you, there's a good chance that you are an empath.
You might want to work with a counselor to find out more and to learn how to address your feelings and behaviors when they stress you out.
Also Try: 

What Type of Empath Am I Quiz

?
Conclusion
If you are doing your best to learn how to love an empath, the secrets listed above should be able to help you. Keep in mind that it may take time to learn how to be respectful to your empath partner.
This is to be expected. You and your mate can go to counseling together if this is what you want and learn how to communicate more effectively.
Share this article on
Want to have a happier, healthier marriage?
If you feel disconnected or frustrated about the state of your marriage but want to avoid separation and/or divorce, the marriage.com course meant for married couples is an excellent resource to help you overcome the most challenging aspects of being married.
Learn More On This Topic
You May Also Like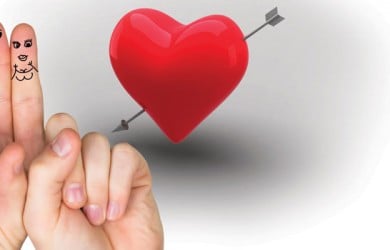 Popular Topics On Married Life