Groom Wedding Vows 101: A Practical Guide
Soon it is your time to share your groom wedding vows with all the guests at your wedding.
You, as the groom, will not only publicly share your personal vows but also have to tread with caution while pledging your affection for your partner with the best choice of words.
Nervous about finding some sample wedding vows to get inspiration and mojo from?
You shouldn't be, not with the tips that this article will provide you with common vows for grooms.
If you are still unsure about writing your vows, this article on wedding vow examples for him can give you some practical advice on coming up with genuine, unique vows.
Your bride-to-be will surely love the idea of sharing personal, memorable, and good wedding vows. But coming up with the best wedding vows invites important questions like:
How to be original in your custom wedding vows without having all these insider jokes?

Should you be funny or clever in your wedding vow ideas?

Should you

share personal details or stories in your vows

?

How long should my vows be?
Also, watch this delightful video on groom wedding vows:
First things first
Before you start writing your vows, make sure everybody is on the same page. This might seem like an open door – it is. Nonetheless, don't take it for granted. Not every priest or rabbi is okay with scraping their Biblical passage for a personal vow.
And, perhaps even more important, is your partner also willing to write personal vows? Perhaps you are a much more talented writer, and she has more trouble with words than you do.
So make sure everybody is on the same page if you want to nail the best wedding vows for him!
One of the best ways to come up with beautiful vows for grooms and brides is to talk with your partner. She might have some topics that she would rather not discuss. Perhaps you can share a few lines, or even paragraphs to make sure you have the same idea.
During the conversation you can address various questions that are puzzling you. Will your groom's wedding vows be personal or formal? Will they include personal anecdotes? And so on.
Keep things appropriate
Another open door perhaps, but it needs to be said:
In your groom wedding vows, never say anything that might be inappropriate, not even if you think it's funny or clever.

Do not reference

sex

. And certainly do not reference one of your exes.

You can incorporate some humor in your toast, but definitely not in your groom wedding vows.

Do not use profanity as it will be in such contrast with the other parts of your vows that people will only remember the profanity.
Vows for grooms: How to structure your vow
Writing your own vows might seem hard, but with the right structure in place, it becomes way easier. What follows below is a typical wedding vow structure that you can use for your own personalized vow.
Kick-off with these wedding vow examples for grooms.
State your name, her name, and your intention for wanting to marry.
"I, ____, stand here to take you, ____, to be my wife and lifelong partner in marriage."
Part 1 – picking up the pace
Once again state in your groom wedding vows why you intend to marry and what the marriage means to you.
You might want to think about what you value most about your partner, or perhaps you want to reference a beautiful memory or the moment you knew she was the one.
Here' a touching wedding vow template for some inspiration to finding the right words for your ladylove.
"As husband and wife, I know we will be able to overcome any challenges and accomplish anything. From the moment we first met in high school, I knew you and I were meant to be together. We began dating, and my feelings grew stronger every day. I never doubted my love for you, not for a second. I still love you more and more with each and every passing day."
Part 2 – finish strong
What promises do you want to make in your groom wedding vows? Think this through as these promises will last a lifetime.
"From this moment forward, with you by my side, I promise to always live by the vows that I make today. I promise to be the best spouse I can be and to be a loving father for our children. I will love you in sickness and in health. I will love you whether we are rich or poor. I now pledge to hold these promises dear to my heart, for the rest of my life."
Well done, such wedding vows ideas might just be the perfect draft for your vows as a groom.
Just keep in mind not to compromise quality on behalf of quantity. Ideally, your vows should be no longer than one minute. However, it is much more important what you say than how long your speech is.
Need a hand? Some examples of groom wedding vows
Best friend groom wedding vows
" ____, I love you. You are my best friend. Today I give myself to you in marriage. I promise to encourage and inspire you, to laugh with you, and to comfort you in times of sorrow and struggle.
I promise to love you in good times and in bad, when life seems easy and when it seems hard, when our love is simple, and when it is an effort.
I promise to cherish you and always to hold you in the highest regard. These things I give to you today and all the days of our life."
Life companion groom wedding vows
" Today, ____, I join my life to yours, not merely as your husband, but as your friend, your lover, and your confidant. Let me be the shoulder you lean on, the rock on which you rest, the companion of your life.
With you, I will walk my path from this day forward."
Dream and prayer wedding vow
" I love you. Today is a very special day.
Long ago, you were just a dream and a prayer.
Thank you for being what you are to me.

With our future as bright as the promises of God,
I will care for you, honor, and protect you.
I will love you, for now and always."
Being creative and memorable
It is time to get those creative juices flowing.

Jot down ideas and leave judgment aside when starting to write your groom wedding vows.
Your initial vow does not have to be perfect. Simply write down ideas, edit, and then edit some more.
Read more:- Creating Memorable Marriage Vows For Her
As soon as you are happy with your groom wedding vows, make sure you memorize them. Memorize, then practice. Memorize, then practice some more. Just take a few minutes each day to memorize your personal vows.
Next time if your friend is stuck with a similar situation like yours, you know where to go looking for the best marriage vows for grooms.
Share this article on
Want to have a happier, healthier marriage?
If you feel disconnected or frustrated about the state of your marriage but want to avoid separation and/or divorce, the marriage.com course meant for married couples is an excellent resource to help you overcome the most challenging aspects of being married.
More On This Topic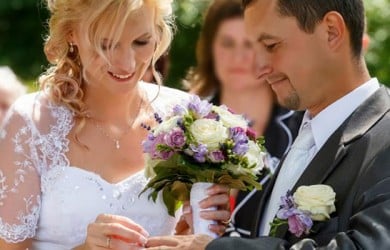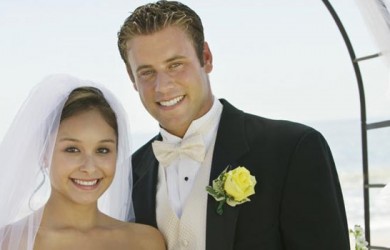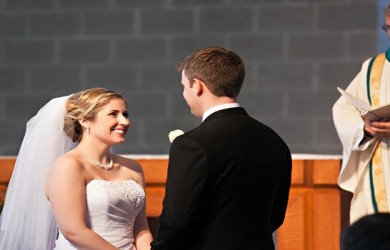 You May Also Like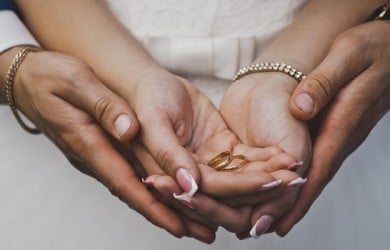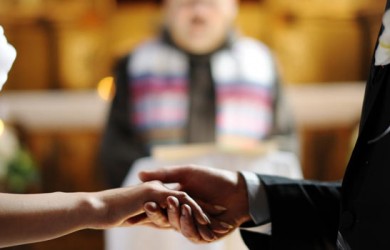 Popular Topics On Getting Married