Romantic Wedding Vows
It is life's most romantic moment: tying the knot with the person you love. Thankfully, you and your fiancé are on the same page: you both want to include romantic wedding vows in your ceremony. Selecting romantic vows that use lyrical, love-fueled language is a great way to convey to your wedding guests just how much your "love cup" runneth over.*
Romantic vows should mirror what is in your heart
Not sure where to begin? Researching what to include is one of the most enjoyable tasks of planning a wedding. So settle back with your fiancé, grab a cup of coffee or pour yourselves a glass of wine, and let's have a look at how you might up the romantic-factor of your wedding vows.
1. Romantic Poems
Poetry has long been a way for men and women to attract, seduce and seal their love for each other. There are few better ways to say how bonded you are with your partner, like your own scripted romantic vows than by reciting a poem or two from some of the great Wordsmiths.
Are you envisioning a classic, more-formal wedding? You might want to use something from Shakespeare's Romeo and Juliet. It is one of the most romantic plays ever penned (even if it did end tragically). Shakespeare knew his stuff when he wrote:
My bounty is as boundless as the sea,
My love as deep. The more I give to thee,
The more I have, for both are infinite. (Romeo and Juliet, Act Two, Scene Two)
Or this verse that speaks to the certainty of your love for each other, from Hamlet:
Doubt thou the stars are fire;
Doubt that the sun doth move;
Doubt truth to be a liar;
But never doubt I love. (Hamlet, Act Two, Scene Two)
Looking for something unique? How about these lines from "In Muted Tone," a poem from the 19th century French poet Paul Verlaine. He really knew how to woo his woman with these words:
Gently, let us steep our love
In the silence deep, as thus,
Branches arching high above
Twine their shadows over us.
Let us blend our souls as one,
Hearts' and senses' ecstasies,
Evergreen, in unison
With the pines' vague lethargies.
The great Irish poet, W.B. Yeats, wrote Aedh Wishes for the Cloths of Heaven for his love. It lends itself perfectly to a romantic wedding ceremony, especially the last two lines:
Had I the heavens' embroidered cloths,
Enwrought with golden and silver light,
The blue and the dim and the dark cloths
Of night and light and the half-light,
I would spread the cloths under your feet:
But I, being poor, have only my dreams;
I have spread my dreams under your feet;
Tread softly because you tread on my dreams.
2. Romantic songs
A musical interlude is always welcome during a vow exchange, and there are plenty of love songs of every genre to choose from. Decide on what type of mood you'd like to create: soft and reflective, contemporary, soulful, jazzy? The catalog is endless, but here are some titles to get you started:
If you are looking for something contemporary, check out Train's Marry Me. Even the title is appropriate! You can't go wrong with a song that begins with:
Forever can never be long enough for me
To feel like I've had long enough with you
Forget the world now, we won't let them see
But there's one thing left to do
Now that the weight has lifted
Love has surely shifted my way
Marry me
Today and every day
Would you like to include a classic soul number? Etta James sings her heart out with the emotion-fueled At Last:
At last my love has come along
My lonely days are over
And life is like a song
Older people at the wedding would recognize the jazz standard Our Love Is Here To Stay, written in 1938 by George Gershwin. There's an updated version sung by Natalie Cole, too.
It's very clear
Our love is here to stay;
Not for a year
But ever and a day.
The radio and the telephone
And the movies that we know
May just be passing fancies,
And in time may go!
But, oh my dear,
Our love is here to stay.
3. Prose Readings
A lovely way to involve your friends in your ceremony is to have one or two of them come up to the altar and read a piece they or you have selected. This also gives you and your fiancé a moment to step out of the spotlight and calm your nerves. What about this romantic text from the Chilean writer Pablo Neruda:
I love you without knowing how, or when, or from where. I love you simply, without problems or pride: I love you in this way because I do not know any other way of loving but this, in which there is no I or you, so intimate that your hand upon my chest is my hand, so intimate that when I fall asleep your eyes close.
Victor Hugo wrote this, in Les Miserables:
The future belongs to hearts even more than it does to minds. Love, that is the only thing that can occupy and fill eternity. In the infinite, the inexhaustible is requisite.
Love participates of the soul itself. It is of the same nature. Like it, it is the divine spark; like it, it is incorruptible, indivisible, imperishable. It is a point of fire that exists within us, which is immortal and infinite, which nothing can confine, and which nothing can extinguish. We feel it burning even to the very marrow of our bones, and we see it beaming in the very depths of heaven.
If one or both of you is a fan of graphic novels, this, from Neil Gaiman's The Sandman would add a contemporary, yet very romantic touch to your special day:
Have you ever been in love? Horrible isn't it? It makes you so vulnerable. It opens your chest and it opens up your heart and it means that someone can get inside you and mess you up. You build up all these defenses, you build up a whole suit of armor, so that nothing can hurt you, then one stupid person, no different from any other stupid person, wanders into your stupid life … You give them a piece of you. They didn't ask for it. They did something dumb one day, like kiss you or smile at you, and then your life isn't your own anymore. Love takes hostages. It gets inside you.
These are just a few ideas to consider as you put together the romantic vows that you have always dreamed of. Whatever you select, be it poetry, song or readings, make sure it reflects what is inside your hearts. These words should fill the wedding venue with a feeling of love, promise, and hope. Yours will be a ceremony to be remembered!
Share this article on
Want to have a happier, healthier marriage?
If you feel disconnected or frustrated about the state of your marriage but want to avoid separation and/or divorce, the marriage.com course meant for married couples is an excellent resource to help you overcome the most challenging aspects of being married.
More On This Topic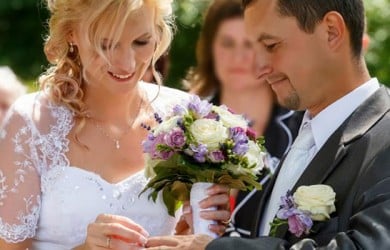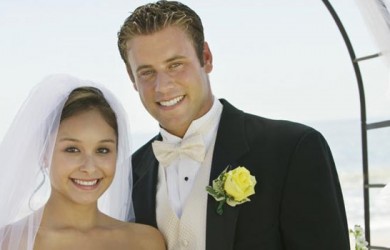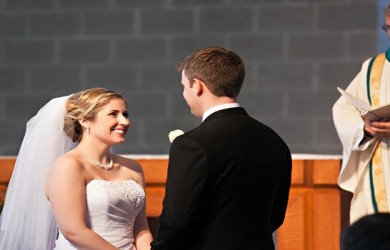 You May Also Like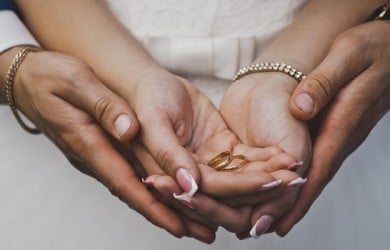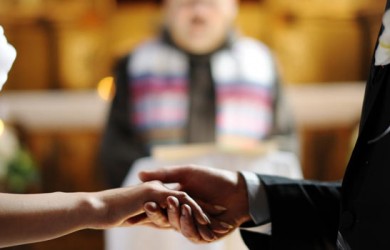 Popular Topics On Getting Married