4 Tips for Writing Civil Marriage Vows
A civil marriage is a marriage performed or recognized by a government official rather than a religious figure presiding over a religious ceremony.
Civil marriages have an extensive history—there are records of civil marriages going back thousands of years—and many couples are choosing to have civil marriages over religious ceremonies for a variety of reasons.
There are even religious couples who have choosen to have a civil ceremony, either on its own or coupled with a religious ceremony after they are officially married.
Whether you opt for a religious or a civil ceremony a major aspect of your wedding would be writing your own wedding ceremony vows. Wedding vows portray the promise that couples make to each other at their wedding to reflect on their love and commitment towards each other.
Writing wedding ceremony vows is an ancient tradition and over time has become more romantic. There are many great traditional and civil wedding vows examples to personalize your wedding and make it more special.
If you and your partner have decided to have a civil marriage, you may be wondering about your civil wedding ceremony vows. If you are preparing for your civil marriage, here are four tips and tricks for writing the perfect civil marriage vows.
1. Tweak the traditional vow
The idea behind a wedding vow is to make certain promises and commit yourself to your partner. No matter if the vows are more or less traditional, their intent is always the same.
That being said if you are facing some challenges in writing your own vows you can always find some traditional wedding vows that you like and tweak them to add what feels right for you and your partner
In English, the most traditional wedding vows outlines are commonly associated with a religious marriage ceremony—but that doesn't mean you can't tweak it a bit for your civil service.
If you want to use traditional wedding vows, but don't wish to have a religious message in them, all you need to do for most traditional vows is change a few words here and there.
2. Write your own vows
It's becoming more and more common for couples, civil marriage or otherwise, to write their own vows. If you just can't find the right pre-written civil marriage ceremony vows for yourself, or simply want to make your vows more personal, then writing your own vows is an excellent choice.
Your vows can say whatever it is you want them to say—you can express your hopes and wishes for the future with your partner, you can talk about how you met, or how much you love them, or your commitment and love.
Make sure you pen down your ideas for your civil ceremony vows, no need to worry about the sentences being phrased perfectly. The idea is to write as much as you can and then start polishing it.
The reason for writing your own civil marriage vows is to make the ceremony more personal so start by asking yourself some simple questions such as, how did you meet?, where and when was the first time you met each other?
What was it that attracted you towards your partner?When were you certain that he/she was the one for you?What does getting married mean to you?, and what part would you play to build a future for each other in your marriage?
Of course, if you are having a little trouble writing your vows, don't be afraid to ask a loved one for some help. You can also research the wedding vows of other couples to get a fair idea of what should be the tone of your vows or how long your vows should be.
3. Look outside the box for vows
Most traditional marriage vows come either from religious books or from older religious ceremonies that have been handed down over the centuries.
But you don't have to think inside the box when it comes to your civil marriage vows; there are many different sources for quotes and vows that aren't associated with religion or religious texts.
The following are just a few ideas where you can find inspiring quotes or messages for your civil marriage vows:
Books

Film/TV Shows

Poems

Songs

Personal Quotes
Many couples who choose to use literature, film or music quotes for their civil marriage vows pick these quotes from their—or their partner's—favorites.
This makes the vows even more personal and can be a great way to show your partner just how much you care about them. Of course, you may run into trouble finding an appropriate vow quote if your partner's favorite movie is something like Ghostbusters!
4. Practice makes perfect
Even though your vows entail some of the deepest feelings of love and compassion that you have for your partner when it comes to you standing at the altar and reciting them you might find yourself forgetting the right words.
No matter how awkward or silly it might feel but practicing your vows is by far one of the best ways to improve them. Practicing your civil marriage vows out loud in the shower or in front of a mirror gives you a great idea of how good they are and also helps you memorize them for later.
Listen to yourself to see if your vows sound easy and conversational or if there are any tongue twisters and long sentences that need some tweaking.
These tips and tricks can be followed in order to make writing your vows easier, but remember to listen to your heart and have fun creating these meaningful vows!
Share this article on
Want to have a happier, healthier marriage?
If you feel disconnected or frustrated about the state of your marriage but want to avoid separation and/or divorce, the marriage.com course meant for married couples is an excellent resource to help you overcome the most challenging aspects of being married.
More On This Topic
You May Also Like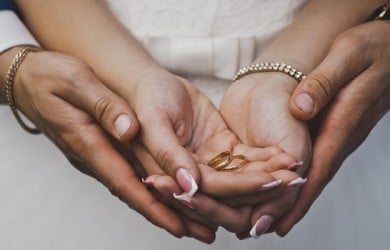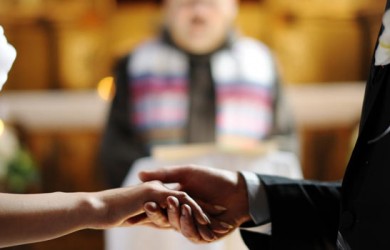 Popular Topics On Getting Married