Wedding Vows 101: What to Consider and How to Write Them
Writing wedding vows in your own words is no easy feat and, without a doubt, the most important part of the wedding ceremony.
Sending wedding invitations is a cinch; choosing your wedding rings isn't a big deal either. Selecting your wedding officiant is a cakewalk, but writing your wedding vows is not a child's play.
Crafting an articulate proclamation of your deep and unflinching love for your partner can give you the jitters.
Many of us might like to think that we could sit down with a nice glass of Chardonnay or Merlot and hash out our feelings on a piece of paper, But remember, it's not all that simple!
Of course, there is no harm in trying that out, but you are more likely to end up with a mess of words that sound like they belong to a teenager's diary or Hallmark cards, but certainly not your wedding vows.
Writing marriage vows
People often want to write their own vows. Writing your own wedding vows adds a personal touch to wedding ceremonies and gives couples a chance to share how they really feel about each other.
Vows are a way for individuals to share what marriage means to them. Vows are the way brides and grooms make promises to their significant other. These are the promises they plan to fulfill for a lifetime.
Yes, getting the words to flow can be difficult but writing wedding vows is not that tough as long as you take a structured approach to write them. Taking the process step by step takes some of the pressure off and allows you freedom in writing your own vows from the heart.
What does a wedding vow entail
So, as you are looking for wedding vows 101, here is a step-by-step approach to going about the entire process.
Before we move on to how to write marriage vows, let us try to understand what to say in wedding vows and what exactly a wedding vow calls for.
We all are aware of the basics of a wedding ceremony and that it entails an exchange of vows. These wedding vows are the promises that the two people make to each other.
These promises can differ across various religions, as well as from couple to couple belonging to the same faith. Nevertheless, the core principle remains the same.
Whatever your religious background and wherever you choose to get married, either in a church or a temple or a courthouse or even your backyard, you are declaring a lifetime's commitment to your partner, which is also witnessed by your friends and family.
It isn't an exaggeration if we say that perhaps your wedding vows are the most important declarations you will ever make in your life. So, let us have a look at some of the tips for writing wedding vows.
How to write your own wedding vows
Since you are here to check the tips for writing vows, you must have already browsed enough on 'how to write wedding vows for her' or 'how to write wedding vows groom' or simply 'how to write personal wedding vows.'
You must be bursting with innumerable ideas, but yet might not be sure of how to start and how long should wedding vows be.
So, here is what you need to know about personalizing the wedding vows to touch your spouse's heart and be cherished forever:
When writing a couple's wedding ceremony vows, try to agree on a tone with your fiancé. The two of you may want to go in a romantic direction, take a more humorous approach o,r decide that both parties are free to do their own thing.

Once a tone or lack thereof is decided on, start brainstorming. When you have time, write down a few ideas and reflect on the

relationship

.

Next, focus on the promises you will make and write everything out.

From there, all you have to do is edit your vows, shorten them if you find that you got too carried away, and lastly, practice them out loud.

Also, do not forget to save a few copies. Make sure one is handwritten, one is on your phone, and the other on your computer.
Related- Marriage Promises: Going Beyond "To Love, Honor And Cherish"
Wedding vows to consider
To make things a little easier, here are a few wedding vows examples if you are still ruminating on 'how to write your wedding vows' or 'how long are wedding vows.'
Don't tax yourself too much. Feel free to use these suggestions as inspiration to get the words flowing.
"[Partner's name], you are my best friend. From this day forward, I promise to grow with you and love you. I vow to always be there for you and respect you. I promise to be there to share the laughs, the cries, and provide you with the loving support you deserve. There is no one else I want to spend the rest of my life with, and cannot wait to start our life together."

"I take you as my spouse. From this day forward, we will be partners in life. We will cherish the good times, work through the hard times, and share any and everything in between. I love you and vow to continue loving you for the rest of my life. Lean on me during times of need, smile with me during times of joy, and our love will grow with each passing year. "

"Today, I give myself to you. I will openly share my life with you and speak to you, honestly. I will always care for you, support you, and respect our differences. I vow to honor and cherish you as long as we both shall live."
Even though it may be a daunting task to write your own wedding vows, if you speak from the heart, your vows will win over family and friends but will leave your spouse with a memory meant to last a lifetime.
Share this article on
Want to have a happier, healthier marriage?
If you feel disconnected or frustrated about the state of your marriage but want to avoid separation and/or divorce, the marriage.com course meant for married couples is an excellent resource to help you overcome the most challenging aspects of being married.
Learn More On This Topic
You May Also Like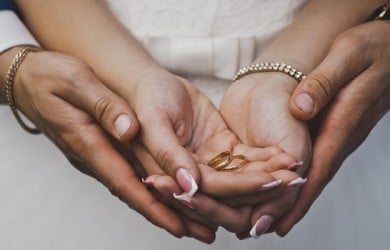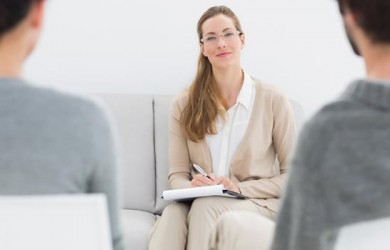 Popular Topics On Getting Married