Creating Memorable Marriage Vows For Her
As the bride-to-be, you have so much to think about already.
Once you've found your perfect wedding dress, booked the venue, sent off the invitations, and ordered the flowers, now you can sit down with a mug of coffee and think seriously about your vows. But writing vows for her is no easy feat.
All things considered, the vows are actually the pivotal point of the whole event – that's why you are having a wedding day so that you can publicly express your love for each other and make your marriage vows in front of your family and friends as witnesses of this momentous and marvelous commitment that you are making.
Some people may not believe in making vows in today's time, but for those, who believe in the sanctity of wedding vows, here's some inspiration.
So when it comes to marriage vows for her, you may be planning to write your own special words to delight him and show him your heart in a unique way on your special day. But what do you say exactly as you grapple with best wedding vows for her that spell magic and captivate everyone?
If you are stumped on best vows for her, then look no further. Read on for sweet wedding vows for her examples and vow ideas for her.
If you include these seven ingredients you should be well on your way to creating a memorable marriage vow in which you can express yourself clearly and lovingly as you make your promises to your husband-to-be.
Also watch:
Wedding vows ideas for her
1. Be yourself
Getting married is a very personal matter on every level. So even if you use some of the beautiful vows which have already been written, whether traditional or contemporary, make sure that they are in line with what you really want to say. The value of a vow is unprecedented for any couple in love, getting married.
By now you and your future spouse have gotten to know each other fairly well, so capitalize on that personal element and just be yourself, the way your beloved knows and loves you.
You may want to bring in your own special humor, mention a few things that have made you both laugh, or some of your favorite memories together strung beautifully in marriage vows for her.
Most of all, be sincere when writing unique wedding vows for her – say what you mean and mean what you say. And keep it simple – remember this is not the time for speeches, but rather it is the time for saying your marriage vows for her concisely and passionately.
2. Say what you love about him
Here is a tip for simple wedding vows for her you need to remember.
When planning what to say in your marriage vows be mindful to mention some of the things that you love about him.
Say how he makes you feel and why you want to marry him.
Maybe you had a list, tucked away at the back of your journal somewhere, of all the qualities you were looking for in your soul mate, and he has fulfilled your whole list and more. Take out that list and makes notes, it may just translate into beautiful vows for her.
Maybe it's the deep, warm tone of his voice, or his honesty and transparency, or the way that he shares his heart generously with you.
3. State what you are promising
Now is the time to really put your heart on the line and clearly state what you are promising the man of your dreams. From your side what are you prepared to contribute to this sacred marriage relationship?
Remember that fifty-fifty does not tend to work well when it comes to marriage.
Each of you needs to be prepared to give your full one hundred percent in order to create and maintain a fully functioning, fulfilling and contented relationship. Sum it up in your wedding vows for her, as a promise of a lifetime partnership.
4. Acknowledge the unknown
On your wedding day, you stand on the threshold of a brand new life together. It may seem as if the future stretches before you like a blanket of freshly fallen snow, white and clean and pure.
But inevitably as you forge ahead you will discover the mud and pitfalls which may be hiding beneath the surface.
In your marriage vows, you can reassure your husband-to-be that you are aware of the unknown, acknowledging that even if the circumstances of your life together take a turn for the worse, you will still continue to love him and stand by his side as you face the challenges together.
5. Know that two become one
In your marriage vows you are taking into account the fact that when you get married you will be forming a brand new unity.
No longer will you be regarded simply as two individuals, but now you will become a couple.
Together you can be better than if you had remained single. Celebrate and applaud the fact that you are happily surrendering your single status in order to become his devoted wife. And of course, that means he is your one and only – regardless of whether or however many there have been before, from now onwards he is the only one for you.
6. Declare your decision and choice
You may not be able to choose your family, but you can choose who you will marry. So in your cute wedding vows for her, you might want to tell your beloved that he is the one you have chosen, from all the choices you had.
And in the months and years ahead, remember that it is your choice, and you can decide every day to choose him again and to make the most of your relationship in every possible way.
This decision will be witnessed by your friends and family, as you take your stand and shoulder the romantic responsibility or your decision and choice.
7. Speak about the future
Your wedding day is all about looking to the future with hopefulness and a great expectancy of sharing a joyful and fulfilling life together. You are committing yourselves to one another, planning to spend the rest of your days loving and caring for one another, until you both grow old together.
As an addition to your wedding vow ideas for her be sure to bring in this aspect of the future you are looking forward to sharing as a wife and partner for this man that you have chosen.
Then take hold of his hand and never let go as you step out into married life together, ready to explore and discover the joys and realities which are surely awaiting you.
It may take days of brainstorming to come up with the perfect marriage vows that make the cut. If you have hit a jam writing your vows, search online for some traditional marriage vows or something more contemporary, and then go from there.
Looking for some sample wedding vows for her? Check out these modern-day, simple wedding vows for her. Use these best wedding vows as a template to create your own wedding vows.
Amalgamate all your feelings, your promises, commitments and everything that has been significant to you and your soon to be a spouse in small, meaningful phrases.
Share this article on
Want to have a happier, healthier marriage?
If you feel disconnected or frustrated about the state of your marriage but want to avoid separation and/or divorce, the marriage.com course meant for married couples is an excellent resource to help you overcome the most challenging aspects of being married.
Learn More On This Topic
You May Also Like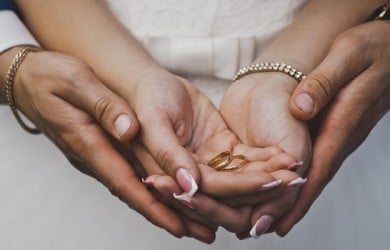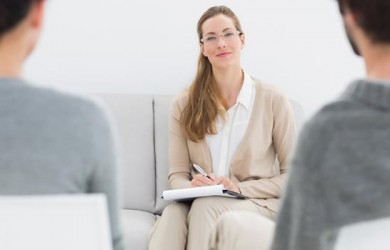 Popular Topics On Getting Married