Beautiful Marriage Vows You Don't Want to Miss
Will you be writing your own marriage vows, or will you be using one of these romantic, beautiful religious wedding vows?
In this article, you will read about some of the most beautiful religious marriage vows out there. They can also be a good starting point for you if you wish to write your own beautiful marital vows.
It can be a great way to incorporate traditional wedding vows into your non-traditional wedding. So here it is, a list of religious, beautiful marriage vows for your inspiration and information.
Protestant wedding vow
One of the most well-known wedding vows are protestant vows. You have probably heard it in movies where the happy couple is finally getting married in the end.
"I, ___, take thee, ___, to be my wedded husband/wife, to have and to hold, from this day forward, for better, for worse, for richer, for poorer, in sickness and in health, to love and to cherish, till death do us part, according to God's holy ordinance; and thereto I pledge thee my faith to you."
Lutheran wedding vow
"I, ______, take you, ______, to be my wife/husband, and these things I promise you: I will be faithful to you and honest with you; I will respect, trust, help, and care for you; I will share my life with you; I will forgive you as we have been forgiven; and I will try with you better to understand ourselves, the world and God; through the best and worst of what is to come, until death parts us."
Hindu wedding vow
"Let us take the first step to provide for our household a nourishing and pure diet, avoiding those foods injurious to healthy living.
"Let us take the second step to develop physical, mental, and spiritual powers.
"Let us take the third step to increase our wealth by righteous means and proper use.
"Let us take the fourth step to acquire knowledge, happiness, and harmony by mutual love and trust.
"Let us take the fifth step so that we are blessed with strong, virtuous, and heroic children.
"Let us take the sixth step for self-restraint and longevity.
"Finally, let us take the seventh step and be true companions and remain lifelong partners by this wedlock.
Roman Catholic wedding vow
"I, ____, take you, ____, to be my wife/husband. I promise to be true to you in good times and in bad, in sickness and in health. I will love you and honor you all the days of my life. ___, take this ring as a sign of my love and fidelity in the name of the Father, and of the Son, and of the Holy Spirit."
Read more:- A Guide to Catholic Marriage Vows
Muslim wedding vow
For most Muslims, it is uncommon to recite vows. Instead, they pay heed to the words of the imam, who speaks about the meaning of marriage and the newlyweds' responsibilities to Allah and each other.
At the end of this ritual, the couple consents to become husband and wife before they are blessed by the congregation.
In the case that the Muslim groom and bride do recite a vow it goes something like this:
Bride: "I, ___, offer you myself in marriage in accordance with the instructions of the Holy Quran and the Holy Prophet, peace and blessing be upon him. I pledge, in honesty and with sincerity, to be for you an obedient and faithful wife."
Groom: "I pledge, in honesty and sincerity, to be for you a faithful and helpful husband."
Jewish wedding vow
"Behold, you are consecrated to me with this ring according to the laws of Moses and Israel. I betroth you to myself forever; I betroth you to myself in righteousness and in justice, in love and in mercy; I betroth you to myself in faithfulness, and you shall know God."
Read more:- Meaningful Jewish Marriage Vows and Rituals
Traditional secular wedding vow
"I, ____, commit myself to you, ____, as wife/husband to learn and grow with, to explore and adventure with, to respect you in everything as an equal partner, in the foreknowledge of joy and pain, strength and weariness, direction and doubt, for all the risings and settings of the sun. We tie these knots to symbolize our connection to one another. They represent our trust in each other and our combined strength together."
Read more:- Traditional Wedding Vows from Various Religions
Non-denominational wedding vow
"______, I take you as my wife/husband, with your faults and your strengths, as I offer myself to you with my faults and my strengths. I will help you when you need help and turn to you when I need help. I choose you as the person with whom I will spend my life."
Non-religious wedding vow
Here is an example of a secular wedding vow:
"I vow to help you love life, to always hold you with tenderness and to have the patience that love demands. To speak when words are needed and to share the silence when they're not, and to live within the warmth of your heart – and always call it home."
Spiritual wedding vow
"____ I love you. You are my best friend. Today I give myself to you in marriage. I promise to encourage and inspire you, to laugh with you, and to comfort you in times of sorrow and struggle. I promise to love you in good times and in bad, when life seems easy and when it seems difficult, when our love is simple, and when it is an effort. I promise to cherish you and to always hold you in the highest regard. These things I give to you today and all the days of our life."
Enough Food for thought?
So now that you have read these inspirational religious marriage vows, what will your vow be?
You can borrow from these ancient, traditional, and some of the most beautiful wedding vows, or you can use them as inspiration for a more progressive romantic marriage vows with traditional hints.
Share this article on
Want to have a happier, healthier marriage?
If you feel disconnected or frustrated about the state of your marriage but want to avoid separation and/or divorce, the marriage.com course meant for married couples is an excellent resource to help you overcome the most challenging aspects of being married.
More On This Topic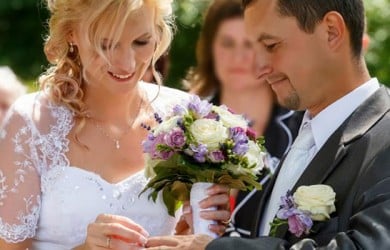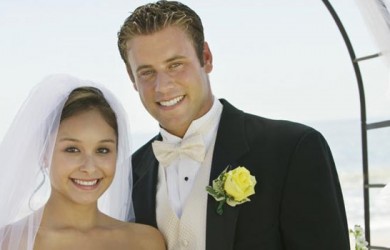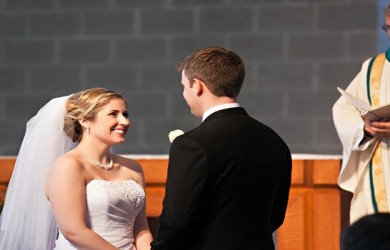 You May Also Like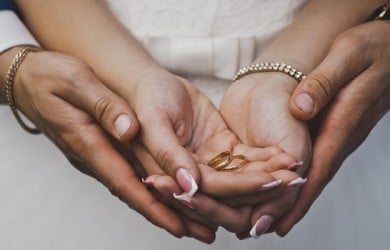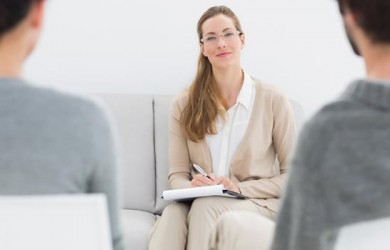 Popular Topics On Getting Married