6 Basic Steps to Getting Married and Living Happily Ever After
When you're young and dreaming of your future spouse and marriage, your mind is filled with all sorts of fanfare. You don't think about any tedious rituals, responsibilities, or any specific steps to getting married.
All you think is about the dress, the flowers, the cake, the rings. Wouldn't it be amazing to have everyone you love there to be part of it with you? It all seems so important and grand.
Then when you grow up and meet the man or woman of your dreams, you can hardly believe it's real.
Now you get to plan the wedding you always dreamed of. You painstakingly take care of every detail and spend all of your extra time and money on the wedding plans. You want it to be absolutely perfect.
The funny thing is, it really takes very little for you actually to be married to someone. In essence, you just need someone to marry, a marriage license, an officiator, and some witnesses. That's it!
Of course, you can certainly do all that other stuff, like cake and dancing and presents. It's a tradition. Even though it's not required, it's pretty fun.
Whether you're having the wedding of the century or just keeping it to you and your spouse-to-be, most everyone follows the same necessary steps to getting married.
So, if you are wondering what is the process of marriage, look no further. You are just in the right place.
Recommended – Pre Marriage Course
Here are the six basic steps to getting married.
1. Find someone you like a lot
Finding someone you love a lot is the first step to getting married, which is very obvious.
Although finding the right partner is one of the first steps to getting married, this may be the longest and most involved step of the whole process.
If you are single, you'll need to meet people, spend time together, date a lot, narrow it down to one, and then fall in love with someone. Also, make sure the person loves you back!
Then comes meeting each other's families, talking about your futures, and making sure you're going to be compatible long-term. If after you've been together for a while and you still like each other, you're golden. You can then move on to step 2.
Watch this video:

2. Propose to your honey or accept a proposal
After you've been serious for a while, bring up the subject of the marriage process. If your sweetheart reacts favorably, you're in the clear. Go ahead and propose.
You can do something grand, like hiring a plane to write in the sky, or just only getting down on one knee and asking straight out. Don't forget the ring.
Or if you aren't the one proposing, simply keep hunting until he asks, and then, accept the proposal. You are officially engaged! Engagements can last anywhere from minutes to years—it's really up to both of you.
The proposal is another crucial step before you plunge into the full-fledged process of getting married.
3. Set a date and plan the wedding
This will likely be the second most extended part of the process to getting married. Most brides want about a year to plan, and you both need a year to be able to pay for it all.
Or, if you're both ok with doing something small, then go that route as there are no definite ways to get married. At any rate, set a date you both can agree on.
Then get a dress and a tux, invite your friends and family, and if it's on the menu, plan a wedding reception with cake, food, music, and décor that reflects both of you. Eventually, all that matters is that both of you should be happy with the way your marriage is solemnized.
Recommended – Pre Marriage Course
4. Get a marriage license
If you are wondering how to get legally married, then get a marriage license!
Marriage registration is one of the primary and unavoidable steps to getting married. If you are not clear how to go about the process, you might get flustered at the end moment, thinking about 'how to get a marriage license' and 'where to get a marriage license.'
The particulars of this step vary from state to state. But basically, call your local courthouse and ask when and where you need to apply for a marriage license.
Be sure to ask if how old you both need to be, how much it costs, what forms of ID you need to bring along when you pick it up, and how long you have from application until expiration (some also have a waiting period of one or more days from when you apply until when you are able to use it).
Also, there are a few states that require a blood test. So, make an inquiry regarding what you need for a marriage license and make sure that you are aware of the requirements for marriage pertaining to your state.
Typically then the officiator who marries you has the marriage certificate, which they sign, you sign, and two witnesses sign, and then the officiator files it with the court. Then you'll receive a copy in the mail in a few weeks.
5. Find an officiant to marry you
If you're getting married at the courthouse, then while you're on step 4, just ask who can marry you and when- typically a judge, justice of the peace or a court clerk.
If you're getting married somewhere else, get an officiator who is authorized to solemnize your marriage in your state. For a religious ceremony, a member of the clergy will work.
Different people charge differently for these services, so ask for rates and availability. Always place a reminder call the week/day before.
6. Show up and say, "I Do."
Are you still thinking about how to get married, or what are the steps to getting married?
There is just one more step left.
Now you just have to show up and get hitched!
Get dressed in your best duds, head to your destination, and walk down the aisle. You can say vows (or not), but really, all you have to say is "I do." Once you are pronounced a married couple, let the fun begin!
Hope these six steps to marriage are pretty easy to comprehend and follow. If you are thinking of skipping any steps to getting married, sorry, you can't!
So, get going with your wedding planning and preparations well in time so that you don't end up rushing at the last moment. Wedding day is the time that you should enjoy to your fullest and leave no scope for any additional stress!
Share this article on
Planning to get married?
Just engaged or contemplating marriage? Discover how to transition smoothly into the next phase of your relationship with Marriage.com's Pre-Marriage Course. Begin your incredible journey with this guide designed by experts and lay a strong foundation for your path of togetherness - forever!
More On This Topic
Recent Articles
You May Also Like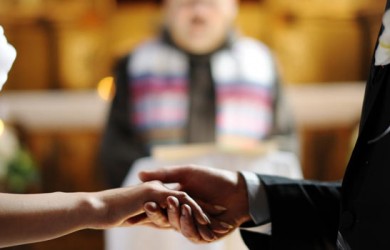 Popular Topics On Getting Married