How to get Romantic with your Girlfriend
Romance is a thrilling part of new love. Surprise flowers, dinner by candlelight, making inside jokes together. Romancing your girlfriend helps you both build moments you'll never forget.
The romance associated with new relationships is also one of the first things to fall away after you've been together for a number of years.
Never let your girlfriend forget how much you love her. Whether you're planning something big for your anniversary or you want to surprise your girlfriend with something special 'just because', romance is always the answer.
Not everyone is born with the romance gene, but don't worry! Learning to be romantic is easy. Your romantic gestures don't have to be expensive or outlandish in order to make her smile – it just has to be genuine. That's why we're showing you 13 foolproof ways to romance your girlfriend.
1. Cook together
One of the most romantic things you can do with your girlfriend is to cook a meal together.
Make it a date night activity. Put on some great music, open a bottle of wine, and take turns copping and sautéing in the kitchen. Not only is cooking together fun and romantic, but it also gives you a chance to sharpen your communication skills and learn new things together.
2. Create a path of roses
Want to create the ultimate romantic ambiance for your girlfriend?
Grab a bouquet of roses and sprinkle the petals down the hallway, leading to the bedroom.
Light candles all around the room and have one or two un-plucked roses waiting on the pillows.
This romantic gesture is sure to take her breath away.
3. Compliment her
Women love compliments. There is something inherently romantic about being told how special or beautiful you are.
You can compliment her on how stunning she looks, how amazing her cooking is, her intelligence, and the list goes on. Just make sure that whatever you say is genuine – she'll be able to tell if you're just complimenting her for the heck of it.
4. Recreate your first date
Research shows that couples get an increase in happiness and decrease in stress while spending time with each other.
One way you can be romantic with your girlfriend while boosting relationship happiness is by recreating your first date.
Book a table at the same restaurant and get ready for a night of reminiscing and romance.
5. Shower her with attention
A Baylor University study found that 46% of participants felt ignored when their partner was on their phone. Don't let this be you!
One of the easiest ways to romance your girlfriend is by giving her your undivided attention.
When she's talking to you, set down your phone and mute the TV. Show her that you care about what she's saying.
6. Plan a trip
What's more romantic than strolling arm in arm in a new country or city, making memories and exploring the sights together?
Plan a romantic getaway to a spa resort or plan the trip of a lifetime and whisk your girlfriend off to Paris.
This will be a romantic vacation she will never forget.
7. Pamper her with relaxation
Studies show that massaging and other forms of physical affection have a strong connection to relationship satisfaction.
Give your girlfriend the time of her life by pampering her in an at-home spa session.
Grab some oil and start massaging her back, legs, and feet. Afterward, share a relaxing bubble bath together.
8. Make a DIY gift
If you want to romance your girlfriend, look no further than a DIY gift.
Transfer a photo of the two of you onto a trendy wood plank using Mod Podge or make her a custom mug by using a sharpie on a blank mug, writing your romantic message, and baking it in the oven.
She will cherish your homemade gift for years to come.
9. Snuggle more often
The next time you want to romance your girlfriend, pull her into a cuddle-sesh on the couch.
Studies reveal that the simple touch of someone you love, say a hug, cuddle, or kiss, can actually lower stress and increase trust in partners.
10. Surprise her
There's something so romantic about surprising someone.
Show up at her work for lunch, bring her breakfast in bed, or record yourself singing her favorite love song.
The options for romance are endless!
11. Be a good listener
Being a good listener may not sound all that romantic, but trust us, your girlfriend will love it. Whether she's telling a funny story from work or she needs to vent about a problem she's having, give her your ear.
Don't forget to make plenty of eye-contact.
Not only does this reassure her that you're listening, but research indicates that eye-contact creates a heightened sense of intimacy between partners.
12. Plan a date
One of the easiest ways you can learn to be romantic is by planning regular date nights.
Choose an activity your girlfriend enjoys (like dancing, museums, or ice-skating) or stick to classics like going out for an intimate dinner together.
Not only is a night out completely romantic, but research shows that couples who have a regular date night experience heightened communication, a libido boost, and are more likely to prevent breakups and relationship boredom!
13. Leave her a morning note
Does your girlfriend appreciate small gestures? If so, this one is for her!
Before she leaves for work in the morning, leave her a sweet hand-written love note or throw one into her lunch-bag or purse before she leaves the house.
She will love finding a note written especially for her.
Learning how to be romantic is a cinch with these 13 tips for romancing your girlfriend. By taking the extra time to compliment her, doing small but thoughtful gestures, and giving her your undivided attention, you'll be reminding her how special she is to you.
Share this article on
Want to have a happier, healthier marriage?
If you feel disconnected or frustrated about the state of your marriage but want to avoid separation and/or divorce, the marriage.com course meant for married couples is an excellent resource to help you overcome the most challenging aspects of being married.
More On This Topic
You May Also Like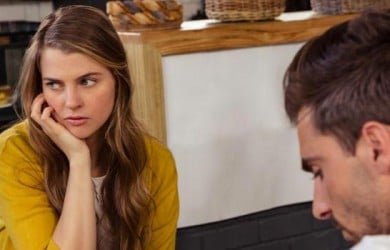 Popular Topics On Married Life