10 Tips for Starting a Long Distance Relationship
The idea of being in a relationship can be effortlessly beautiful. As much as they have been romanticized, relationships also have a good amount of complexity associated with them. Starting a long distance relationship is another level of intricacy.
Starting a long distance relationship requires patience and a lot of effort. A newly dating, long distance couple needs to maintain composure even when their emotions are heightened and they miss physically being with their significant other.
How to make a long distance relationship work?
Falling in love with someone who is miles apart and starting a long distance relationship is not a new concept anymore. As per a study carried out in 2005, 10% of all marriages in the US started as a long distance dating relationship.
Long distance relationships and dating require a certain level of understanding along with an intense desire to keep the relationship going. One of the long-lasting tips for a long distance relationship is to make it a point to arrange regular ldr dates or long distance dates.
What are the stages of a long distance relationship: 10 phases
Long distance or not, every relationship has its stages. When starting a long distance relationship, a person experiences similar levels. Once you cross the initial, long distance talking stage, you may experience the following:
You start romancing this person and agree to enter a relationship

Accepting distance and making romantic long distance promises to each other

Constantly checking on each other to stay in touch

Facing anxiety and missing your partner on a daily basis

Surprising them with gifts and unexpected long distance dates.

Waiting and planning for an upcoming meeting

Being depressed after a recent meeting

Re-evaluating if this will work in the long run

Staying committed no matter what

Growing and maturing in your relationship
Read more on dealing with relationship anxiety here.
10 tips for starting a long distance relationship
After starting long distance relationships, it is a good idea to know beforehand what a person is signing up for. While loyalty and commitment are the basis of all kinds of relationships, there are a few additional things one can follow for a strong and healthy long distance equation.
1. Be prepared for a rollercoaster ride of emotions
One day can be incredible with an awesome online date evening with your object of interest. The next day may be less amazing. When you are having differences over certain things and your partner is not available to talk, it can totally turn the table around.
These sorts of high and low points can give you an emotional jerk, and they can feel alarming. They can make you question the relationship altogether. It would help if you were prepared for this experience when starting a long distance relationship.
2. Make some rules and abide by them
Misunderstandings are one of the most common long-distance relationship problems. A couple wouldn't want their bond to get affected by assumptions, especially when starting a long distance relationship.
What a couple can do is set some rules and boundaries and be crystal clear on how to follow them. Mutually agree on what to expect from each other when miles apart. Following some relationship rituals would make less room for second thoughts and misunderstandings.
Related Reading

: 

25 Essential Rules for a Successful Relationship
3. Beware of jealousy
If you are wondering how to keep a long distance relationship from going off the rails, know this – you may get envious if your significant other is becoming too friendly with someone else and you aren't physically present to see that.
Your significant other could simply be enjoying drinks with their friends, which could leave you thinking something otherwise. Jealousy is a bitter truth about long distance dating but what matters is how much you trust them and how you handle the situation.
Related Reading

: 

15 Signs of Jealousy in a Relationship
4. Try to communicate creatively
Proper communication fuels a long distance relationship right from the beginning and helps shape it better. Keep the communication regular and try to be creative with it at times. You can send short audio or video clips or pictures of doing something interesting throughout the day.
Sending sensual texts to your special someone is another great way to keep things engaging between the two of you! This is one of the popular long-distance relationship tips that couples swear by.
Related Reading

: 

10 Effective Communication Skills in Relationships for Healthy Marriages
5. Don't let the distance hold you back
Even while starting a long distance relationship, there is no limit to the number of things you can do for and with your partner. Here's a list of some of the simple activities that serve as great long-distance relationship tips:
Sing to each other on a video call

Start shopping online together and buy little gifts for each other

Go for a shared meditation session

Go for a walk together. You can start a video call while beginning the stroll

Binge on YouTube videos or web series together at the same time

Opt for the same workout program and track your progress

Get long distance relationship rings for the two of you.
6. Take out 'me time'
Starting a long distance relationship doesn't mean that you have to put all your focus on staying connected with your partner. Making such relationships work also includes remembering who you are as an individual. In fact, it can be an admirable quality in a partner.
Keep some time aside for yourself. Introspect on your personal goals and ambitions. Engage in activities that give you pleasure. Enjoying an ample amount of me time can feel liberating, especially when going through troubled times.
7. Don't communicate too much
Over-communication can make your partner feel that you're being possessive or clingy. Some couples believe that talking too much or too frequently is a way to compensate for not being physically together. But this can actually become a point of dissatisfaction for both or either of you.
Remember that you both have a life apart from your relationship and it is important to pay attention to those aspects, as well.
8. Be honest
Be open and honest with them. The more you try to hide from them, the more suspicious and frustrated they will get. It is okay to share your insecurities and vulnerabilities with your partner. This will make them trust you even more and form a deeper layer of attachment.
Ask them for support when you need it and let them know how important a role they are playing in your life.
9. Plan collective milestones
If you've been into a serious relationship and are willing to continue it for years to come, it's good to prepare a combined checklist for you and your partner. Plan, discuss and note down all the milestones you want to achieve as a couple in the near future.
Milestones are a good way to keep yourself motivated and inspired. When starting a long distance relationship, plan out methods to reach every successive goal and enjoy the process meanwhile.
10. Give personalized gifts
Personalized gifts are always special, be it any relationship. Planning something lavish is unnecessary; just a simple, thoughtful gift can convey your feelings to your loved one. A plain love letter can also go a long way in sustaining the warmth and affection between two people.
Arrange for things in advance for all occasions, especially birthdays and anniversaries. Make sure to give them an enriching experience that they can remember for a really long time.
For more couple gifting ideas, watch this video:
Commonly asked questions
Starting a long distance relationship can make you speculate over plenty of things. Let's deep dive into some of the frequently asked questions in terms of long distance relationships or dating.
Is starting a long-distance relationship a good idea?
The question as to whether starting a long distance relationship is a good decision or not is purely subjective and can have different answers for different people. This topic can not be generalized as it depends on the mindset and desires of the two people entering the relationship.
What you can do here is be clear on your priorities and wants in the longer run. Analyze your preparedness to start something as serious as a long distance relationship and take your call.
Do long-distance relationships usually last?
While some long distance couples might separate their ways within a year of dating, there can be instances of long distance relationships converting into successful marriages.
A couple intensely committed to each other may never have to worry about the length of their courtship. How long a relationship would last is directly related to the efforts and determination of the two people involved.
Takeaway
Starting any relationship is easy but what's not is keeping up with it. It takes a lot of patience, thought and resilience to make the best out of a long-distance relationship. These days, opting for couples therapy is also an option to build a strong relationship.
With a little effort, you can have a heartwarming and fulfilling experience while in a long-distance relationship. Whenever you start feeling overwhelmed, just remember why you decided to be in a relationship with your partner in the first place.
Share this article on
Want to have a happier, healthier marriage?
If you feel disconnected or frustrated about the state of your marriage but want to avoid separation and/or divorce, the marriage.com course meant for married couples is an excellent resource to help you overcome the most challenging aspects of being married.
More On This Topic
You May Also Like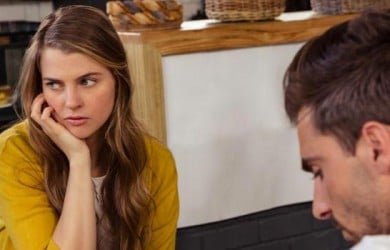 Popular Topics On Married Life