Why Is My Boyfriend so Mean to Me: 21 Reasons to Mull Over
When your boyfriend is mean to you, it can make you feel confused and sad. You might wonder, "Why is he acting this way?" There can be many reasons why your boyfriend is rude. Maybe he's feeling stressed out, or he's not good at talking about his feelings.
Sometimes, people act mean when they're not happy with themselves, or they're scared of something. It's also possible that you both have different ideas about how to treat each other.
Understanding these reasons behind "Why is my boyfriend so mean to me?" can help you figure out what to do next.
Whether it's having a serious talk, getting help from someone else, or thinking about whether this relationship is right for you, it's important to remember that you deserve to be treated with kindness.
What does it mean to have a mean boyfriend?
Having a mean boyfriend means being in a relationship where your partner often acts unkindly or disrespectfully towards you.
This could involve harsh words, critical comments, or even ignoring your feelings. It's not just about the occasional bad mood or argument, which are normal in any relationship, but a consistent pattern of behavior that makes you feel undervalued, hurt, or upset.
A mean boyfriend might belittle your achievements, make fun of you in front of others, or be overly controlling and demanding.
Such behavior can leave you feeling confused, lonely, and with low self-esteem. It's important to recognize that consistent meanness is not a healthy part of any relationship.
7 signs of a mean boyfriend
Being in a relationship should feel like a source of support and happiness, not a constant battle against meanness. If you're feeling uneasy and can't quite put your finger on why it's important to recognize the signs of a mean boyfriend.
Here are 7 red flags that might indicate your partner's behavior has crossed the line from occasional irritability to consistent unkindness:
He rarely has anything nice to say and often criticizes your actions, choices, or appearance.

He makes belittling remarks or jokes at your expense, especially in front of others.

He shows little concern for your feelings or dismisses them entirely.

He tries to dictate what you can do, who you can see, or how you should think.

He has frequent outbursts of anger over minor issues and may blame you for them.

He uses guilt or emotional blackmail to influence your decisions and actions.

He discourages or prevents you from spending time with friends and family or pursuing your own interests.
Why is my boyfriend so mean to me: 21 possible reasons behind his behavior
When the person you care about starts treating you with meanness, it can be both hurtful and bewildering. If you've ever found yourself pondering, "Why is my boyfriend so mean to me?" it's crucial to understand that there could be a multitude of underlying reasons contributing to this demeanor.
Here's a look at 21 possible reasons behind his unkind behavior:
1. He's stressed about something unrelated to you
Stress can be a significant factor in someone's behavior. If your boyfriend is under pressure from work, financial burdens, or other life challenges, he might inadvertently take it out on you. This displacement of stress can manifest as meanness, leaving you feeling hurt and confused.
When people are stressed, they can inadvertently take it out on those closest to them, leading you to wonder, "Why is my boyfriend so mean to me?" It's not an excuse for his behavior, but it might help explain it.
2. He has unresolved personal issues
While you question, "Why is my boyfriend being mean to me?" focus on the background as well.
Past traumas, unresolved conflicts, or deep-seated issues can manifest as meanness in a relationship. If your boyfriend is mean to you, it might be a reflection of his inner turmoil that he hasn't yet addressed or healed from.
3. He's not good at expressing his emotions
Emotional expression doesn't come naturally to everyone. If your boyfriend struggles in this area, his inability to communicate his feelings might result in him being mean. Instead of opening up about what's bothering him, he might shut down or lash out, leaving you wondering, "Is my boyfriend mean, or just misunderstood?"
4. He's mimicking behavior he's seen in his own family
Behavioral patterns are often learned in childhood. If your boyfriend was exposed to meanness in his family, he might unconsciously replicate this behavior in his own relationships. It's a learned response that he might not even realize he's exhibiting.
5. He's feeling insecure
Insecurity can lead to a myriad of negative behaviors, including meanness. If your boyfriend is grappling with self-doubt, he might project those feelings onto you, using meanness as a shield to protect his fragile self-esteem.
6. He's dealing with jealousy
Jealousy is a potent emotion that can drive people to act out of character. If your boyfriend is mean, it could be a manifestation of his jealousy and fear of losing you. This can lead to possessive or mean behavior as he tries to cope with these feelings.
7. He's trying to control or manipulate you
Control and manipulation are serious red flags in any relationship. If your boyfriend is mean to you, it might be a deliberate attempt to exert control or manipulate you into behaving in a way that he prefers.
This could manifest through guilt-tripping, gaslighting, or other tactics designed to undermine your confidence and independence, ensuring that he maintains the upper hand in the relationship.
8. He's unhappy with himself
Personal dissatisfaction can lead to externalizing negative feelings. If your boyfriend is unhappy with aspects of his own life, he might displace that unhappiness onto you through mean behavior, leaving you feeling like, "My boyfriend is mean to me, but why?"
9. He's not aware of how his behavior affects you
"Why is my BF mean to me?" Maybe he's just not mindful enough to notice.
Sometimes, individuals are genuinely oblivious to the impact of their actions. If your boyfriend is mean, he might not fully understand how his words and actions are affecting you emotionally.
This lack of awareness can stem from a variety of factors, including emotional immaturity or a simple disconnect in understanding how his behavior is perceived by others.
10. He's testing boundaries
In some relationships, mean behavior might be a way to test the limits of what's acceptable. It's a risky and unhealthy way to see how much he can get away with before you push back.
This behavior can be a sign of deeper issues, such as a lack of respect for your feelings or an attempt to establish dominance in the relationship.
11. He's not fully committed to the relationship
Commitment issues can manifest in various ways, one of which is meanness. If your boyfriend isn't fully invested in the relationship, he might express this through mean behavior as a way to create distance or push you away.
This can leave you feeling confused and questioning, "Why is my boyfriend so mean to me?"
12. He's dealing with mental health issues
Mental health plays a significant role in how we interact with others. If your boyfriend is struggling with depression, anxiety, or other mental health issues, it can affect his behavior. He might not intend to be mean, but his internal struggles could be spilling over into your relationship.
13. He's not mature enough for a serious relationship
Maturity is crucial for a healthy relationship. If your boyfriend lacks the emotional maturity required, it can lead to mean behavior. He might not be ready to handle the responsibilities and emotional depth that come with a serious partnership.
14. He's feeling suffocated or trapped
Feeling trapped in a relationship can cause someone to act out. If your boyfriend feels suffocated, whether it's due to a lack of space or overwhelming expectations, he might respond with meanness as a misguided attempt to reclaim his independence.
15. He's projecting his frustrations onto you
Projection is a defense mechanism where a person unconsciously transfers their own feelings onto someone else. If your boyfriend is frustrated with aspects of his life, he might project those feelings onto you, resulting in mean behavior.
16. He's not satisfied with the relationship
Dissatisfaction in a relationship can lead to resentment, which might manifest as meanness. If your boyfriend is unhappy but unable to communicate his feelings effectively, he might express his dissatisfaction through mean behavior instead.
17. He's dealing with addiction or substance abuse
Addiction and substance abuse can drastically alter a person's behavior and personality. If your boyfriend is battling with these issues, his meanness might be a direct result of the substances he's consuming or the emotional turmoil associated with addiction.
Substance abuse can cloud judgment, heighten irritability, and lead to unpredictable mood swings, all of which can manifest as mean behavior toward loved ones.
In this video, expert Kim Garrett discusses codependency addiction, why we get so stuck, and how to find ourselves again:
18. He's influenced by his peer group
The company one keeps can significantly influence behavior. If your boyfriend's friends or peer group endorse or exhibit mean behavior, he might adopt similar attitudes, believing them to be acceptable or even commendable. Peer pressure can be subtle, but its effects on behavior, especially in relationships, can be profound.
19. He's not respectful of you or your relationship
Respect is the cornerstone of any healthy relationship. If your boyfriend doesn't respect you or the bond you share, it can manifest as mean behavior. This lack of respect can stem from various sources, including past experiences, cultural beliefs, or personal insecurities.
Regardless of the cause, a relationship without mutual respect is bound to face challenges.
20. He's dealing with financial stress
Financial difficulties can place immense strain on individuals and relationships. If your boyfriend is grappling with money-related stress, it might be causing him to act out in frustration or despair.
Financial insecurity can lead to feelings of inadequacy, fear, and resentment, which can, in turn, manifest as meanness towards those closest to him.
21. He's not communicating effectively
Effective communication is vital in any relationship. If your boyfriend struggles to convey his feelings, concerns, or needs, it can lead to misunderstandings and frustrations.
Instead of addressing issues head-on, he might resort to mean behavior as an outlet for his pent-up emotions or as a way to deflect from the real issues at hand.
FAQs
Relationships can be complex, especially when they turn sour. Recognizing toxicity, addressing emotional abuse, and finding the courage to leave a harmful partner are crucial steps toward well-being.
How do I know if my boyfriend is toxic?
A toxic boyfriend often exhibits behaviors that are emotionally damaging. These can include constant criticism, manipulation, jealousy, and a lack of respect for your boundaries. If you feel drained, disrespected, or devalued in the relationship, these are strong indicators of toxicity.
What are the signs of an emotionally abusive boyfriend?
Emotional abuse can be subtle but deeply harmful. Signs include
Verbal insults or demeaning comments.

Gaslighting or making you doubt your perceptions and sanity.

Isolating you from friends and family.

Controlling behaviors

, like monitoring your whereabouts or dictating what you wear.

Threats or intimidation.
How do I break up with a mean boyfriend?
Breaking up with a mean boyfriend requires careful planning, especially if you fear retaliation:
Plan ahead and choose a safe location.

Be clear and firm about your decision.

Avoid getting drawn into arguments or justifications.

Seek support from friends, family, or professionals.

Cut off contact post-breakup to avoid manipulation.
How do I heal from a relationship with a mean boyfriend?
Healing is a personal journey, but here are some steps to consider:
Allow yourself to grieve and feel the emotions.

Reconnect with loved ones and activities that bring you joy.

Consider professional counseling to process your experiences.

Practice self-care

and self-compassion.

Reflect on the relationship to learn and grow from the experience.
What can I do if my boyfriend is physically abusive?
Physical abuse is a serious issue that requires immediate action:
Recognize that physical abuse is never acceptable.

Reach out for help from trusted friends, family, or domestic violence hotlines.

Create a safety plan for leaving the relationship.

Consider involving law enforcement if you feel threatened.

Seek professional support to heal from the trauma.
Getting rid of the meanness
Recognizing the signs of a toxic or abusive relationship is the first step towards reclaiming your well-being. Whether it's emotional manipulation or physical harm, understanding these patterns and knowing how to safely exit the relationship is crucial.
Healing from such experiences takes time and support, but it's a journey worth taking for your mental and emotional health.
Share this article on
Want to have a happier, healthier marriage?
If you feel disconnected or frustrated about the state of your marriage but want to avoid separation and/or divorce, the marriage.com course meant for married couples is an excellent resource to help you overcome the most challenging aspects of being married.
You May Also Like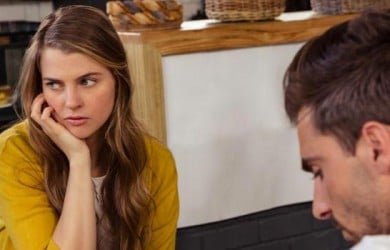 Popular Topics On Married Life