20+ Telltale Signs He Doesn't Respect You
A relationship can only thrive when there are some crucial ingredients in place. One of such essential elements of a healthy relationship is respect. Unfortunately, many partners end up noticing signs he doesn't respect you after some time passes.
Some people correctly see respect as admiring their partner. Other people can view respect as acknowledging a symbol of authority and submitting to it. When respect is missing in a relationship, there is no value or importance attached to the other person's presence.
Here, we will examine what respect means and its importance in a relationship. Also, for those who feel disrespected in any way, we will be reviewing some signs he doesn't respect you.
What is the meaning of respect, and why is it vital in a relationship
Respect is recognizing your partner for who they are and acknowledging that they have emotions and feelings that should not be overlooked.
When you respect your partner, you know they have their individuality, and you should not impose yours on them. A relationship with mutual respect will stand the test of time because both partners will be committed to making each other feel better.
Efrem J. Windom, in his book "Relationship Gems," talks about mutual respect, boundaries, love, and other crucial elements of a relationship. He sees mutual respect as crucial to the well-being of a healthy and lasting relationship.
How can you tell if he doesn't give you enough respect?
If you ever asked, "How to know if he doesn't respect me," you can easily tell when his actions put you off, and he is not remorseful when you tell him about them.
We all make mistakes, and our actions may hurt the ones around us. But if you respect and care for the ones around you, you will feel guilty and take steps to make up for your mistake.
In a healthy relationship, if your boyfriend or husband erroneously offends you via an act of disrespect, he will feel bad and apologize to you when he is informed about his inactions. However, if your boyfriend or husband feels there is no big deal, he doesn't respect you.
21 common signs that he does not have respect for you
Are you wondering, or have you asked: "How to know if he has no respect for me," some telltale signs show that he doesn't respect you. With these signs, you can be sure if your boyfriend or partner cares about how you feel or not.
1. Degrades you in public
One of the signs he doesn't respect you is when he treats you shabbily in public. When a man doesn't respect you, he will talk to you disrespectfully in front of friends, family, or people who don't know the both of you.
Partners in relationships who respect each other do not wash their dirty linen in public. Instead, they will wait until alone before sorting out their differences.
2. Doesn't care about your thought process and ideologies
It is not common for partners in a relationship to have the same thought processes and ideologies because they are not from the same background. But when your partner does not recognize this fact, he imposes his opinions on you and treats yours as trash; he doesn't respect you.
3. Doesn't answer messages or calls
When a man has no respect for you, it will be difficult to reach him via calls and messages.
He would see your calls and messages but intentionally ignore them because he does not prioritize you. Also, he doesn't care if it is urgent, as he would only return your messages or calls when he is in the mood.
4. Treats meetups with levity
One of the sure signs someone doesn't respect you is how he handles your meetups with disregard. For instance, if you plan to go on a date with him, and he doesn't show up without reason or arrives late without remorse, he doesn't respect you.
5. Unpleasant comments about your loved ones
Partners in relationships are expected to extend their love and affection to each other's loved ones. However, if you discover that your partner has the constant habit of badmouthing your family and friends, he doesn't respect you.
He doesn't care about your feelings when he makes unpleasant comments about your loved ones because he doesn't value the important people in your life.
6. Lies to your face
One of the common signs of disrespect is when dishonesty is in the picture.
If you know the truth about something and your boyfriend keeps lying to your face, he doesn't respect you. When he finds out that you are aware of the truth and keeps making excuses instead of apologizing, you can be sure that he disrespects you.
7. Doesn't recognize you around others
Have you ever been in a situation when your boyfriend was in a public group, and it was apparent that he treated you like you didn't exist?
If your partner treats you like a stranger when you are with him in public, he doesn't respect you. If your boyfriend respects you, he will treat you with honor even with people around and you happen to pass by.
8. Always attracted to others
Have you asked yourself, "What are the signs my boyfriend doesn't respect me?" One of the signs your man disrespects you is if he is attracted to other girls, and he lets you know.
In a relationship, it is normal to have a slight crush on people outside your relationship. However, the love and respect you have for your partner would prevent you from being vocal about it.
9. Compares you to his ex and other women
One of the obvious signs a man doesn't respect you is when he compares you to other girls, especially his ex.
When he compares you, you are an option in his life that he could replace if given a chance. Comparing you with other people shows he is a disrespectful man who does not care about your feelings.
More so, it means that he is blind to the worth and value you possess.
10. Tells his friends negative things about you
There is probably no higher level of disrespect from a man than when he regularly says negative things to his friends concerning you. If your boyfriend knows your flaws and bad habits, he will not mention them to anyone.
However, when a man disrespects you, he will constantly badmouth you to anyone who cares to listen, and he would not mind doing it in your presence.
11. Flirting with other people
The act of flirting with other people when in a romantic relationship is one of the surefire signs he doesn't respect you. He might tell you it is harmless, and he is not sleeping with them. However, cheating doesn't start and end in bed.
Someone can cheat on their partner by merely getting emotionally entangled with them. Hence, when you notice that your man seems to be romantically linked with other people, it is certain that he doesn't respect you.
12. Does not give you his full attention
Every boyfriend who truly loves his partner would be interested in listening to what they say or whatever they want to do. When you have a suggestion in the relationship, a man who respects you will listen to it.
Even though he might not be in full support, he will acknowledge that you have something to say. Also, he might go to the extent of helping your suggestion sound better than it could have been.
Whenever you are with a man who respects you, he will give you total attention.
13. Doesn't care about your feelings
A great boyfriend or husband who respects you will always care about your feelings and will not be oblivious to them. This is one of the reasons why some people feel safe with their partners and others don't.
When someone does not care about your feelings, they can hurt you and get away with it. This can cause you to think about "my husband doesn't respect me."
In addition, it would be hard to believe that such people love you because their actions toward you will differ from what they say. For example, a man who respects you will neither want to make you cry nor hurt you.
14. Impolite
Have you ever been spoken to in a way that makes you feel like the best version of yourself? This is how a respectful man or boyfriend should make you feel.
In contrast, one of the signs of disrespect from a man is when he speaks to you in a degrading way that leaves you feeling worse off instead of feeling better.
A guy who knows your worth and how much you mean to him will not treat you rudely. If he realizes that some of his words are rude, he will apologize and desist from using such words.
15. Less concerned about your belongings
It is essential to be sensitive to some little things that tell you more about your partner in a relationship.
For example, he does not respect you if you notice he has little or no care for your belongings. A good partner knows that your personal belongings mean a lot to you because they are part of your identity.
Hence, how he treats your personal belongings says a lot about how he would treat you. Therefore, he will handle them with care like they are his own because of your value. But, if he doesn't care if they get damaged, he does not respect you.
16. Doesn't spend time with you
It is expected for romantic partners to get caught up with life, work, and other things. This is because they have their individuality to attend to, and it is normal. However, romantic partners need to make sufficient time to spend with each other so the relationship will not suffer.
Research has proven that quality time between couples is a key marker of relationship satisfaction and longevity. It explores the factors contributing to the quality of time spent together by couples within the household, highlighting the role of emotional connection and shared activities in promoting relationship satisfaction.
Then and there, if you notice that he doesn't spare time to see or hang out with you, and he regularly complains about other things taking his time, he doesn't respect you. Someone who respects you will make time for you because he values you.
17. Doesn't consult you about critical decisions
When he doesn't seek your opinion before making crucial decisions, it is one of the signs your husband doesn't respect you. The essence of having a partner in a relationship is having someone with whom you can always put your head together when you are at a crossroads.
It should be a natural action for partners to seek each other's advice before doing something important. However, if you notice he is used to telling you the outcomes of his actions, he doesn't need your input when making decisions. Hence, he doesn't respect you!
18. Doesn't trust you
Trust is a big deal in a relationship, and it is closely linked with respecting your partner. This means that when you trust someone, you should automatically respect them. If you notice that he is struggling to trust you, then it is one of the signs he doesn't respect you.
Research has found mutual trust is a significant factor in relationship building and improvement. It often determines the satisfaction levels of the people involved.
Sometimes, the absence of trust could be from past incidents that have seared their heart, so it might be hard for them to trust people. Hence, be patient with them while they work on getting to trust and alongside, respect you.
19. Doesn't celebrate your accomplishments
How will you feel when you share your wins with someone and they give you the cold shoulder? You will get the impression that they are unhappy about your accomplishments, and you will most likely not tell them when something similar happens next time.
If you notice that your partner is barely interested in celebrating your wins with you, it is one of the big signs he doesn't respect you.
Watch Mas Sajady, an expert in the field of Human Potential Sciences, as he explains why people stop caring about their partner's feelings and turn cold toward them:
20. Makes you feel dispensable
In a relationship, it is expected for both partners to feel indispensable because it gives them a sense of safety, trust, and loyalty.
However, if he rubs it directly or indirectly in your face to easily find a replacement for you, it is one of the signs he doesn't respect you.
On the other hand, a partner who respects you will make you feel like an integral part of his life. They will make you feel appreciated and valued and that you are precious to them.
21. Disregard your boundaries
A clear indication that someone doesn't respect you is when they consistently disregard your boundaries. When you set personal boundaries in a relationship, it's essential that your partner respects and honors them.
If your partner frequently crosses these boundaries without considering your feelings or needs, it's a sign of disrespect. Respecting each other's boundaries is crucial for a healthy and mutually respectful relationship.
FAQs
Navigating a healthy and respectful relationship is crucial. Here are concise answers to some common questions you might have:
What should I do if my boyfriend doesn't respect me?
If your boyfriend doesn't respect you, it's essential to address this issue openly and honestly. Have a conversation with him about your feelings and expectations. If he continues to disregard your boundaries, consider reevaluating the relationship.
How can I tell if my boyfriend is gaslighting me?
Gaslighting is a form of emotional manipulation. To identify if your boyfriend is gaslighting you, watch for manipulative behaviors like minimizing your feelings, denying events, and making you question your sanity. Trust your instincts, and if needed, seek support from friends or a therapist.
How can I set boundaries with my boyfriend?
Maintaining healthy boundaries in your relationship is essential. Communicate clearly about your needs and limits, be assertive, and maintain consistency. Prioritize self-care and ensure he understands and respects your boundaries for a balanced and respectful relationship.
How can I deal with an emotionally abusive boyfriend?
Dealing with an emotionally abusive boyfriend is challenging but vital for your well-being. Recognize the abuse, seek support from loved ones or professionals, and create a safety plan. Ultimately, consider ending the relationship if the abuse persists, prioritizing your mental and emotional health.
In conclusion
It is essential to mention that partners in relationships deserve to be respected by each other.
If you have confirmed some signs he doesn't respect you, it is necessary to discuss this with him. Then, if he is unwilling to change, you might have to seek professional help or move on with your life.
Someone who doesn't respect you can never understand your worth, and it would be a tormenting experience to continue such a relationship with them.
Share this article on
Want to have a happier, healthier marriage?
If you feel disconnected or frustrated about the state of your marriage but want to avoid separation and/or divorce, the marriage.com course meant for married couples is an excellent resource to help you overcome the most challenging aspects of being married.
You May Also Like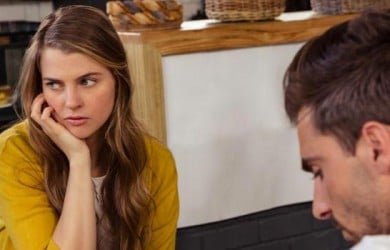 Popular Topics On Married Life