15 Signs of a Condescending Person and How to Deal With Them
You can find the signs of a condescending person all around you. Whether among your family, friends, or co-workers, you will always see someone who belittles others at every opportunity.
How do you deal with condescending behavior in relationships? Keep reading this article to find out.
Nothing is worse than someone speaking to you like you don't matter. When someone is condescending towards you, it makes you wonder what kind of person they are. Do they think at all?
Sadly, you will find examples of condescending behavior everywhere. Among your colleagues, friends, and family are individuals who make others feel miserable. Since relating with others is a core part of life, knowing how to deal with a condescending person is the best.
Importantly, you should know the signs of a condescending person in a relationship so you can deal with them accordingly. Thankfully, we have gone out of our way to show you the clear signs of a condescending person and how to deal with them effectively.
What is condescending?
A clear understanding of the signs of a condescending person requires condescending meaning. What is condescending?
Condescending means having a behavior of superiority over others. When someone has a condescending attitude, they behave in a way that implies that they are better than you. They may also use a condescending tone which is often patronizing. One example of condescending behavior is arrogance. Also, they think they are right, and others are always wrong.
What is condescending behavior in a relationship?
The worst form of a condescending attitude is often found in a romantic relationship. Partners are supposed to support each other or be easy on other cheerleaders. However, when dealing with examples of condescending behavior in a relationship, you experience the opposite.
When someone is condescending in a relationship, it comes in different forms, including belittling, gaslighting, or verbal abuse. A condescending person constantly shows their partner that they are wrong, crazy, or unreasonable. Also, the partner of a condescending person appears unintelligent and incapable of holding a rational conversation.
When one partner condescends toward another, it leaves the other person sad. It also discourages them from developing relationships. An example of condescending behavior is interrupting your partner constantly in a discussion.
Also, a condescending person in a relationship assumes they know everything. If you suspect you are dating a condescending person, check out the next paragraphs for signs of a condescending person in a relationship.
Signs of a condescending person in a relationship
What are the signs of a condescending person, and how do you recognize them? Check out the following 15 clear signs of a condescending person in a relationship.
1. They interrupt you in conversations
One of the top signs of a condescending person in a relationship is interrupting conversations. They believe their input is the only logical opinion. To them, their partner's perspective is irrelevant, even if they have a reasonable one backed with facts.
Interrupting a conversation is a sign of disrespect in relationship. It may indicate that your spouse is trying to control you when it becomes frequent. Also, it means your partner belittles you. Such a relationship can only work out if your partner respects you.
2. They think they are smarter than you
One of the top signs of condescending people is thinking they are smarter than their partner. You can easily spot this attitude when they show that they know everything and gives no room for you to talk. Also, they make no effort to hide this superior behavior, even among strangers or others.
Related Reading

: 

15 Signs You are Intellectually Compatible With Your Partner
3. They lack empathy
A condescending person cannot empathize with their partner. They don't understand the feelings and thoughts of their partner. Sometimes, you may feel emotionally down and need a shoulder to cry on.
Sadly, if you date a condescending person, they tell you to get brave and calm down because it's not a big deal. They may even tell you you are a weakling for being emotional about an issue.
4. They lack emotional intelligence
A condescending person can't understand their feelings or anyone else's. They are sometimes unaware of why they act the way they do or others' perceptions of their behavior. They can't read the room because they are preoccupied with their thoughts. In most cases, they justify their offending others with illogical reasons.
Learn more about emotional intelligence in this video:
Related Reading: Emotionally Intelligent Husbands Are Key to a Happy Marriage
5. They say you aren't enough
Another condescending attitude you may have noticed in your partner is they always say you aren't perfect. Indeed, no one is perfect, but our imperfections are what make us human. If your spouse is condescending, they will remind you how important it is to act in a certain way.
For example, examples of condescending behavior may include telling you to dress, eat, speak or walk in a particular manner. Nothing you do is acceptable, and you may lose yourself in pleasing them.
6. They believe they are perfect
One common problem with condescending people is that they think they are perfect and hold everyone to this benchmark. They often have a list of rules and regulations they believe people should follow. Even state or general laws that don't align with theirs are considered non-standard.
To them, there is no room for mistakes. Mistakes make you weak. They opine that everyone should be intelligent, perfect, and smart. Anything less is inferior.
7. They treat domestic workers with disrespect
As the partner of a condescending person, you may think you are going through a lot. However, a condescending person treats their staff and domestic workers unpleasantly. They feel these people are certainly below them and deserve no recognition or honor.
They may overwork their partner and inconvenience them with the excuse that they pay them. In addition, a condescending person can call their workers at odd hours, expecting undivided attention.
8. They judge their partner and others
Another common sign of a condescending person is that they are judgmental. They only need to hear a version of a story or one side before they conclude. In some situations, they blame their partner for issues they have no control over. If your partner feels superior to you, they will paint scenarios of how they would have handled the situation better than you.
9. They belittle your achievement
Great achievements are meant to be celebrated with your loved ones. However, you should think twice if you believe your partner is condescending. They may be envious of you or threatened by your achievement.
Regardless, they will disregard your achievement or belittle it. For example, if you win the "Employee of the Month" at work, your partner may say it's not a big deal.
10. They are arrogant
One of the main signs of a condescending person is arrogance. They think they are superior and better than everyone. It's always about them over others; they don't care. Also, they think of themselves as alone and disregard others' feelings. Notably, they can't please others to their detriment.
Also Try

: 

Am I Arrogant or Confident in Relationships

?

11. They show off
Another sign a condescending person can't seem to hide is bragging. If someone feels better than others, they won't hesitate to show you their achievement. This action helps them back up whatever standard they have set for others. Besides, this person will describe how much they struggle to achieve that achievement.
12. They make decisions without you
A condescending person already sees you as nothing. Therefore, they will make important decisions without informing you. Their excuse is that you have nothing worthy or logical to add. To them, your input is shallow.
13. They give unsolicited advice
Sometimes, all you need is listening ears. However, a condescending person will force their advice into your throat. They believe you can't possibly make the best decision for yourself.
14. They have opinions on every matter
Another condescending attitude is thinking when a person thinks they know something about every topic. When a condescending person speaks, they sound like they have an opinion on every topic. But this isn't true. All they want is to stand out as knowledgeable.
15. They put you down
If you live with a condescending person, they will disrespect you and show disapproval. They understand what their support means to you but will withhold it.
Related Reading

: 

11 Tips for Living With a Husband Who is Always Putting You Down
How to deal with condescending people?
Your feelings towards a condescending person might make you feel like cutting ties with them. However, if you think carefully, you may realize your relationship with them is important. Therefore, it is best to deal with them appropriately. Learn how to deal with condescending people below:
1. Don't be intimidated
Some of the behavior of a condescending person is intimidating and might make you feel low. When you notice this, calm yourself down instantly and remind yourself you are dealing with a person like you.
2. Communicate
Effective communication is at the core of all conflicts. When someone is condescending towards you, express your feelings calmly to them. Let them know their action or condescending tone hurts you.
3. Be compassionate
Sometimes, the condescending attitude you perceive from your partner is unconscious. Some people don't realize how their actions affect others negatively. Therefore, please don't shout at them when stating your feelings. Do so calmly by saying you understand why they react the way they do.
4. Use humor
After telling them your feelings, you can use some jokes to diffuse the tension between you. This will tell them that you only want a change in their behavior and are not mad at them.
5. Set boundaries
If you notice no behavior change in a condescending person, it's best to set clear boundaries. Let them know you won't tolerate their disrespectful behavior henceforth.
Related Reading

: 

6 Types of Boundaries in Relationships and How to Maintain Them
FAQs
How do I know if I am condescending?
You may be condescending if you put people down, belittle them, interrupt them or act arrogantly toward them. Also, you may be condescending if you brag about your achievement and feel better than others.
How do you know if someone is being condescending to you?
When someone is condescending to you, they will make you feel inferior.
Conclusion
Being condescending towards another is disrespectful. You will meet people of this nature in your life. When you notice the signs of a condescending person, it is best to reevaluate your relationship and deal with them. Also, you may consider marital counseling when dealing with a condescending spouse.
Share this article on
Want to have a happier, healthier marriage?
If you feel disconnected or frustrated about the state of your marriage but want to avoid separation and/or divorce, the marriage.com course meant for married couples is an excellent resource to help you overcome the most challenging aspects of being married.
More On This Topic
You May Also Like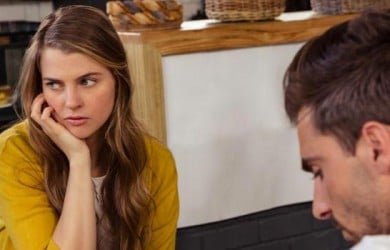 Popular Topics On Married Life