Moving Forward: Should I Move in with My Boyfriend
Why not? Cohabitation is no longer frowned upon as much as it was two generations ago. It's financially practical and provides a good testing ground for seriously committed couples.
But despite the benefits of cohabitation, you're hesitating. So there is something on your mind that bothers you. Let's break down the problem together and see if we can help.
Are you ready to make the big step towards domestic life? Then ask yourself, should I move in with my boyfriend?
Are you ready to chain yourself
It doesn't sound as bad as it seems. But if you do live in with your boyfriend, it will be like living with your parents. Remember back home when you had to take permission to leave the house. It's going to be like that all over again.
It is common courtesy and a self-appointed responsibility. You'll have to inform your boyfriend about your whereabouts. He will have to do the same too.
Your boyfriend may let you go and do what you want now, but things may change when you are living together. There are some responsibilities once you cohabitate. Shared chores, self-imposed curfews, and letting him know where you are. Then again, all of these is up to you and your boyfriend. If neither of you cares where the other person is and what time they will be home, then it wouldn't be an issue.
Being reminded of chores will sound very much like being told what to do. When living together, it won't be a surprise if one party is a slob. There will be nagging and getting nagged. But that's part of life.
Decide if you and your boyfriend can deal with each other's quirks. Talking about it may help, but unless you actually live together for a while, words mean nothing.
What will Your friends and family say
Who cares? You do. It's one of the reasons, why legal-age women hesitate moving in with their boyfriends. Gossip from self-appointed moral thought-leaders is one thing, but it's different when people you care about hate what you are doing (or going to do).
So don't bother wasting your time thinking about it, call them up and find out.
Since you know these people, most likely you already know what they are going to say. So don't get angry and just listen to their opinions, after all, that's why you called. It's not about their approval, but you just wanted to know their take on it.
So other than our advice to stop speculating and hear what those people have to say straight from their own mouths, there's nothing more that can be said about it. This is about what people you care about think about you moving in with your boyfriend, nobody else.
How much do you know about this guy
We get that he is your boyfriend and we're not judging. You love him, and he means the world to you or the world minus your phone. But men are known to lie just to get under your skirt.
Have you met his friends? Family? Have you visited him at school or at work? Have been to his place before? It doesn't matter how long you've been together or how much you trust him. What matters is everything he told you was validated at some point in your relationship.
It doesn't matter if he is rich, poor, an aspiring artist, or a rockstar. What matters is, what you know about him is true and real.
A lot of guys act like they are all that, but that's because they are pimps looking for their next ride. You don't want to end up like that idiot in "Taken" and overwork your ex-CIA field agent father.
So make sure you know enough about the person before living together with him. Love and Safety are two different things. You don't want to be a footnote in the story of the next Ted Bundy.
Is it practical to move in with him?
In most cases, sharing rent and utilities will cut down costs. That alone is practical. But that is most cases. You should be adult enough to know how to do basic arithmetic. Does it apply in your case?
Practicality is not just about saving costs. It is also about convenience, safety, and time. Do you live on a campus sorority house that's ten minutes walk away from class, and then by moving you would need a two-hour commute on rush hour traffic.
Will you brand new Prius end up being parked in front of gangbang territory?
Will your pet Scottish fold survive being left alone with your boyfriend's gang of Rotts?
Does he live alone, or maybe he has pervert roommates that do weird things when they drink and stuff. Unless you're into something like this, then it's fine.
So think about everything in your life that will change by moving in with your boyfriend.
The last thing you want is to bury poor Pikapi after being torn apart by your boyfriend's Rotts while you're working on your dissertation. Don't blame the Rotts, it's their instinct, it's your poor judgment that led to it.
Will your religion allow it?
You could be a member of a religion that strictly prohibits it. Your family may be unreachable or allow cohabitation, but living with a man before matrimony could mean that you're entire family will have to bear the shame from others.
It may sound corny and old fashioned, but you will be surprised that over half of the world's population follow a religion with this rule.
Don't spout nonsense like it's your life. If it affects their life, then it's also their problem.
If your parents and siblings are going to end up as the laughing stock of their local community, don't do it.
Don't go around acting all high and mighty about being an adult and can take care of yourself. You are consciously putting your family in a tight spot. No responsible adult would do that.
There are plenty of benefits of moving in with your boyfriend. The drawbacks depend on your particular case. Sacrificing Pikapi, your Prius, and 2 hours of sleep every day is not worth it. You can always wait it out until things change and then move in together in a more favorable location.
Should you move in with your boyfriend? If it's worth the risk and benefits, why not.
Share this article on
Want to have a happier, healthier marriage?
If you feel disconnected or frustrated about the state of your marriage but want to avoid separation and/or divorce, the marriage.com course meant for married couples is an excellent resource to help you overcome the most challenging aspects of being married.
More On This Topic
You May Also Like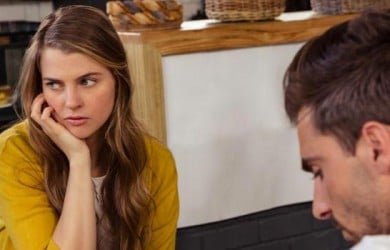 Popular Topics On Married Life