Should I Move In With My Boyfriend: 10 Things to Keep In Mind
Deciding whether to take the next step and move in with your boyfriend is a significant milestone for most relationships. It's a decision that may come with both excitement and trepidation as you navigate the different aspects of merging your lives and sharing a home.
Before embarking on this journey, it's extremely important to carefully consider the pros and cons of this arrangement.
On the one hand, cohabitation can offer the opportunity to deepen your bond, increase intimacy, and share responsibilities. On the other hand, it can raise questions about personal space, autonomy, and potential challenges.
Have you been asking yourself, "Should I move in with my boyfriend?"
In this article, we will explore the key factors to help you make an informed choice that aligns with your values and relationship goals.
When do couples move in together?
Couples typically move in together at different stages in their relationship, depending on various emotional, financial, and social factors. It can happen after a few months of dating, during the transition to a more committed phase, or after years of being together.
Some couples may choose to cohabitate to save on living expenses, while others see it as a way to test compatibility before marriage. Personal readiness, financial stability, and emotional connection all play a role in the decision.
Ultimately, the timing varies for each couple, and it's important to communicate and align your goals and expectations before living with your boyfriend before marriage.
To learn more about the signs that you're ready to move in with your partner, click here.
Should I move in together with your boyfriend: 10 things to keep in mind
Moving in with your boyfriend is a significant decision that can shape the course of your relationship. It is usually a step towards greater commitment towards a collective future and shared responsibilities. However, before this happens, it is essential to consider several key factors that can influence your experience.
Here are some of the factors that you should consider before moving in with your boyfriend:
1. Communicating expectations
Open and honest communication about your expectations, responsibilities, and long-term goals is vital for a harmonious living arrangement. It can ensure that there are no misunderstandings and resentments at a later stage.
The conversations can also ensure that if there are any differences in what the expectations are, you can sit and discuss them with each other calmly.
2. Relationship stability
Ensure that your relationship has a solid foundation and has weathered different challenges before taking a step towards cohabitation, as living together requires a lot of coordination, understanding, and respect.
Living together can test a relationship and the bond that a couple shares. If the bond and understanding between you and your partner is weak, living together can lead to further conflicts.
3. Shared values
If you are thinking about moving in with your boyfriend, then consider whether you and your boyfriend share similar values, beliefs, and lifestyles that can contribute to a compatible living situation.
Talking about it can help you understand each other better and check whether living together would be a good idea or not.
4. Personal space
Discuss how you will maintain individuality and personal space within the shared living environment.
Research shows that there are very different elements to personal space for an individual, and it plays a significant role in a person's relationships. Therefore, it is important to have an understanding of it before moving in.
5. Financial considerations
Should I move in with my boyfriend?
Evaluate your financial situation and discuss how expenses, bills, and financial responsibilities will be divided. Studies have shown that finances play a significant role in the conflicts between couples.
6. Household chores and responsibilities
Set clear expectations regarding household chores and establish a fair division of labor to prevent potential conflicts.
7. Compatibility in daily living
Consider, "Am I ready to move in with my boyfriend?"
Consider your compatibility in terms of routines, habits, cleanliness, and lifestyle preferences to ensure a smooth cohabitation experience. These minor details can accumulate and become sources of major conflict when you are living with your partner.
8. Conflict resolution skills
Research shows that the conflict resolution style of a couple plays a major role in determining the long-term health and success of a relationship.
Assess your ability, as a couple, to handle conflicts and disagreements in a healthy and constructive manner. Living together requires being in agreement about various issues, and therefore, it is important to assess how you resolve conflicts as a couple.
9. Future goals and commitment
Discuss your long-term plans and level of commitment to ensure that moving in together after 6 months or longer aligns with your shared vision of the future. If there is a difference in your overall vision for the future, then this may make living together impossible.
10. Emotional readiness
Reflect on your emotional readiness for this step, ensuring that you both feel secure, committed, and ready to navigate the challenges and joys of living together. A premature or hasty decision to move in together can harm a relationship that isn't ready for it.
You can even consider going for couples counseling to assess your emotional readiness before moving in.
How to talk to your boyfriend about moving in together
When discussing moving in together with your boyfriend, open and honest communication is crucial. Approach the conversation with a calm and non-confrontational attitude.
Clearly express your thoughts, desires, and concerns about cohabitation. Listen attentively to his perspective and be open to compromise. Discuss practical matters such as finances, division of responsibilities, and personal space.
Explore your future goals as a couple and assess your readiness for this step.
Remember, a respectful and understanding dialogue will help both of you make an informed decision that strengthens your relationship and aligns with your shared vision.
To learn how to talk to your boyfriend before moving in and when to move in with your boyfriend, click here.
Watch this video to learn whether it is too early to move in together:
Some commonly asked questions
Have you asked yourself, "Should I move in with my boyfriend?" Here are the answers to some questions that can give you some clarity:
What are the benefits of moving in together?
Moving in together can offer several benefits for couples. Firstly, it fosters increased intimacy and strengthens the emotional bond by allowing for more quality time together. Sharing a home promotes deeper understanding and compatibility as you navigate daily routines and challenges together.
Financially, cohabitation can lead to cost savings, as shared expenses are divided between both partners. It also provides an opportunity to test compatibility before marriage, allowing couples to assess their long-term compatibility and identify potential issues.
Additionally, moving in together can enhance communication skills, promote personal growth, and create a sense of partnership and shared responsibility, ultimately deepening the commitment between partners.
How can you make the transition to live with your boyfriend smoother?
To make the transition to living with your boyfriend smoother, clear communication is key. Discuss expectations, responsibilities, and boundaries beforehand. Gradually merge your belongings, allowing both partners to feel comfortable in the shared space.
Create a system for managing finances and household chores, ensuring fairness. Respect each other's personal space and give each other time alone when needed. Be patient and understanding as you adjust to each other's habits and routines.
Regularly check in with each other to address any concerns or issues that arise. Overall, open communication, flexibility, and mutual respect will facilitate a smoother transition.
Final thoughts
Moving in with your boyfriend can be a rewarding and transformative experience for your relationship. By considering these ten essential factors, you'll be better equipped to make an informed decision that supports your compatibility, growth, and overall happiness as a couple.
Remember, open communication, mutual respect, and a shared commitment to maintaining a healthy living dynamic will be key to making your cohabitation journey a successful one.
Share this article on
Want to have a happier, healthier marriage?
If you feel disconnected or frustrated about the state of your marriage but want to avoid separation and/or divorce, the marriage.com course meant for married couples is an excellent resource to help you overcome the most challenging aspects of being married.
You May Also Like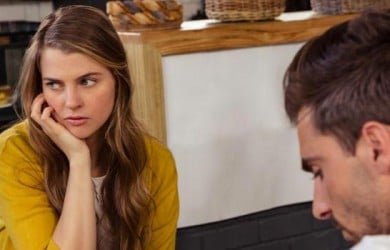 Popular Topics On Married Life