How to Deal With a Clingy Boyfriend
The last thing you would expect in a relationship is the flow of negative feelings or energy in any form. No matter how careful you're, it's quite difficult to judge one's habits and reactions during the initial few years of the relationship.
During such time, everything seems like a dream a true moment. What if you discover that you're with a clingy boyfriend?
Individualism is one of the prominent reasons why you fall in love with someone. You adore their habits and how they stand out in the crowd. Amongst other traits, you surely can't negotiate with the dependency.
It's true that dependency comes along in a relationship, no matter how careful you're, but no one wants to babysit someone. Let's have a look at the definition and how you can identify a clingy boyfriend before getting too deep into it.
What is the definition of

'

clingy boyfriend'

?
There is a thin line between being caring and being clingy.
When you're caring, you give them space to breathe in. You don't push yourself on your partner and try to get their attention, in the worst way possible. Besides, when you're caring, you take out time from your own schedule to make them feel comfortable.
Caring defines giving space to breathe in whereas clinginess means suffocating the other person by pushing them to the wall.
Clingy boyfriend signs
Since now you're clear with the clingy boyfriend meaning, let's have a quick look at how you can identify them within due time and can take precautionary measure.
No breathing space
A clingy boyfriend is no different from a jealous boyfriend.
If your boyfriend is clingy, he is not only dependent on you but also would not want you to walk out of the relationship at all. They want you there with them, physically or digitally or any other way possible. If you're not there physically, they would get hold on our through the phone. They need you, doesn't matter what you're doing, where are you, with whom you're, and even if you're having some 'me' time.
Trust issue
There will be a time when you're preoccupied with work or personal appointments. However, your clingy boyfriend might presume that you're losing interest in him and suddenly will act clingy. He will try to out himself on you, as much as possible, and would interrupt your personal moments. He would want you to leave everything behind and be with him. It's difficult to deal with him in such situations.
Social media stalking
Wondering how to spot a clingy boyfriend? Observe their habits.
They leave certain signs and give away hints about their behaviors. They will stalk you on social media and will start asking irrelevant questions. They will bring topics from your past and relationships you had previously. They won't hesitate to cross the line of personal space.
Ditching their friends
Clingy boyfriend will eventually ditch their friends and close circles.
They believe that you're their world and start tagging along with you, wherever you go. They don't care if they're invited or not, all they know is you both should be treated as one rather than two individuals. This might sound romantic instead it's creepy. You haven't signed up for a boyfriend too clingy.
No self-interest
A clingy boyfriend will not only ditch his friends but will also let go off his hobbies or interests. They will start following you. They will gradually adapt your activities and will make them his hobby. He strongly believes that you both are one and should have similar hobbies and activities. Creepy, isn't it?
How to deal with a clingy boyfriend?
It's difficult to answer 'Why is my boyfriend so clingy?' There could be endless reasons, but you can still find a solution to deal with them. Listed below are some tips for you to handle your clingy boyfriend.
Be bluntly honest
There could be various reasons for him to be clingy.
There could be a possibility that he is not at all clingy, but your disinterest in him is making you feel he is one. Whatever the matter may be, you've to be bluntly honest with it. Accept the fact if you're not interested in him anymore. Convey the message to him. And, if you think he actually is, seek help and find a professional way to deal with him.
Teach him about 'me' time
We know that everyone needs 'me' time. Maybe your clingy boyfriend isn't familiar with the concept or is just ignoring it. In either case, you must introduce 'me' time in your relationship vocabulary and tell him when you're enjoying a personal moment.
Reintroduce individualism
Your clingy boyfriend may have forgotten about individualism.
It's time you reintroduce this to him. Encourage him to do what he likes and meet his friends. Reintroduce him to his friends and family and make him understand the importance of this concept in a relationship. Take baby steps so that you don't sabotage the beautiful relationship you've with him.
Set boundaries
Having personal boundaries is a must in a relationship. If you think you're losing off personal boundaries, then make him understand about it. Tell him why you both need to set a personal boundary and why you must never cross it. It might take a while, but it's for the good.
Address his insecurities
One of the reasons for his clinginess could be his insecurities. Have you ever given it a thought? If he is going through some insecurity then it's a must for you to address him. So, sit with him, establish a conversation and try to know his insecurities. Try to address them, as much as you can.
Share this article on
Want to have a happier, healthier marriage?
If you feel disconnected or frustrated about the state of your marriage but want to avoid separation and/or divorce, the marriage.com course meant for married couples is an excellent resource to help you overcome the most challenging aspects of being married.
More On This Topic
You May Also Like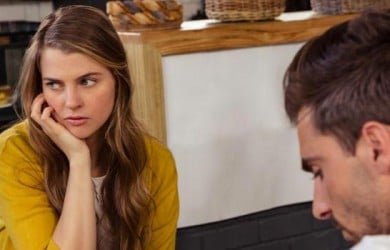 Popular Topics On Married Life