8 Signs You're Dating a Mean Person
Do you feel good about your relationship or do you find yourself making excuses for your partner's behavior more times than you'd like to admit?

Do you gush to your friends about how well your spouse treats you or get advice from them about why he treats you so poorly?

Every couple has disagreements or may say something hurtful every once in a while, but this should not be the baseline of your relationship. Your spouse should make you feel good about yourself. They should support and respect you.

You should have fun together. In fact, you should feel on top of the world when you're with them.

If you're thinking your relationship couldn't sound farther from the above paragraph, then you may be dating a mean person.

Here are 8 telltale signs that your relationship is growing toxic and what you should do about it:
1. You fight all the time
Every relationship has its ups and downs.
Every couple has the occasional fight or goes through bouts where they're not getting along great. This is normal. There are even times when healthy couples break each other's trust and have to work on building their relationship back up.
But these should be rare occasions, not everyday events.
Do you feel more like you're on a terrifying roller coaster than in a partnership with your best friend? Do you feel trapped in a relationship that's full of constant arguing or does your spouse freeze you out more than you'd like to admit?
If so, odds are you're dating a mean person.
2. They're selfish
A healthy relationship is all about giving.
You give your time, energy, and your heart to someone else. Their concerns are your concerns. You have their best interest at heart, always. These are behaviors of a couple in love.
On the other hand, someone who is selfish only thinks about what's best for themselves. You may be dating a mean, selfish person if they:
Never want to hang out with your friends

Refuse to see your family, even on special occasions

Always put their needs before yours

Are unable to admit when they are wrong

Often make you feel like your emotions or hurt feelings are not legitimate.
3. They are a bad friend
It's normal to lay down the gossip with your partner every once in a while, but if you find your spouse is constantly trash talking their closest friends and family members, take this as a giant red flag.
How often does your spouse spread harmful gossip? Do they seem to relish the downfalls or misfortunes of their friends? Do they put a lot of stake in appearance or go out of their way to badmouth somebody?
Talking bad about someone else is often a sign of personal insecurities. Even so, putting down other people is a definite sign that you're dating a jerk.
4. They are just plain mean
Mean people have very little empathy for others.
They aren't able to connect with them on an emotional level or understand things from others' points of view.
More than that, they don't want to broaden their minds. They stubbornly stick to their own points of view without any consideration for others.
A mean spouse may not have much guilt over wrongdoings. They may be unfaithful and think nothing of lying to you.
They may even use you for sex, money, or opportunities.
5. You feel empty in their company
If you're wondering whether you are dating a mean person, consider this. A healthy relationship should make you feel:
Respected

Happy

Supported

Loved

Comforted

Excited

Comfortable

And it should be fun
On the other hand, an unhealthy relationship will make you feel:
Empty

Unsure

Worthless

Unequal in the relationship

A dip in self-esteem

An imbalance of love
Furthermore, studies show that victimization in a relationship can lead to higher rates of depression and suicidal behavior.
If you feel hollow and empty when you are around your spouse, take it as a sign that you aren't getting what you need out of your relationship. In fact, you probably get the exact opposite of what you need.
6. You have a gut feeling
Always, always, always trust your instincts. If your gut is telling you that something in your relationship isn't right, then it probably isn't.
When you are dating a mean person, it can often leave you feeling unhinged or unstable in your life.
You will feel bipolar, with your emotions going from high highs to low depressions in the flip of a switch.
If you're constantly questioning your relationship, wondering if you should stay, or have a stinking suspicious that your relationship wasn't meant to be – follow your nose.
7. They have a bad attitude
Communication is the key to lasting, happy relationships. Its how couple's problem solve, get to know one another on a deeper level and develop a romantic friendship.
One sign that you are dating a mean person is if your partner refuses to communicate with you.
They will probably be obstinate or outright hostile if you try and talk to them about something they did that hurt or bothered you.
A mean person will not apologize, has no interest in understanding your perspective, and is more likely to use an argument as an excuse to belittle you rather than solve the issue at hand.
8. You're constantly making excuses for them
Do you find yourself uttering such phrases as "He didn't mean that, he's just not feeling very well tonight" or "She's having a hard time with her family, she didn't mean to take it out on me" when talking about your spouse?
If you find yourself constantly making excuses for their bad behavior, it might be time to admit that you're not dating a good person.
Relationships are supposed to be fun. They should build you up, not tear you down. If you are dating a mean person, it's time to take a stand for yourself.
If your relationship has turned toxic and you're not sure how to get out of it, call the National Domestic Violence Hotline at 1−800−799−7233 or text them at 1−800−787−3224.
Share this article on
Want to have a happier, healthier marriage?
If you feel disconnected or frustrated about the state of your marriage but want to avoid separation and/or divorce, the marriage.com course meant for married couples is an excellent resource to help you overcome the most challenging aspects of being married.
More On This Topic
You May Also Like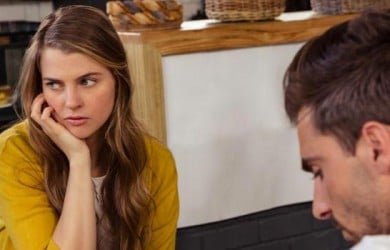 Popular Topics On Married Life