15 Tips on How to Change Your Bad Attitude in a Relationship
You've probably heard this famous statement before; Attitude is everything. While you may want to dispute that, there's no way to dispute that attitude plays a vital role in human relationships.
Whether they are relationships between siblings, family members, platonic friends, or partners in a romantic relationship, attitude plays a major role in the success of such relationships.
If you're in a relationship and you have a goal to enjoy it to the fullest, you must learn how to change your attitude in a relationship. Thankfully, this article has solely been dedicated to showing you effective ways to change your attitude.
How does a bad attitude affect a relationship?
Before diving straight into the answer to this question, we must take some time to define what "attitude" is.
Wikipedia defines attitude as a psychological construct, a mental and emotional entity that inheres in or characterizes a person. Simply put, an individual's attitude completely embodies the way they relate with the world around them and their disposition to people/themselves.
Attitude can be bad or good. Most times, a person's attitude results from their past experiences and emotional/physical environment.
A lousy attitude affects a relationship in several ways, all of which are negative. When someone in a relationship has an attitude problem, it becomes difficult for their partner to connect with them emotionally and even physically.
This difficulty will lead to a loss of intimacy, and communication becomes almost impossible in the relationship. Once effective communication goes out the door, the relationship might as well be a rollercoaster.
In addition, a negative attitude makes one prickly, on edge, and impossible to approach. Once a partner in a relationship becomes distant (or makes their partner think they're so, because of how they've presented themselves in the relationship over time).
Pessimistic, and nasty, there's every possibility that their partner may give up on the relationship.
If you have a bad attitude, you must learn and employ some effective attitude adjustment techniques. They would play a major role in helping you to improve your attitude.
Related Reading: Common Intimacy Issues in Marriage That Cause Discord Between Couples
15 ways to change your bad attitude in a relationship
In this section, we will discuss how to change your attitude in a relationship. So, buckle up.
1. Identify and accept that there's something that must be fixed
It wouldn't be possible to fix anything you haven't yet identified as a challenge. In the same way, it is impossible to change your attitude to positive if you haven't first accepted that it is negative.
This step of the recovery process is a bit difficult because it takes sitting down and telling yourself the hard truth.
Accepting that you have an attitude problem feels like ripping a band-aid off a gaping wound. It isn't always the most pleasant activity you can carry out, but it would pay in the long run.
In addition, spend some time reinforcing your mental shields for this. As indicated early on, the journey to adjusting your attitude will come with its fair share of challenges. Just decide to stick it through.
2. Tell yourself that there's no excuse for a bad attitude
Many people are comfortable with being bad, nasty people because they have a way of making excuses for their bad attitude – each and every time.
Here's the thing. If you don't stop making excuses for your bad attitude, it would be impossible to effect any permanent changes.
It would take some time to start getting adjusted to this new version of yourself. However, it is necessary you also carry out this mental recalibration exercise.
3. Step out of the past
We indicated early on that one of the major determinants of a person's attitude is their past experiences. Hence, one of the critical steps you must take as you seek ways to change your attitude is to step out of your past.
It would help if you made peace with the fact that you can't change the things that have happened to you in the past and that there's no undoing them either.
However, you can get in control of your present and determine that your past will no longer creep in and negatively affect your present and future.
Suggested video: Invisible influence: the hidden forces that shape behavior.

4. Unbox your mental baggage
Sometimes, you may find yourself lashing out at your partner and being nasty to them at the slightest opportunity. If you take some time to examine this critically, you may discover that what's happening to you is the result of your internal environment.
What are your thoughts usually like?
What do you spend most of your time thinking about?
Do you think about the things that have happened to you and find yourself wary of the people in your life because you fear that those negative experiences will resurface?
If your answer to these questions is yes, you may want to take some time to sort through your thoughts.
To change your negative attitude, you must completely change your thoughts. If your partner has wronged you, commit your focus from the past towards the happiness you want to attain.
5. Talk to your partner
You are about to walk down a long and arduous road. Keeping your partner in the dark may not be the best line of action. If you would like to get maximum cooperation and support from them, you must let them know that you're learning how to change your attitude in the relationship and apply the strategies you're learning.
Communication is vital at this stage. You must have a no-holds-barred conversation with your partner about their present and what you would love to achieve at the end of the day.
When you have done this, your journey becomes a lot easier.
Related Reading: The Importance of Communication in Relationships
6. Identify and eliminate triggers
Are there people, places, or scenarios that trigger negative feelings in you? It could be one friend that makes you feel terrible every time you hang out with them. Then again, it could be a street that reminds you of a terrible experience in your past.
As much as possible, identify and eliminate these triggers from your life. If you are trying to step into your future, you must let go of everything that reminds you of the past you want to let go of.
This may take some time. However, it is always a profitable experience in the long run.
7. Practicing self-care is vital
Think of yourself as an egg that's about to hatch at this point. That delicate timeframe between realities (your past and your present). One way to stay positive in your relationship and let go of negativity is by practicing self-care/self-love.
What are those tiny things you live to do? It could be your love for visiting the cinema at intervals or just waking up early in the morning to sit in the quietness of your living room with a cup of your favorite tea in hand.
Even if yours is food or vacations, it is vital that you consciously practice self-care at this point.
8. Learn to make requests in your relationship
There's a difference between a request and an instruction. In a relationship, this difference becomes more glaring.
If, before this time, you've become used to handing out orders and demanding compliance from your partner, you may want to have a rethink.
No one wants to be bossed around, especially not your partner. Make a habit of using these magic words; "please," and "thank you." At first, your ego may take a good beating. However, this can significantly improve your relationship.
Related Reading: Improve and Enrich Your Relationship
9. Spend more time listening to your partner
One way a bad attitude expresses itself in a relationship is by always desiring to do all the talking.
If you've found yourself doing most of the talking and making one-person decisions (especially as regards important decisions) in your relationship, you may need to have a rethink.
Little acts of listening to your partner can go a long way to repair the damages that may have already been done in your relationship.
When you hang out with them after dinners, try to give them your undivided attention, even if it means putting all gadgets away while at it.
Also, consciously ask them about their opinions on many issues, and make them know that they have a say in the relationship. This will help them feel valued and respected as well.
10. Admit your faults when you're wrong
If you have been looking for how to change your attitude in a relationship, you must make a mental note to take responsibility when you're wrong.
Also, develop the strength to admit that you're wrong when you are. Trying to roll the blame over to anyone may look like an intelligent decision, but in reality, it isn't.
Everyone makes mistakes, but the brave ones accept their mistakes and retrace their steps when they've identified their flaws.
11. Consciously practice gratitude every day
At the start of every new day, ask yourself what you are grateful for (and they don't have to be the seeming large things of life).
Practicing gratitude reminds you that life is good and that you have many reasons to be thankful that you're still in that relationship. It helps to shift your focus from the negatives to the positives.
In addition, mindfulness is a necessary practice you must incorporate into your everyday activities. Living in the moment is one way to identify what you must be grateful for every day effectively.
12. Consciously remind yourself that you deserve happiness
And yes, this is one primary reason you must learn how to change your attitude in a relationship.
To have a happy relationship, you must consistently work on your attitude to see the best of your partner. When all of you consciously make an effort, the relationship becomes a much happier one.
Related Reading: 22 Tips for Happy, Long-Lasting Relationships
13. Maintain healthy hobbies and interests
If there's something that keeps you excited, something you love doing, you may want to make it a part of you to do it as often as you can (as far as it isn't hurting your partner or other people in any way).
Having healthy hobbies and engaging in them is one way to keep yourself happy. Happiness should become your new norm to be at your best and see less of a negative attitude.
When you maintain healthy hobbies and interests, you become an overall happier and easier person to be in a relationship with.
14. Join a support group
Sometimes, stepping out of the old person (with a bad attitude) and becoming this new person can be difficult. As a result, you may need to surround yourself with people going through the same life phase as you are.
One thing a support group does is that it unifies people and, as a result, provides everyone with a safe space from where they can draw strength and motivation when they feel down.
Is there a group of people who are dealing with attitude challenges in their relationships? You may want to join that support group.
Related Reading: 4 Major Marriage Challenges and How to Overcome Them
15. Talk to a professional
Come to think about it. Regardless of how hard you try, there are some things you may not be able to figure out on your own. This makes it necessary for you to leave a space where a professional can fit in.
Whether you're sorting through your past experiences, dealing with low self-esteem, navigating trauma, or just trying to be a better partner, having a professional on speed-dial is necessary.
Conclusion
If you have been looking to know how to change your attitude in a relationship, please pay attention to all the 15 steps we have shared in the last section.
If you follow through them all, you will notice your relationship significantly improving because you become a much better person.
You deserve a happy relationship.
Share this article on
Want to have a happier, healthier marriage?
If you feel disconnected or frustrated about the state of your marriage but want to avoid separation and/or divorce, the marriage.com course meant for married couples is an excellent resource to help you overcome the most challenging aspects of being married.
Learn More On This Topic
You May Also Like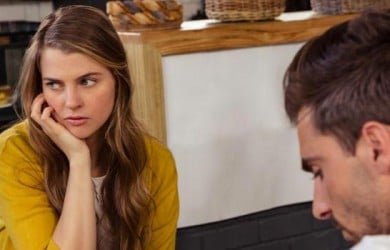 Popular Topics On Married Life