Lack of Communication- Can It Be Fatal to a Relationship?
It's saddening when marriages that once happened by exchanging vows with each other to stay together through thick and thin forever, reach the brink of separation.
The answer to the common question about the reason why couples break up is usually pretty simple – it's the lack of communication. Yes, couples may have somewhat different problems.
Nonetheless, the number one reason why these problems don't get resolved is poor communication.
Let's get to understand this a bit more so that you can implement changes to prevent your marriage from falling apart because of a lack of communication or communication issues in marriage.
Importance of communication in marriage
Why is it so important to communicate? You might hold an image in your mind of your grandfather, who had barely spoken a few words.
And he's been married to your grandmother for 60 years, until his death. So, you say, lack of communication isn't such a big deal.
But it is. Times have changed. People nowadays don't stay married if they aren't happy. At least not for too long.
So, you have to work on the quality of your relationship. The number one thing you can do to divorce-proof your marriage is to improve communication.
According to YourTango.com's survey, two-thirds of marriages end up in a divorce because of a lack of communication. Think about it!
In 65% of marriages, the reason for breakups was poor communication. So, we can say – no communication in a relationship equals no relationship in most of the cases.
Also, watch this video to understand the importance of communication in relationships:

Lack of communication in a relationship – cause and effects
Why do we end up being in relationships with destructive communication?
Unfortunately, as with many other ailments of our adulthood, the reason lies in our childhood. Why do we say "unfortunately"?
Because changing the deeply-rooted habits and beliefs formed during our early years is a bit tricky. But it can be done, so don't give up just yet.
For most of us, patterns of our emotional attachment, as well as how we communicate, were formed when we were very young.
While we were observing our parents or other significant people in our childhood, we built beliefs about how things should be. We carry these beliefs around even though we're now adults.
When there is no communication in a relationship, that usually means that our parents also had difficulties communicating. However, this is the cause. The effects expand onto our adult lives.
And to the lives of our children. Because, from observing the lack of communication in your marriage, they're building the same relationship patterns for themselves.
And thus, lack of communication in a relationship transfers onto the following generations. So, stop the cycle now!
Common relationship communication problems
In psychotherapy, couples usually come with one of the following eight unhealthy communication patterns:
Passive-aggressive

– When you think of no communication in a relationship, you imagine this style – one of the partners keeps quiet about their feelings and retaliates in a passive manner.

Screaming

– Although the arguments may even be reasonable, the delivery is aggressive and offensive, so there's no communication in relationships like these.

Being histrionic

– When one of the partners is being overly dramatic, the content of the conversation ends up being pushed aside, and all that remains is the drama.

Chronic crying

– Sometimes, the lack of communication comes with one of the partners playing the victim, consciously or not.

Withholding/exploding

– Usually, one of the spouses withholds their expression, until they're eventually ready to explode in anger.

Being conflicted

– Sometimes, one of the partners is so conflicted that their messages are difficult to understand. Hence, the lack of communication sets in.

Shunning

– Some people tend to shut down or distance from issues, and this often reflects in marital communication.

Anxiety-ridden communication

– In such relationships, one of the partners has an anxiety attack the moment challenging messages are expressed, which makes it impossible to have a constructive conversation.
How to resolve communication problems in marriage
Lack of communication in marriages can wreak havoc to a relationship that would normally work well. Don't allow this to be the case for your marriage.
Here are some communication tips for you to try if you are experiencing poor communication in marriage:
Set aside time to talk about important issues
Don't be inert. When there's something that should be discussed, agree that both of you will set aside some quiet time to talk about it.
Avoid accusatory language
How? Don't use statements such as "You make me mad!" Instead, try saying: "When you act like that, I get angry." It's a subtle change, but it will do wonders for your communication.
What it means is to stop using sentences that start with: "You never…" and "You always…" Such statements are never 100% true, and they close the way toward a constructive conversation.
It is a professional that can see things more objectively and teach you simple tools to get out of the entrenched dysfunctional communication patterns in your marriage.
Share this article on
Want to have a happier, healthier marriage?
If you feel disconnected or frustrated about the state of your marriage but want to avoid separation and/or divorce, the marriage.com course meant for married couples is an excellent resource to help you overcome the most challenging aspects of being married.
More On This Topic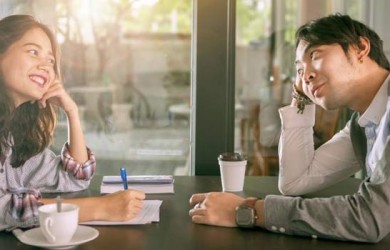 You May Also Like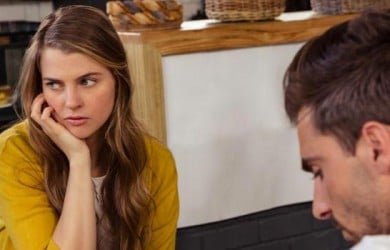 Popular Topics On Married Life