News Flash! Couples Who Argue Love Each Other More
You may be surprised to hear this, but couples who argue actually love each other more than couples who never raise their voices at each other.
How can this be?
It's simple. Couples who argue are couples who feel "safe" to express their emotions.
This is a great sign, as it shows that you and your partner have a strong bond, a bond that is so tight that a good fight or two is not enough to break you.
Let's look at the trajectory from the early days of a relationship, where everything is flowers and kittens and you never seem to have any friction, to later on in a mature and solid relationship, where you and your partner have been known to rattle the rafters with the decibels of your voices.
Early courtship
When you meet and start dating the one you will eventually marry, it is normal you are on your best behavior. You want the person to see all your good parts, and you would never dream of criticizing or challenging them in these early days.
All is bliss and smiles. Both of you are preening, like peacocks around each other, only showing your pretty and pleasant attributes.
There is no room for screaming here, you are trying to make the other fall in love with you.
Moving past the honeymoon
As you begin to settle into your relationship, you will show more of your true inner selves. Your thoughts, emotions, opinions and questions will be shared. Sometimes these may lead to a good, rich discussion, and other times they made lead to disagreements.
This is actually a healthy thing, as you will learn how best to volley your opinions back and forth in order to arrive at a common ground or resolution.
During this time, you will learn the best, most productive ways to deal with conflict in your couple.
How to argue effectively
A good couple will learn how to argue in a way that moves them forward. This is a positive thing. Arguments allow you to teach each other differing viewpoints, perspectives, and who you are as individuals.
How boring would your relationship be if you two agreed on everything? You would have little to offer each other.
Some healthy techniques for when you enter into an argument with your partner
1. There is no "one right", so don't insist on your "right"
Instead, you might say "That's an interesting perspective. I understand why you might feel that way. But I see it this way…"
2. Let the other person speak- Engage in active listening
This means you aren't just thinking of what you are going to say next once your partner finishes their bit. You turn towards them, look at them, and really lean into what they are sharing with you.
3. Don't interrupt
Don't roll your eyes. Don't ever storm out of the room, effectively cutting off the discussion.
4. Stick to the topic of the conflict
Stick to the topic of the conflict without bringing up old grudges
5. Call for a timeout
If you feel your anger escalating and know that you will say something you will regret, call for a timeout and suggest that you both leave the room to cool off, and agree to revisit the issue once your emotions have cooled off. Then begin again.
6. Argue from a place of kindness, respect, and love for your partner
Keep those three adjectives in your mind. You are not adversaries in a boxing ring, but two people who are fighting because you want to work things out so both of you come out of this with a sense of having been heard and respected.
It's a great sign when couples argue because they are actually working towards building a better relationship.
It means they are invested in making their partnership the best one possible. This makes sense. If couples aren't arguing, it may indicate they've "given up" on any chance of the relationship getting any better, and have decided to just settle for a state of non-communication. That is not a good place to be and eventually, that relationship will dissolve. No one wants to live like hostile, silent roommates.
Another interesting fact that researchers observed is that couples who argue are most likely to be passionate, sexually-driven people.
Their conflicts seem to serve to heighten arousal and often get resolved in the bedroom. They transfer the high emotion of the argument into an increased libido, which ultimately keeps their bond strong.
Show your real self during an argument
Arguments help draw a couple together because when they are fighting, all their polished personas come off and they show who they really are. This creates a closeness between them, a little bit like siblings who fight when they are young. (Think about how close your family is—part of this is due to all those fights you had as kids.)
Fighting means something important
When you feel free and safe enough to fight with your partner, it means you have a deep love that is strong enough to withstand a challenge like an argument. Love and anger are able to exist in a relationship; it doesn't mean you don't have a good relationship. To the contrary, it means you've reached a great stage in your love story.
Share this article on
Want to have a happier, healthier marriage?
If you feel disconnected or frustrated about the state of your marriage but want to avoid separation and/or divorce, the marriage.com course meant for married couples is an excellent resource to help you overcome the most challenging aspects of being married.
More On This Topic
You May Also Like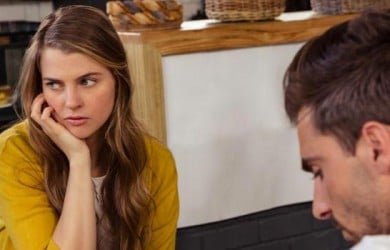 Popular Topics On Married Life