What is Emotional Neglect in Marriage? Signs & How to Deal
Just picture yourself as someone feeling neglected by their partner. Your partner's lack of emotional support is evident despite your efforts to reconnect with them. Can you feel the hurt and frustration that comes with these thoughts?
If even thinking about being neglected by your spouse brings such distress, consider the real emotions of those who endure it daily. It's a deeply challenging situation.
If you're going through emotional neglect in your marriage, this article is here to help. We'll discuss how to handle these feelings, recognize the signs of emotional neglect, and provide practical strategies for overcoming it.
What is emotional neglect in a marriage?
Before getting into the detailed definition of emotional neglect in marriage, it is essential first to understand what 'neglect in marriage' means. Neglect, as a form of abuse, is simply the act of failing to care for someone properly.
While this comes with its fair share of mental and emotional trauma on the part of the recipient, neglect can be passive (when it comes from a place of ignorance or unintentional dissociation from a person) or active (when it is calculated, deliberate, and intentional).
Neglect in marriage occurs when one (or both) parties fail to be there for themselves and their family. It usually leads to an emotional separation or estrangement and can lead to broken homes within record time.
By extension, emotional neglect in marriage occurs when one partner continuously fails to notice, attend to, and respond to their partner's emotional needs. As a result, the other partner may spend most of their time feeling lost, alone, and (may even feel) worthless in the marriage.
One of the significant downsides of this form of emotional abuse (and other forms of emotional abuse, by extension) is that they can be accompanied by other forms of abuse (like physical abuse), after which the relationship may keep going south.
Can a marriage survive without an emotional connection?
While a marriage can technically continue without a strong emotional connection, it is unlikely to be a fulfilling, healthy, or sustainable partnership in the long run. Emotional connection is a fundamental element of a thriving marriage.
It's the glue that can bind couples together, fostering intimacy, trust, and a sense of companionship. Without this emotional bond, a marriage can become distant, cold, and filled with feelings of loneliness and dissatisfaction, increasing the likelihood of divorce.
Over time, the absence of emotional connection can lead to increased conflict, decreased communication, and even the eventual breakdown of the marriage. Therefore, while a marriage might persist without an emotional connection, it is unlikely to be happy or successful.
It's essential for couples to actively work on building and maintaining their emotional connection for a fulfilling and enduring partnership.
What are some examples of emotional neglect in marriage?
In relationships, emotional neglect can often go unnoticed, yet its impact can be profound. Recognizing you're experiencing emotional neglect is crucial for fostering healthier, more connected partnerships. Below are some tangible examples of emotional neglect within a relationship:
Constant disinterest:

Your partner consistently shows little or no interest in your life, experiences, or feelings. They don't ask about your day, concerns, or joys.

Emotional distance during crisis:

When you're going through a difficult time, your partner withdraws emotionally instead of providing support and understanding. They may act indifferent or dismissive.

Limited physical affection:

Your partner rarely engages in physical affection, such as hugs, kisses, or cuddling. Physical intimacy has become infrequent or nonexistent.

Ignoring special occasions:

Your partner forgets essential dates like birthdays or anniversaries, or they don't make an effort to celebrate them together.

Silent treatment:

During conflicts or arguments, your partner frequently gives you the silent treatment or stonewalls you, refusing to engage in productive communication.

Minimizing your feelings:

Your partner often downplays or dismisses your emotions, telling you your feelings are invalid or that you're overreacting.

Neglecting quality time:

Your partner prioritizes other activities over spending quality time with you, leaving you feeling alone and unimportant.

Lack of compliments or appreciation:

Your partner rarely compliments you or expresses gratitude for your contributions to the relationship or household.

Avoiding meaningful conversations:

Your partner avoids discussing important topics or issues in the relationship, preventing the growth of emotional intimacy.

Frequent criticism:

You regularly receive criticism or blame from your partner without constructive feedback or support.
These are a few specific examples of behaviors and situations that can indicate emotional neglect in a marriage. If you're experiencing emotional neglect, it's essential to address these issues with your partner and seek support or counseling to work through them and rebuild the emotional connection in your relationship.
How does emotional neglect affect marriage?
Emotional neglect can have profound and detrimental effects on a marriage. It occurs when one or both partners fail to provide emotional support, attention, and validation to each other. This can lead to feelings of isolation, resentment, and dissatisfaction within the relationship.
If you ask questions like "Is emotional neglect in a marriage abuse?" or "Is neglect a form of abuse in marriage?" you should know that emotional neglect in marriage can be a form of emotional abuse.
It can erode the neglected spouse's emotional well-being and harm the connection between partners. When one partner feels neglected emotionally and sexually, it can break intimacy, communication, and trust, ultimately straining the marriage.
Addressing emotional neglect is crucial for a healthy and thriving marriage, as it requires open communication, empathy, and a willingness to make positive changes to meet each other's emotional needs.
Can emotional neglect be grounds for divorce?
Emotional neglect can be a valid reason for pursuing a divorce. It can lead to significant emotional distress and unhappiness and can be detrimental to one's overall well-being. In many cases, it can also impact the quality of the relationship and the emotional health of any children involved.
Although divorces in America are generally classified under no-fault and fault-based divorce scenarios, the final decision to call it quits and focus on repairing your life or holding onto the reins of this marriage to an emotionally unavailable partner is entirely up to you.
However, before making a final decision, take some time to consider every factor in play, like the well-being of your children, the extent of trauma/abuse you have endured, and any other factor you feel is essential.
27 signs of emotional neglect in marriage
In a healthy marriage, emotional connection and support are vital components that contribute to the well-being and longevity of the relationship. However, emotional neglect seeps into a marriage and can gradually erode the bond between partners, leading to feelings of loneliness, dissatisfaction, and frustration.
Recognizing the signs of emotional neglect is crucial for addressing this issue and fostering a more fulfilling partnership. Here are some common signs of emotional neglect in marriage:
1. Your feelings and thoughts are neither heard nor respected
You find yourself gradually fading into the background of your marriage, with your innermost feelings and opinions seemingly held in disregard by your spouse. It may be a sign that you are grappling with the profound effects of emotional neglect within your marriage.
2. You feel a persistent sense of isolation
One of the potential symptoms of emotional neglect in a marriage is the persistent feeling of solitude. Do you ever experience an extreme sense of aloneness even when your partner is physically present? This sensation can serve as a reminder that something crucial may be amiss.
3. You increasingly seek support from external sources
While marriage typically entails the assurance of unwavering love and support from your partner, if you find yourself increasingly seeking solace and counsel from unfamiliar faces rather than turning to your spouse, it could be a sign that emotional neglect has cast its shadow over your relationship.
4. Your spouse appears more inclined to support others than you
Observe how your spouse navigates the delicate balance between supporting you and extending assistance to others. If their tendency leans noticeably toward prioritizing the needs of others over yours, it may well signify a form of emotional neglect that deserves closer scrutiny.
5. Your spouse prioritizes friends and family over you
While your spouse may wholeheartedly devote themselves to the well-being of friends and family, it can become a troubling sign when this same level of commitment is not extended to you. This disparity may serve as an indicator of emotional negligence within the marriage.
6. Lack of physical intimacy
While seemingly unrelated, a lack of physical intimacy can be a reflection of emotional disconnection.
What does this imply? This underscores the notion that the absence of physical intimacy may be a sign of deeper emotional and physical neglect within the confines of a marriage.
7. Absence of empathy during challenging times
During difficult moments, partners should be able to lean on each other for empathy and meaningful support. The absence of this crucial emotional connection within your marriage could serve as a signal that something vital is amiss.
8. Frequent interruptions and their deeper implications
Although it may appear trivial, consistent interruptions within your conversations carry significant weight. Interruptions may signify a lack of genuine attention, a belief that their words outweigh yours, or even a subtle message that you're viewed as a nuisance.
If this pattern persists in your relationship, it may indicate a deficiency in emotional intimacy.
9. Dysfunctional communication
Effective communication serves as the bedrock of a successful relationship. When communication begins to falter within your marriage, it may be a direct consequence of your spouse's diminishing emotional availability. This can lead to misunderstandings, distance, and a gradual erosion of the connection you once cherished.
10. You are last to know the details about your spouse's life
Discovering that you're consistently one of the last individuals to receive vital updates about your spouse's life, whether they involve significant changes such as career shifts or financial decisions, can raise concerns of emotional neglect within the marriage.
11. You're entirely left in the dark
In more extreme cases, you may not even be privy to these life-altering changes until it's too late or until you hear about them from others. This lack of transparency can be a stark indicator of emotional neglect, especially involving significant financial matters.
For example, they may take a loan, and you wouldn't hear a word of it from them until the debt collectors come for your assets.
12. You simply feel unappreciated
A classic sign of emotional neglect within marriage is the pervasive feeling of being unappreciated. When you begin to sense that your tireless efforts are met with indifference from your spouse, it's an unmistakable red flag.
Does it feel like you are putting in so much effort, and your spouse just turns a blind eye to them all? That could be a sign right there.
14. Or, you may be arguing much more than normal
Conversely, if you find yourselves locked in frequent, intense conflicts over even minor issues that could have previously been resolved through calm dialogue, it may be an indication of deep-seated emotional neglect.
15. Your spouse does all they can to stay away from you
Your spouse's actions may manifest as working longer hours, taking solo trips, or even the simple act of sleeping in separate beds, a departure from your previous norm. Such changes can signal a growing emotional rift within the marriage.
16. You are becoming more independent than usual
You may discover a growing sense of emotional self-sufficiency, born out of the frustration that seeking support or understanding from your spouse often leaves you feeling more emotionally depleted. This independence is a response to emotional neglect within the marriage.
17. Secrets become your companions
While you once embraced complete honesty with your spouse, the accumulation of secrets can indicate a significant shift. Feeling neglected may lead you to withhold information or experiences from your spouse, opting to keep them to yourself.
18. Excessive criticism becomes the norm
Another telltale sign of emotional neglect is an uptick in your spouse's critical behavior. Nothing you do seems to satisfy them, and they may appear to be on an endless mission to highlight your perceived faults.
A constant barrage of criticism can erode your self-esteem and create a toxic atmosphere in your relationship, making it challenging to maintain a sense of emotional connection and intimacy.
19. The silent treatment sets in
Emotional neglect can take both passive and active forms. The silent treatment, in particular, can be a clear indication of emotional neglect within the marriage.
Your spouse's withdrawal from communication can be deafening. This painful silence can lead to feelings of isolation as you yearn for connection but find yourself met with an impenetrable emotional wall.
20. Your partner begins to slack in taking care of themself
Emotional neglect doesn't solely affect the neglected party; it also takes its toll on the neglecting spouse. Over time, the underlying tension in the marriage may manifest as a decline in your spouse's self-care habits. This can include increased stress, diminished emotional well-being, and even physical health issues.
21. You begin to withdraw
As the emotional intimacy within the relationship wanes, your instinctive response may be to withdraw. This withdrawal extends not only from your spouse but also from the relationship itself and everything that serves as a painful reminder of the emotional neglect.
22. The fading of affection
With dwindling emotional intimacy, affection may dwindle in tandem. You may find it increasingly challenging to muster feelings of affection for your spouse, particularly after enduring prolonged emotional neglect.
23. Awkward conversations reveal the gap
When you do attempt to engage in conversation, it often results in awkward pauses, an abundance of "uhms," and uncomfortable silences. These moments reflect the growing chasm between you and your spouse over time.
24. You are suddenly walking on eggshells around each other
The little things you used to be carefree about (like walking around the house in your underwear or stealing a cookie from your spouse's plate during dinner) become unappealing.
Then again, your spouse always seems to be cranky these days, so you aren't exactly sure what would set them off. You would rather hold your breath around them than be at the receiving end of their anger.
25. You are beginning to consider divorce or seeking professional help
Reaching this stage typically marks the culmination of emotional neglect within a marriage. Beyond this is what is usually considered the breaking point, the point at which one person would make the decision to call it quits or seek professional help.
26. Loss of shared interests and activities
As emotional neglect seeps into your marriage, you might notice a gradual erosion of shared interests and activities that once bound you together. This divergence can be a symptom of emotional disconnection.
27. Escapism and distractions become the norm
When one or both partners turn to excessive escapism or distractions like overworking, excessive use of technology, or substance abuse to avoid confronting emotional neglect within the marriage, it's a clear sign that the relationship needs attention.
If you have gotten to this point, you may want to take the next section of this article more seriously.
How to heal from emotional neglect in marriage?
Healing from emotional neglect in a marriage can be a challenging process, but it is possible with patience, communication, and sometimes professional help.
Here are a few pointers to help you sort through your mind and define the most constructive direction you should move in once you have confirmed that you are dealing with emotional neglect in marriage.
1. Take a while to process your feelings
The first step is recognizing that emotional neglect is happening in your marriage. Both partners need to acknowledge the problem and be willing to work on it.
It is okay to feel hurt and angry with your partner. If you don't process these feelings, you may end up making the wrong decisions.
2. Try to communicate
Effective communication is crucial. This may be a bit difficult considering the communication lapses you may have noticed in your marriage. However, it is essential that you open up to your partner about how their actions have been affecting you negatively.
3. If they are open to communication, suggest best practices
It is not enough to tell your spouse what you think they are doing wrong. Tell them what they must do to make things right. This is where spelled-out action plans come into play.
Then again, encourage them to tell you what you must do to make the marriage great again. This way, they don't feel like you are trying to make them fit a construct they don't want to fit into.
4. Consider therapy
Under these conditions, therapy may work wonders. Alongside your spouse, you may want to map out time to consult with a professional to help you sort through your feelings and make sense of what's happening in your marriage.
Watch Susan L. Adler, an award-winning experienced psychotherapist, sharing the top secrets of couples counselors:
5. Patience and persistence
Healing from emotional neglect takes time, and progress may be slow. Be patient with yourself and your partner as you work through the issues. It's essential to stay committed to the process.
Understand that setbacks may occur, but using these as opportunities for growth and learning can strengthen your resolve to rebuild emotional connection and create a more fulfilling marriage.
Commonly asked questions
In relationships, emotional connection is paramount. Here are concise answers to key questions on the significance and prevention of emotional neglect in marriage:
Can a marriage survive without an emotional connection?
A strong emotional connection is the foundation of a healthy marriage. While marriages can endure without it, they often become unfulfilling and vulnerable to issues. Cultivating emotional intimacy through communication and empathy is crucial for long-term marital success.
Is it possible to prevent emotional neglect in a marriage?
Emotional neglect can be prevented by fostering open communication, active listening, and empathy. Couples should prioritize each other's emotional needs, spend quality time together, and seek therapy if necessary.
Preventing emotional neglect requires ongoing effort and attention to the emotional well-being of both partners.
Can emotional neglect be unintentional?
Emotional neglect can be unintentional. It may stem from a lack of awareness or understanding of a partner's emotional needs rather than deliberate harm.
Couples may neglect each other's emotions due to stress, busy schedules, or simply not recognizing the signs. Addressing it requires acknowledging and rectifying these unintentional lapses.
Is emotional neglect a form of abuse?
Emotional neglect is not necessarily a form of abuse, but it can be emotionally damaging. While abuse involves intentional harm, neglect typically results from inattention rather than malice.
However, prolonged emotional neglect can lead to significant emotional distress and should be addressed to prevent further harm.
What role does self-care play in addressing emotional neglect?
Self-care is essential in addressing emotional neglect because it empowers individuals to prioritize their emotional well-being. By practicing self-care, individuals can develop emotional resilience, set boundaries, and communicate their needs more effectively within the marriage.
Self-care can complement efforts to repair and strengthen emotional connections in the relationship.
In conclusion
Emotional neglect in marriage, if left unattended, can lead to breakdown and divorce. Consider the signs we discussed in this article if you feel you are currently going through this in your marriage.
If your consists of "my husband neglects me emotionally and sexually" or "my wife neglects me emotionally and sexually," counseling and professional guidance from qualified therapists and self-care strategies may help you let go of the pain and move on with your life.
To get started with therapy, click here to find expert therapists near you.
Share this article on
Want to have a happier, healthier marriage?
If you feel disconnected or frustrated about the state of your marriage but want to avoid separation and/or divorce, the marriage.com course meant for married couples is an excellent resource to help you overcome the most challenging aspects of being married.
You May Also Like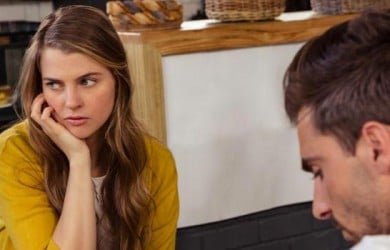 Popular Topics On Married Life