10 Signs of Feeling Suffocated in Relationship & How to Stop It
One thing to be mindful of if you're feeling suffocated in a relationship, it isn't or shouldn't be an indication of abuses happening by a significant other.
That can involve controlling behavior, inclusive of a mate becoming angry or making any kind of direct threat when you aren't available at their whim. If a partnership begins to feel in any way unsafe as opposed to smothering, that's a sign of walking away.
Even feeling smothered in a relationship can sometimes lead to an ending if efforts to work through the problem are fruitless.
Related Reading: 

25 Signs You're in a Controlling Relationship
What does suffocation feel like in a relationship?
Romantic partnerships require work. Days won't always be roses and sunshine. However, each person needs to realize when there's an issue and do their part to work towards a positive outcome to achieve relationship success.
That requires much communication from each person. An issue that requires an open conversation is when one partner begins feeling suffocated in a relationship.
That can look like many things, such as someone who clings requiring constant attention with no allowance for other interactions.
This person ultimately develops codependency where time spent together is no longer mutual planning but instead turns into demands and can begin to drain your energy.
At some point, you will feel less fulfillment and notice dread start to creep in when thinking of the other person. The thing to be mindful of is that the attempts to control each moment of your time can lead to a toxic situation. That's when you need to reevaluate.
10 signs of feeling suffocated in relationship
When a partnership begins to feel like a burden, or you start to resent your mate infringing on every moment of your time, draining your energy, and holding unreasonable expectations, you're experiencing a suffocating relationship. Signs you need to pay attention to are:
1. Your mate is needy or clinging to the partnership
A partner who is unhappy and becomes irritated unless they receive constant nurturing with you to recognize and answer needs consistently is a clingy mate.
Generally, the attention they receive from you is one-sided, with little time put towards supporting you. This person is selfish but expects you to be selfless with them.
Related Reading: 

How to Stop Being Needy in a Relationship
2. Manipulation is the course of the relationship
When being smothered in a relationship, manipulation is a favored method for getting what a partner wants.
Feeling suffocated in relationship results in a mate complaining they don't see you enough or you don't make an effort to spend "quality" time with them when, in fact, they monopolize your every minute of each day.
In some cases, manipulators will feign sickness to prevent you from interacting with family or friends or enjoying time independently.
3. Getting your own space is not an option
A mate who just appears at the most inopportune time assuming themselves into your schedule is not respectful of having your personal space.
For instance, if you have a friends' night or enjoy a specific class but, out of nowhere, your partner intrudes on the event, despite your desire to participate in these activities on your designates red flags that you're being smothered in a relationship.
Related Reading: 

15 Signs You Need Space in Your Relationship
4. Contact throughout the day has reached a point of overkill
Your only opportunity to have time away from your clingy partner is when each of you goes off to work for the day. Unfortunately, even this reprieve is interrupted with countless calls and texts to ensure that your mind is on them.
In the beginning, an abundance of affection and contact might seem somewhat standard with the newness and attempting to get to know each other. Still, after a while, it becomes frustrating and can be annoying having to give a minute-by-minute account of what you've done all day.
5. The jealousy borders on irrational
In this situation, toxicity can rear its head if you're not exceptionally careful. An unreasonably jealous mate will become overly focused on who you spend time with when you're not with them.
Depending on the person, it can result in your partner becoming insecure and agitated, pondering whether your feelings for them are authentic.
Related Reading: 

15 Signs of Jealousy in a Relationship
6. Lying becomes the new norm for you
Feeling suffocated in a relationship can lead to you intentionally finding ways to avoid spending time with your partner.
The idea brings a sense of frustration and dissatisfaction instead of joy or fulfillment. You might even find yourself having to lie to gain a few hours of alone time or enjoy family or friends.
7. Attempts to change you
Some mates who consume their partner's life ultimately attempt to make changes overstepping personal boundaries.
You might not notice these at first, but as time goes, they become blatant and invasive, like buying you clothes as they interpret your fashion should be or rearranging elements within your home.
Behavior like this goes beyond signs of being smothered in a relationship instead, leading to control.
8. You don't feel you can express yourself or speak your mind
Everyone is entitled to their opinion. When views are stifled to the point you don't feel you can speak your mind or express how you feel on virtually any subject, including the relationship, that's incredibly suffocating and a horrible situation in which to be involved.
No one should feel as though they need to internalize their feelings to appease another person; again, this leads to toxicity and is unhealthy.
To know more about manipulation in relationships, watch this video.
9. Your life is no longer private
Social media can be a great tool. However, when you feel smothered in a relationship and the person is exceptionally clingy, you will see yourself plastered all over your mate's social sites, whether you want your life made public or not.
It can include incredibly intimate moments when you're unaware, disagreements you're in the middle of when your partner decides to poll friends for advice, or pictures from your last date.
10. You have become the center of your partner's world
After even a brief period, if you notice your partner no longer making plans with friends or visiting with family, or really participating in any activity that doesn't involve you, it has become a suffocating situation.
Your mate has made it a choice to devote every waking moment to spending time together as a couple instead of understanding that having healthy individual lives outside the relationship is also essential.
10 Ways to stop feeling suffocated in a relationship
In reality, if you don't stop the behavior in the very early stages, when you begin to notice that someone is starting to cling or worse border on controlling, it can grow out of hand rapidly and prove challenging to reel it back in for a healthy situation.
Partners' behaviors are unique from one mate to the next. When someone is capable and permitted to disrespect another person in the ways discussed here, it takes honest effort on the part of each partner to make changes.
It's wise to prepare since sometimes they might change for a period if they feel the relationship could be in jeopardy, but old patterns can resurface. Things you can try if the union is something vital to you:
1. Set solid boundaries
Each of you should have specific personal boundaries that you set, if not at the beginning of the relationship, do so when attempting to repair the current situation. These need to be firm with no allowances for stepping outside without the likelihood of losing the partnership.
Related Reading: 

The Importance of Healthy Boundaries in Marriage
2. Take back your privacy
It's okay to celebrate milestones, special occasions, even good news on social media if each person agrees and is aware that it's happening.
Decide together what parts of the relationship will go public and what will be kept personal between the two of you.
3. Express your concerns
Perhaps your mate is unaware of their behavior and how it's affecting you. Without a direct line of communication, a partner can't fix what they don't know is broken.
It's essential to sit down and express yourself, so your significant other can see the relationship through your eyes, and it might open theirs to becoming less clingy.
4. Work on re-developing your sense of independence
As a rule, couples will make significant decisions as a team. If your experience is that one person is making all the decisions, that starts the cycle of feeling suffocated in relationship.
In order to break free from the pattern, limit the capacity of your mate's "policing" and choose to make daily decisions independently. It's not necessary to discuss every tiny detail of your life with your partner.
5. Lead by example
Encourage your partner to have fun with friends or family or engage in hobbies or activities alone. Displaying trust in the mate and the relationship will help your significant other see they can also trust you to do activities alone without anything improper occurring.
6. Have an opinion
It's healthy for couples to share opinions on different topics even if they disagree. It could potentially end in an argument, but these are also healthy elements of good relationships. Loving couples disagree on many subjects, but it doesn't affect their feelings for each other.
7. Take time each day for yourself
Let your partner know that during a specific period of the day, you'll have time for self-care.
You can spend this time at the gym, in a soaking bath, or doing absolutely nothing. The idea is that it's your time in your space to do with as you choose. We all need that.
Related Reading: 

The 5 Pillars of Self-Care
8. Take some time off
When you notice the stifling behavior is starting to make you dread spending time with the other person, consider taking a break.
It's not beneficial to continue in a dysfunctional situation without at some point choosing to hit reset and take a week away from each other to think, heal, and see where each of you needs to make changes.
9. Gain insight into your mate's behavior
Attempt to gain insight into what's happened in past relationships that might be creating the current behavior.
Generally, when someone is clingy or unreasonably jealous, a self-esteem issue often leads to old baggage that needs airing to get beyond it.
Try talking through personal traumas to see if that helps your mate open up.
10. Couples counseling
If all efforts are in vain, but the two of you genuinely want to give it all hope, couple's counseling is often the best idea. A professional counselor can often get to the bottom of an issue where the partners are only coming up against roadblocks.
Final thoughts
At the beginning of a dating relationship, when someone appears doting with little messages each morning or phone calls a couple of times during the day, no one thinks much of that because everything is new and the couple has a desire to learn all they can quickly.
But when these texts grow in number and the phone calls begin to disrupt daily schedules, these are red flags that need addressing before they go any further.
A loving, trusting, and healthy relationship can withstand separation for individual hobbies, interests, or periods of merely enjoying some self-nurturing.
There should be no fear that a mate will grow irritated or jealous over an imaginary scenario based on insecurity and low self-esteem. Instead, these concerns need to be communicated between the partners with a positive conversation airing any baggage that might be contributing to these unreasonable fears and the overall stifling behavior.
When two people expose their vulnerabilities without judgment from either person, safety and security abound. So, an open, honest discussion's outcome should entail a closer bond minus the need for one person to hover over their partner's every move but instead carry a new sense of trust and faith in the partnership and their mate.
Share this article on
Want to have a happier, healthier marriage?
If you feel disconnected or frustrated about the state of your marriage but want to avoid separation and/or divorce, the marriage.com course meant for married couples is an excellent resource to help you overcome the most challenging aspects of being married.
More On This Topic
You May Also Like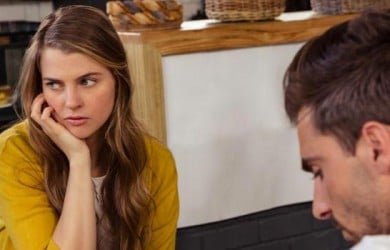 Popular Topics On Married Life