10 Ways to React When Your Wife Yells at You
"My wife yells at me. How do I handle this matter without destroying my marriage? If this is your situation, read to learn how to react when your wife yells at you.
Marriage is about understanding and respecting each other. If this fact is not mutual between partners, it's bound to break the core foundation of their partnership. You must understand that your partner is an independent human with rights, values, and principles. It should guide you in the way you treat them.
Conflict is a normal part of a marriage and relationship. How you react matters and helps you resolve the matter as quickly as possible. However, you hurt your relationship when you swear, yell, or regularly scream at each other.
Under no circumstances should a wife scream at her husband or subject him to emotional abuse. The effects of yelling at a spouse can be devastating to the marriage institution. Before you learn how to deal with a yelling wife, let's talk about what yelling does to a marriage.
What does yelling do to a marriage?
"My wife is yelling at me. What does it mean?" Yelling involves telling someone off in an angry manner. It often happens in a fight between or among individuals. Regardless of the person that gets shouted at, yelling is wrong and shouldn't be tolerated.
Yelling and screaming in relationships show you have no regard for your spouse. Partners fight often, and you can speak in any manner you believe will make your spouse understand you. However, when a wife yells at her husband, it shows a problem.
Most people believe only men are capable of one abuse or the other. However, we have seen signs of abuse in some women. One of the ways a woman insults her husband is by yelling.
Although intentions matter, yelling is simply an act of bullying. It is a weapon yielded by someone attempting to control and dominate the other person by provoking fear in them.
Yelling or screaming in relationships and marriages destroys the values of your marriage. It shows you have no value for your partner and cares less for the marriage. Also, it can make the other person express their opinion.
When partners can't discuss freely with each other, resentment builds up, and they begin to avoid each other. Meanwhile, a marriage needs vulnerability for the partners to communicate constantly. But when the wife yells at her husband, it sabotages their bond.
Is yelling at your wife domestic violence? The effects of yelling at a spouse in a marriage are numerous. It can lead to emotional abuse, fear, stress, weak mental health, depression, and hatred for the marriage. Notably, a cycle of verbal abuse dominates your marriage, which can lead to long-term low-self esteem.
A person who bursts into anger and screams during a dispute typically has underdeveloped communication skills, low self-esteem, and emotional maturity.
10 reasons your wife may yell at you
Although yelling and screaming in relationships is wrong, the following reasons can be why your wife yells at you:
1. She is frustrated
"My wife yells at me. Why?" Your wife may be yelling at you because she is frustrated. Of course, something causes frustration. It could be anything from stress, your behavior, a fight with a friend, etc.
Related Reading: 

What Does Being Sexually Frustrated Mean: 6 Ways to Deal With It
2. She doesn't feel heard
In a marriage, it's vital to always listen to each other. Communication helps to strengthen the connection you both have.
If you have issues and your wife complains, you must understand her perspective and show you have heard her. Otherwise, she might resort to screaming as a way out if she feels you only hear her without listening.
3. She is stressed
"My wife shouts at me at any slight provocation." Your wife probably screams because she is stressed. Stress is a significant worry caused by difficult situations and the trigger of yelling.
Your wife's stress could be from the pressure of a job or business, strenuous physical activities, lots of house chores, or nursing babies and caring for children. As humans, it's normal to want to give in when you can't cope. Therefore, screaming at you is a way to respond.
Related Reading: 

How to Support Your Spouse Deal With Work Stress
4. You don't help her enough
House chores sometimes seem easy to individuals who only participate a little. If your wife is the one that does the house chores every day, and you don't make an attempt to help, it can lead to frustration, anger, and then screaming at you.
Even if your wife is a housewife, her contribution to the house is as valuable as the work you do to make money. Therefore, helping her doesn't devalue you or make you less of a husband.
5. She has pent-up anger
Pent-up anger means anger that has been withheld and not appropriately expressed. This usually happens when issues arise, and you wait to solve them.
For example, if your partner complains about something and you don't do it, they may keep quiet about it. Henceforth, if you notice she flares up over minor issues, she is upset about unresolved matters. Her outburst is about past unresolved issues.
6. She feels you cut her off in conversations
One of the best tips for active listening is to allow the other person to speak without interrupting them. If your wife feels you prevent her from expressing herself appropriately, she might get angry and scream at you.
That means she doesn't get her thoughts and feelings out. The inability to speak out can even lead to resentment towards your partner.
7. You lied to her
"My wife yelled at me." Perhaps she discovered you lied to her. Try to remember if you have done anything recently for yourself to scream at you. This is important, especially if your wife hardly screams at you.
The lie may be white, but it doesn't matter now. All your wife knows is that you lied to her. If you can do that, it tells her she can't fully trust you.
Related Reading: 

6 Ways to Tell if Someone is Lying About Cheating
8. She learns it somewhere
Our background has a lot of influence on our actions in life. When a wife yells at her husband constantly, the reason could be that her parents were strict and abusive while growing up.
As a result, she already sees it as a usual way of reacting to situations outside her control. If you suspect this is the case with your partner, please go for relationship counseling as soon as possible. You need professional help as a couple.
9. Financial problem
Another possible reason your wife yells at you could be related to finance. The inability to make ends meet or contribute adequately to the house can take a toll on someone. If money is essential to your wife, and she can't make enough of it, she can get frustrated, hence, yelling at you.
Related Reading: 

How to Cope When Financial Crisis Hits Your Household
10. She feels terrible about her progress
Marriage is best enjoyed when the partners are growing financially and career-wise. If a husband progresses at his job, but the wife feels stagnant, she may develop pent-up anger, which leads to frustration and then screaming.
Your wife may not like that she has yet to accomplish enough in her life, mainly if the delay was caused due to childbirth and nursing. Also, if you appear to have a more fulfilling career than she does, it might make her angry.
10 ways to react when your wife yells at you
To begin with, there is no justification for a wife yells at her husband. Nonetheless, it is best to know how to react appropriately. Check out the following tips to guide you on ways to react when your wife yells at you:
1. Don't scream back
Two wrongs don't make a right. While it sounds easy to give your wife a taste of her medicine, don't. Screaming back at her will only worsen the matter and make it unresolvable.
Instead, stay calm and move back if you are too close. Also, you may take a walk to calm down from the effect of the screaming.
2. Communicate when she is calm
Observe when your partner is calm and talk to her. Tell her you to understand there is a reason for her action and that you are willing to hear her. Assure her that you won't judge her if she speaks up. No matter how she reacts, try to stay calm and speak in the softest tone as much as possible.
Related Reading: 

15 Ways to Communicate With a Man That Won't Communicate
3. Don't blame her
You are at the receiving end, but try not to use that opportunity to blame her. The perpetrators of bad things know precisely what they have done.
They know it has effects even if they can't grasp it fully. Therefore, please don't blame her. Otherwise, it will escalate the issue. Instead, let her calm down and reflect on her actions.
Related Reading: 

How to Deal With Someone Who Blames You for Everything
4. Don't advise her
When your wife screams at you, best believe she is not looking for advice or someone to fix the situation. Instead, she needs someone to hear, listen and understand them. They want you to know they aren't just ranting unnecessarily.
5. Let her talk
"What do I do about my wife yelling at me?" When your wife decides to talk, pay attention and allow her to talk. Don't cut her off or interrupt her until she signals that she is done. While she is talking, maintain eye contact and nod to show you are following her.
Also, ask questions to reconfirm what she says, so she knows you are paying attention. Even though it's tempting to say something about her points, stay calm; you will have your chance.
6. Take responsibility
"What do I do If my wife yells at me?" Be responsible if you want to know how to deal with a yelling wife. Responsibility is one of the ways to maintain a healthy and stable relationship.
Please take responsibility for your part, try not to be defensive, and encourage her to do the same. Acknowledge her concerns and assure her things will be better in the future. Marriage is teamwork. Every woman wants a bold man to accept his fault and improve in any situation.
Related Reading: 

How Do I Make My Partner Realize Their Responsibilities?
Learn how not to be defensive in a relationship:
7. Apologize
Only a brave and emotionally mature person apologizes when they are called out. If your wife has been concerned about your action, apologize and tell her how sorry you are.
If you didn't do anything wrong, you don't need to (although you may apologize for how your action made her feel), but acknowledge her feelings.
8. Show compassion
Let her know you can feel her frustration. Try to understand where she is coming from. No sane human being will be screaming at another without reason. So, pay attention to her when she talks. Imagine what it must be like to be forced to scream at another.
Related Reading: 

How to Practice Self Compassion for a Satisfying Relationship
9. Do something special for her
Appeal to your wife's emotions by doing something special for her. This action doesn't need an elaborate thing other than the normal things you have done in the past. For instance, go on a date or take a walk around your vicinity. You may also buy her flowers or a gift you know she will admire.
10. Talk to her about the effect of telling on you
Remember to talk about the big elephant in the room. Politely ask her if she understands the effects of constant screaming at you. Work with her to devise a way of reacting appropriately in the future.
Related Reading: 

10 Psychological Effects of Yelling in Relationship
How do I deal with an angry wife?
Anger can be disruptive to the peace of your marriage. It can also lead to mistrust and a break in your shared connection. Nonetheless, some strategies can help you deal with an angry wife effectively.
For instance, when your wife is angry, you can try to be the bigger person and resolve it. Ask her what the problem is and attempt to solve it. Also, make her calm down and listen to her complaints. If you are wrong, apologize and assure her such won't happen again.
How can I stop my wife from yelling at me?
What do I do If my wife yells at me? "When a wife yells at her husband, what should he do?" Talk to her if you want to stop your wife from screaming at you. Express your feelings calmly and clearly.
If she tells you the reasons for her actions and it concerns you, try to change. Importantly, listen carefully to her. If you have done everything to make your wife stop yelling, it's best to go for relationship counseling as a married couple.
FAQs
Let's discuss some frequently asked questions about yelling in a married relationship.
Is it normal for your partner to yell at you?
No, it's never normal for your spouse to scream at you. Yelling in relationships is abnormal; it results from poor communication choices between partners.
Is yelling ok in a marriage?
No, yelling isn't ok in a marriage. It causes discord and rift between spouses.
Takeaway
Partners' yelling at each other can affect their relationship and destroy their bond. A wife who yells at her husband doesn't respect him enough. Some reasons for this act may be frustration, stress, pent-up anger, etc.
The solution is to know how to deal with a yelling wife. The strategies in this guide will help you stop your wife from yelling. Besides, relationship counseling can help you and your partner resolve your issues.
Share this article on
Want to have a happier, healthier marriage?
If you feel disconnected or frustrated about the state of your marriage but want to avoid separation and/or divorce, the marriage.com course meant for married couples is an excellent resource to help you overcome the most challenging aspects of being married.
More On This Topic
You May Also Like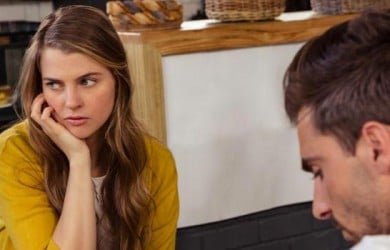 Popular Topics On Married Life