100 Compatibility Questions for Couples
The idea of taking someone as a partner is a major step as there are some things you will need to consider before making it official.
In this piece, we will be looking at compatibility questions in various categories that help you know more about your partner. If you have asked doubtful questions like "are we compatible?" you can find out with these compatibility questions.
100 Questions to see if you and your partner are compatible
Usually, couples compatibility tests and questions help couples determine if they are right for each other to an extent. These compatibility questions provide couples with insights on what to work on and areas where they can come to a compromise.
A research study by Glenn Daniel Wilson and Jon M Cousins shows the result of a measurement of partner compatibility based on factors like social background, intelligence, personality, etc. The results showed the varying possibility of some people becoming couples.
Questions on your perspective about life
These are compatibility questions that help you determine your partner's outlook on some general life issues. With these perfect match questions, you can know where they stand and determine if you are compatible or not.
What are your important life values?

Do you believe in giving people second chances?

Who are the people you consider the most important in your life?

Do you know how to keep a secret?

Do you have close friends and acquaintances with whom you discuss personal issues?

How would your close friends describe you?

What experience shaped your mindset and made you who you are today?

Do you like to sort issues out on your own, or do you prefer to seek help from people?

What is your favorite movie genre?

What is your favorite music genre?

What types of books do you like reading?

Do you make decisions instantly, or do you take time to think through?

How do you think you can change the world in your little way?

What are you most grateful for presently?

What is your preferred vacation experience?

What is your stand on taking substances like alcohol and drugs?

Are you open to eating out, and what is your preferred type of restaurant?

What would you love to change about your past?

What do you do when you need inspiration?

What is that thing that you will never change about yourself?
Related Reading:

  

100+ Questions to Ask in a New Relationship
Questions on intimacy
It is important to mention that intimacy is beyond sex. When intimacy is right, various aspects like sex in a relationship will be a breeze because you both understand each other.
With these compatibility questions on intimacy, you can know if you can work something out or not.
What is your love language?

What are your expectations or concerns concerning sex?

Will you open up if you are not satisfied sexually?

What do you love most about sex?

What is your view on pornography?

Do you feel masturbation is cool or healthy?

What are your limitations to intimacy between the both of us?

Have you ever doubted your sexuality?

What turns you on when it comes to me?

What are your limits when it comes to sex?

Can you trust me with your sexual fantasies?

If you have feelings for someone outside our relationship, will you inform me?

What is your preferred sexual style?
Related Reading

: 

101 Intimate Questions to Ask Your Partner
Questions on dealing with conflict
Relationships and marriage ultimately are full of ups and downs. These compatibility questions or love matching tests will help you determine if you both can deal with conflicts effectively or not.
What is your preferred conflict style?

How do you show it if you are angry?

What part of me annoys you the most?

If we had an intense disagreement, how do you think we would be able to resolve it?

What is your view on physical abuse? Is it a deal-breaker for you?

When we have heated issues, will you involve a third party?

What is the longest you can stay without talking to me when you are angry?

Does your ego prevent you from apologizing when you are wrong?
Questions on relationships
Partners have expectations in a relationship, and with these questions to ask a potential mate, you can know how to work things out.
Has there been a time when you felt so loved and connected in our relationship?

What is your view on having a relationship counselor?

If you feel that you're being taken for granted, will you be able to tell me?

What does commitment mean to you, what actions do you want to see in the light of this?

What is the most romantic idea you have ever envisaged in this relationship?

What is the main reason for wanting to get married, and why do you want to marry me?

Can you mention five things that you appreciate about me?

Do you have a good relationship with your exes?

Do you think online dating is cool?

What was the first thing that attracted you to me?

Where do you see us in the next 20 years?

What is the deal-breaker for you in this relationship?

What are the habits you will most likely give up when we get married and start living together?

Is there any habit or attitude you want me to change before we get married?

What kind of partner do you want to be in this relationship?

How often do you desire to be alone, and how can I play my part?

What is your ideal definition of support, and how do you expect it from me?

What is the one thing that can make you insecure?

What attachment style do you have?
Related Reading: 

10 Meaningful Relationship Questions to Ask Your Partner
Questions on marriage
Marriage involves a long-term commitment, and you have to be certain that you and your partner are comfortable as a couple in various aspects.
These compatibility questions for couples will help you both understand how to meet each other's needs when you get married.
Do you desire to have children?

How many children do you wish to have?

When do you want us to start having children?

Are you open to seeing a marriage counselor?

At what age would you like to get married?

Would you like to grow old with me?

Do you see us having a divorce if we get married?

Do you think your family agrees with our marriage plans?

What are your standards concerning cleanliness and order in a home?

When we get married and start living together, how do we divide the house duties?

Are you okay with the idea of me hanging out regularly or intermittently with my single friends when we are married?
Jessica Cooper's book titled: The Master Guide for Relationship Compatibility helps couples determine if they are the right and compatible marriage material or not. You can get more questions on marriage in this book.
Watch this video to learn more about compatibility for couples:

Questions on finance
One of the reasons why people disagree in relationships and marriage is finance. Asking questions concerning finance might be uncomfortable, but if they are voided, problems surrounding them can arise.
Here are some love-testing questions on finance to ask your partner.
How much money do you make annually?

What is your idea of having a joint account?

Do you currently have debts incurred?

On a scale of 1 to 10, how okay are you borrowing money?

Do you prefer to spend, or are you the saving type?

Is investing money to reap long-term benefits a priority to you?

Are you open to discussing how we will manage our finances when we get married?

Is there anyone to whom you have financial obligations that I should be aware of?

What is the most important financial expense to you at this moment?

Do you prefer to rent a house or to buy one?

Are you open to getting involved in charitable works, and what percentage of your monthly income are you willing to donate?
Questions on communication
Couples who don't communicate will encounter problems, so it is important to know how your partner controls their emotions which would be useful in resolving conflicts.
Here are some relationship compatibility questions on communication:
On a scale of 1-100, how comfortable are you sharing your feelings and concerns with me, even though they are negative?

If I disagree with you on issues, how do you feel?

Can you tell me a lie because you don't want to hurt me?

What is your preferred way of receiving corrections? Will you be angry if I raise my voice at you?

How do you perceive nagging, and do you think you can handle it?

Do you prefer to resolve issues amicably or leave some of the unresolved issues and move on?

What is your preferred mode of communication, text, phone calls, video calls, emails, etc.?

If we have a serious disagreement, do you prefer to give me space and brood over the matter, or would you rather we resolve it instantly?
Questions on career and work
It is essential to be a source of support to your partner's career growth, and with these short compatibility questionnaires, you can know where your partner stands at some point in their career.
Can you quit your job to take care of the home and the kids?

If I get my dream job in another part of the world, will you agree to move with me?

What are your present and future career goals?

If my work requires me to be available for several hours per week, will you be understanding enough?

If you want to take a week off from work, how will you want to spend the week?
Questions on spirituality
Spirituality is an essential topic for intending couples to discuss, particularly because of the need to respect each other's disposition towards it, ensuring it doesn't affect the relationship/marriage.
Here are some compatibility questions on spirituality for you and your partner to know each other more:
Do you believe in the existence of a higher power?

What are your spiritual beliefs?

How important do you take your religious practice?

How often do you practice your spiritual activities?

How involved are you in all spiritual activities and the religious community at large?
Also Try: 

Do You Have A Spiritual Marriage

 
Conclusion
After reading these compatibility questions and answering them with your partner, you should be able to decide if your partner is someone worth starting life with.
Also, if you have no answers to these questions, you can leverage them to begin a conversation with your partner and see their stance on certain issues.
To know if you are a good match, you can check out Patricia Rogers' book titled: Relationships, Compatibility, and Astrology. This book helps you understand how you can interact with others and, ultimately, if you are compatible with your partner.
Share this article on
Want to have a happier, healthier marriage?
If you feel disconnected or frustrated about the state of your marriage but want to avoid separation and/or divorce, the marriage.com course meant for married couples is an excellent resource to help you overcome the most challenging aspects of being married.
More On This Topic
You May Also Like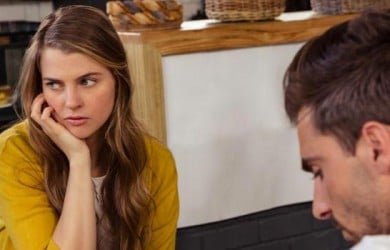 Popular Topics On Married Life