How Your Cell Phone Is Destroying Your Marriage and Relationships
What's the first thing you do when you wake up in the morning? Do you roll over and hug your partner? Or do you grab your phone and start scrolling through social media or checking emails?
Have you ever wondered how cell phone affects relationships? Or how have cell phones changed us socially?
Your cell phone keeps you connected to work, friends, and family wherever you are— but excessive or inappropriate use can damage your closest relationships. Many people ignore the people they're with to attend to the virtual world.
What is phubbing?
This habit creates real-life consequences, including different ways cell phones are ruining relationships or wrecking your marriage.
Phubbing means remaining engaged with the phone rather than interacting with the person you are with.
According to the Cambridge Dictionary, phubbing is
"The act of ignoring someone you are with and giving attention to your mobile phone instead."
This is actually a habit of compulsive use of cell phones to such an extent that cell phones are ruining relationships and could be detrimental not only to real-life relationships but also the daily activities, in general.
Related Reading: Why Women Should Respect Cell Phone Privacy in the Relationship
Why does too much cell phone usage make you less connected?
So, how cell phones affect relationships?
Using too many phones and ignoring the one we are with often harms the quality of relationships, unless the tendency occurs once in a while due to an important mail, message, or call.
However, if this is a pattern, this can often make the person we are with feel less important or significant. It might start with a feeling of sadness and then turn into anger. Such negative emotions are bound to gradually creep into the relationship and can be a clear example of cell phones ruining relationships.
Cell phones ruin relationships because their usage might connect us to the virtual world and people far away but can distract us from the ones near us and deprive us of important things. This can also make us unlikeable in your circle due to our non-verbal behavior.
Such people are seen as less relatable and negative. Face-to-face communication is always more effective than chatting over the phone and makes the connection stronger.
In the case of phubbing, cell phones are ruining relationships. You are essentially destroying your real-life bonds and concentrating on something less concrete.
When the phone is more important than the relationship
Like any tool, cell phones serve useful purposes. They enable you to locate information quickly— remember the days of having to print out a Google map to navigate? No longer. Your phone helps manage your to-do list, track your health, and even file your taxes.
However, when you are always on your phone or spend too much time on it, you isolate the people around you causing cell phones to ruin relationships.
As much as you may think you can multitask, brain research indicates your mind isn't effective at switching between stimuli.
In short, every minute you spend glued to your phone takes your attention away from your partner — not right when you're having an awkward conversation or enjoying a romantic meal.
Phone addiction can lead to issues with sex. Even if you don't grow addicted to online pornography, if your partner does, they may develop unrealistic expectations of regular sexual interactions. But it isn't only pornography that proves problematic.
The deeper issue is the feeling of disconnect you or your partner experiences when you get lost in your phone. You don't truly listen or make eye contact, thus making your spouse feel ignored.
You may think, "Well, we're in the same room. Therefore, we're spending time together." But relationships don't work that way.
To experience richness and fulfillment, you need to let yourself get lost in your partner's eyes. You need to focus on how their touch makes you feel. You can't do that when you're busy collecting likes.
Your cell phone activity may not be as private as you think. Cell phones are ruining relationships to the point of divorce.
Cell phone records can verify infidelity or spousal abuse. If you're carrying on an affair over social media, your partner's counsel can subpoena those records during proceedings.
Related Reading: My Wife Is Addicted to Her Phone- What to do
10 red flags you or your partner has cell phone addiction
Knowledge is power.
Recognizing the red flags of cell phone addiction can help you modify your behavior and stop cell phones from ruining relationships. Watch out for the following negative habits and how cell phones are ruining relationships.
1. Your phone is the first thing in your hand each morning
The first few minutes of your day set the tone for what comes next. If your first activity is reaching for your phone to check email and social media, you start the day feeling stressed and overwhelmed.
2. You use your phone at the dinner table
Strive to make family or partner mealtime a device-free zone. Doing so allows everyone to connect in real life and share their day.
3. You use your phone in bed
When you get ready to sleep, do you read or cuddle quietly with your partner? Get freaky between the sheets? Or scroll through social media? Blue light from cell phones disrupts regular sleep cycles, and bedtime phone use dampens intimacy.
4. You panic when you lose or break your phone
For most people, a broken cell phone is an inconvenience. If you find your heart racing or your mind in a panic when you can't access it for a day or two, this is a clear sign you have an addiction.
5. You hide your use
Do you sneak off to the restroom multiple times a day at work to use your phone? Do you lie to your boss or family about the amount of time you spend online?
6. You use your phone as a crutch
Few of us enjoy the "we-need-to-talk" type of conversation. But reaching for your phone when your emotions become uncomfortable creates distance between you and your partner. It also makes them feel like you don't care.
7. You use it to deal with emotions
You use your cell phone and depend on it when you are dealing with anxiety or depression. You turn to it during moments when you want or seek help.
8. You miss your phone
You witness withdrawal symptoms when the phone is away or when the network is unreachable, like restlessness, irritability, depression, tension, anger, etc.
9. You use it on every occasion
You use a cell phone at social gatherings leading to disconnection in relationships. These events are meant to be enjoyed and interact with people but you are glued to your phone instead of connecting with people in real life.
10. You keep it handy
Your phone is in your hand all the time. And when the phone is near you at all moments, you are bound to check it more frequently.
Related Reading: When They're Married to Their Smart Phones
What are the effects of cell phones on family relationships?
Cell phone addiction is a behavioral disorder.
It takes the person away from the moment and delves them into something imaginary or not really realistic as a result of technology ruining relationships.
Being engaged in the cell phone is not a real form of communication, and even though addicts might make that excuse, control and caution are required to stop cell phones from ruining relationships.
Know the answers to how cell phones affect family relationships and how cell phone phubbing can destroy relationships:
Family members feel ignored
Since the member of the family is used to phubbing, other family members might feel ignored, and belittled whenever they try to approach the person for any vital communication.
Also, cell phones are ruining relationships because a lot of quality time is lost when people stay glued to their phones.
Phubbing leads to co-occurring disorders
Family life gets affected as people addicted to the phone are bound to develop other vices like depression, anxiety, drug use, etc. High engagement with the phone or internet causes exposure to all the good and bad things, disrupting life.
They neglect family problems
There could be many problems, big or small, in the family that would need attention. When the person is stuck on the phone, they often become unapproachable and ignore the family situation where their support would be required.
Cell phone becomes the main reason to fight
Cell phone addicts are so glued to the phone that they tend to quarrel when their phone is not around or there are some phone-related issues.
Cell phones are ruining relationships as this is often the result of anxiety or any underlying severe disorder caused by phubbing.
Addicts resort to phone during family communication
There is no open-level conversation with the addicts. Once they are pointed about the issues or some other issue is discussed with them regarding concerns related to them, they take refuge in their phone at such awkward moments.
In the video below, Lior Frenkel explains why being hooked to our smartphones is the most interesting – yet silent – addiction of our times. He says our fear to miss out is one important reason for our cell phone addiction. Know more:

4 strategies for controlling cell phone usage
Fortunately, you have the power to overcome your cell phone addiction. Give the following ideas a try to break the grip your cell phone has on you and your relationship.
1. Unplug 30 minutes before bed
Make the last half-hour before you turn in a device-free time. Invest in a proper alarm clock so you can keep your cell phone out of the bedroom.
Create a stylish charging station in the living room or kitchen and create a ritual of plugging in all devices — and leaving them there — at day's end.
2. Silence it
Even when you put your phone on vibrate, the distinctive buzz draws your attention from your partner. When you're out together, put your phone on silent and leave it in your bag or pocket. Now, you've got a free hand to hold your partner with.
3. Make it a game
Heading out with the family or a group of friends? Have everyone put their cell phones in the middle of the table. The first person to reach for their phone buys everyone else a dessert or a drink.
4. Take a break
Unless you're on call at the local ER, pick one day a week to power down.
If you absolutely must check emails for work, give yourself 30 minutes, once in the morning and once in the afternoon, to do so. Otherwise, make it a mental game to keep your phone turned off. Intimidated by going an entire day?
Start by turning your phone off for an hour, and gradually build up the amount of time you leave it off.
Final thoughts
Cell phones and relationship problems are not unrelated. Cell phones ruining marriages are more common than we realize at times. We treat ourselves as an exception and let our vices get the best of us.
You must understand that your phone keeps you connected to work and distant friends and relatives— but can isolate you from the one you love most.
By learning to power down and tune in to your partner, you'll experience a stronger, more lasting relationship.
Don't become a cautionary tale about 'how cellphone use can disconnect your relationship' and learn some restraint and enjoy the company of your loved ones.
Share this article on
Want to have a happier, healthier marriage?
If you feel disconnected or frustrated about the state of your marriage but want to avoid separation and/or divorce, the marriage.com course meant for married couples is an excellent resource to help you overcome the most challenging aspects of being married.
More On This Topic
You May Also Like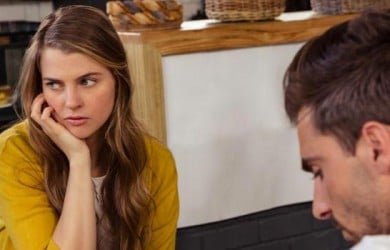 Popular Topics On Married Life