17 Telltale Signs of Rejection in a Relationship & Ways to Cope
So here's the bitter truth: there are some signs of rejection in a relationship. These are things that your partner will never do to you unless they're trying to send across the signal that they are done with you and the relationship.
Although these signs can be glaring, the fear of rejection can keep you stuck in the same relationship for a long time, even when you should be moving on with your life.
Thankfully, the aim of this article is to show you the signs of rejection in a relationship and how to handle this if it ever stares you in the face.
What causes rejection in relationships?
This is one question that has gone unanswered for some time. If you have ever faced rejection in your relationship, you may find yourself asking what you did to deserve to be treated like that.
But hey! The first step to avoiding this is to understand exactly what causes rejection in relationships.
Maybe your partner is not yet ready
This is one of the major causes of rejection in relationships. When you get into a relationship with someone who isn't yet ready for what's involved in it, they may struggle and end up rejecting you.
The same thing may happen if you are the one who's not ready. You may be the one to shy away from your partner.
They may be bothered by other things
Stress is another factor that can lead to relationship rejection. When you are with a person who's burdened by many things at the same time, they may find it difficult to connect emotionally with you.
This can, in turn, cause them to withdraw into their shell and leave you thinking that you've been rejected.
17 signs of rejection in relationships
Rejection in relationships can be challenging to navigate, and it's important to recognize the signs so you can address issues or make informed decisions about the future of the relationship.
Do you suspect that you are being shoved aside? Here are some signs of rejection in relationships.
1. They never respond to your calls and texts
Can you remember how it used to be when your relationship was just starting? It felt like they always had their phones in hand because they always responded to your calls and texts within seconds.
However, sudden silence is one of the signs of rejection in a relationship. Now, they read your texts but never respond. They never take your calls and never return them, either.
2. They have become detached
Even if you share the same physical space, it sometimes feels like you are with a stranger. Strategic communication just goes out the door. You hardly speak to yourselves and enjoy your company again, although you once used to be best of friends.
3. Now, you can't seem to stop fighting
For some reason, it now feels like you can't see eye to eye again. Then again, the fact that you can't stop fighting is usually because they seem all out to find faults in everything you do.
Now, pleasing them looks like an impossible task because all their standards just jumped to the skies, and there's no way they're going to compromise for you.
4. They are always busy
While every partner in a relationship should have their individual life, the place of spending quality time together as a couple cannot be overemphasized.
They never show up for you when you need them. They suddenly start working late hours and staying away from home for a long time. All these are some of the clearest signs of rejection in a relationship.
5. They've said that they aren't ready for commitment
There's every tendency for you to roll your eyes the first time you hear this (because a part of you hopes that they'll soon be over it). However, you may want to pay closer attention if they make a habit of throwing this in your face.
When a supposed partner keeps telling you that they aren't ready for a commitment (even if they say it with a huge smirk on their face), it is usually a sign that they may be resisting any affection and commitment that comes from you.
More often than now, people like this will not commit.
6. They refuse to put a name to your relationship
Have you ever met that person who wants to get all the benefits reserved for couples but is never willing to fully commit?
They want to be treated like a significant other and desire the affection and bonding that comes from that but are never willing to go all the way in.
They change the subject when you ask them to define your relationship and would never admit that they're nothing more than "friends" with you. The more you push them to do something about this, the harder it gets.
7. They start putting themselves back on the market
One of the clearest signs of rejection from a man (or woman, for that matter) is that they'll begin to put themselves back on the market. They deleted their accounts on dating sites when they met you.
However, don't be too surprised if you discover that they've dusted off some of those dating sites and have started getting active there again.
When your partner suddenly starts developing an interest in dating others, that may be a sign that they're ready to move on from you.
8. They become super flirty
It is one thing to have a partner who becomes a bit flirty when they have had too much to drink at a party.
However, when you have a partner who always drools over any other eligible person they see without caring about your feelings, you may want to reassess your relationship.
In your life, you may meet some people who just love the idea of flirting. They could be in committed relationships but still occasionally flirt. However, if they love and respect their partners, they will keep this in check.
However, if your partner keeps flirting with everyone they can, irrespective of your feelings, that could be because they are about to walk out of the relationship.
9. Someone close to them has told you
It is easy to turn a blind eye to all the signs we have discussed so far. However,. One of the strongest signs of rejection in a relationship is that someone close to your partner may soon chip this in.
This might be the after-shoot of something your partner may have said to them. Although you must never take this as the ultimate sign, ensure you don't dismiss it as well.
10. They don't make any big plans with you
One of the clearest ways to know that a person is serious about you and wants to commit is that they factor you into their future plans. They talk to you about all the things they want to accomplish in the future, and they desire that you'd be a part of that future.
On the flip side, one easy way to know that you might soon start feeling rejected in a relationship is that your partner makes no concrete plans with you. Then again, if you are always their backup plan and never the priority, that's a sign for you there.
11. You still haven't met their closest family and friends
One way to know that disappointment may be lurking in the near future is that your partner may not be keen on allowing you to meet their family and closest friends. Usually, meeting their family can be considered a big step toward commitment.
However, you may want to think twice when you are with someone who always has a reason to keep you from meeting those closest to them.
Then again, pay attention to what they say. Have they ever mentioned this meeting? No? Those may be signs of rejection in a relationship.
12. They don't want to meet your family
Family dynamics play a critical role in every romantic relationship, and your relationship may experience turbulence when your family isn't on board.
It is one thing for your partner to keep you away from the people closest to them. However, if they always shy away when you want to introduce them to the people closest to you, you may want to think twice.
How do they react when you bring up the subject of meeting your family? Do they drag their feet when you invite them to meet your closest friends? This could be because they have plans to skip on you in the future.
13. Your sex life is suddenly dead
Was your sex life great before? But now, does something seems to have gone wrong?
One of the signs of rejection in a relationship is that the sex life of the couple dies a natural death. Most times, this decline in sexual activity cannot be traced to a tangible cause (like a health-related issue, increasing responsibilities like the presence of children, or stress.
Most times, this decline in sexual activity is the result of the dwindling emotional connection between the couple.
Then again, you may even be met with a cold shoulder when you try to initiate sexual activity with them.
14. They keep pushing you away
One of the signs that fear of rejection may be eating away at your partner is that they'll suddenly start pushing you away. They'll rebuff you when you attempt to connect with them (like you used to).
They may shut down and walk away when you try to confide in them. They may also try to hurt you with their words when you try to initiate a decent conversation with them.
One sign that your partner is probably getting ready to reject you is that they will start pushing you away. Then again, they won't have any strong reason why they act the way they do when you try to reach out to them for an explanation.
Watch this video to learn about the mistake you avoid when your partner is pulling away from you:
15. You can no longer count on them for support
Earlier, when you needed something, you could always call them. You knew that they would come through for you, and they always did. However, the story is different now.
When you try to reach out to them for comfort and a solution, you discover that they're no longer the partner you used to know. Over time, you may get to a point where you stop looking at them when you need help or comfort.
When you can no longer count on your partner for emotional or physical support, rest assured that something might have gone wrong somewhere.
16. They don't include you in your future plans
One of the signs of rejection in a relationship is when one partner in a relationship starts making significant alterations to their future plans that exclude or diminish the involvement of the other partner.
For example, if a couple had previously discussed moving in together or planning a vacation, but one partner suddenly decides to do these things alone or with others, it can signal rejection.
These changes can indicate a lack of commitment or a desire to distance oneself from the relationship, potentially causing hurt and insecurity in the other partner.
17. They constantly ask for space
Expressing a desire for space refers to when one partner in a relationship communicates a need for distance or time apart.
For example, if John tells his girlfriend Sarah that he's feeling overwhelmed by work and personal stress and needs some space to clear his mind, it could be a sign of this.
Asking for space doesn't necessarily mean the end of the relationship, but it suggests that John needs some time to focus on himself and his well-being before continuing to invest in the relationship.
Effects of rejection on a person
Rejection in relationships can have a terrible effect on the one who was rejected. For one, they may start dealing with rejection anxiety, which causes them to approach any new relationship feeling like it is only a matter of time until they are rejected again. They may develop a fear of being rejected.
Then again, there are the untold effects of rejection on a person's self-esteem. If they don't completely heal, the one who was rejected may end up struggling with self-esteem issues for a while.
3 proven strategies to cope with rejection
Coping with rejection in relationships can be emotionally challenging and distressing. However, there are proven strategies that individuals can employ to navigate the difficult emotions that often accompany such experiences.
Here are some techniques that can help individuals process their feelings, regain their emotional well-being, and move forward in a healthy and productive manner.
1. Don't take it to heart
Not taking it personally is probably one of the most difficult things you'd hear today. However, it begs to be said nonetheless. The first step to overcoming rejection in a relationship is to remind yourself that it was no fault of yours that you were left.
2. Take as much time to acknowledge your emotions and heal
Many times, the first reaction you'll have when you get tired of being rejected in a relationship is to walk out and jump into a new relationship.
Research has shown that rebounds will do you more harm than good.
After getting out of the bad relationship, take all the time you need to heal. Find yourself again. Get new hobbies. Make more friends. Rediscover yourself and practice a lot of self-care before you venture into a new relationship.
3. You may need to see an expert
Sometimes, you may need the help of an expert to fully heal from the effects of relationships like these.
Moving forward, one of the ways to overcome the fear of rejection in love is to see an expert. You may want to consider seeing a therapist, psychologist, or mental health expert.
Commonly asked questions
Here are the answers to some pressing questions that can help you understand rejection better and learn how to know if you have a fear of rejection:
What are the behaviors after rejection?
After experiencing rejection, people often exhibit various behaviors. These can include feelings of sadness, anger, or frustration. Some may withdraw socially, while others seek support from friends and family.
Coping behaviors like self-reflection, engaging in hobbies, or seeking professional help can also emerge. Understanding and managing these behaviors is essential for emotional healing and personal growth.
How long does it take to get over rejection?
The duration to get over rejection varies from person to person and depends on the circumstances. While some individuals may recover relatively quickly, others may take weeks, months, or even longer to heal fully.
Healing involves processing emotions, gaining perspective, and rebuilding self-esteem. Patience and self-compassion are crucial during this process.
What should I do if I think I am being rejected by my partner?
If you suspect rejection in your relationship, open and honest communication is key. Express your concerns and feelings to your partner, and listen to their perspective as well.
Seek couples therapy or counseling if necessary to address underlying issues. It's essential to work together to understand and resolve the situation, fostering a healthier and more connected relationship.
How can I prevent rejection in a relationship?
Preventing rejection in a relationship involves maintaining healthy communication, trust, and emotional intimacy. Foster open dialogue to address concerns early, maintain mutual respect, and prioritize quality time together.
Show appreciation for your partner, practice empathy, and work on personal growth. Building a strong foundation of love and understanding can help reduce the risk of rejection and promote a thriving relationship.
How do you get over a fear of rejection?
To conquer the fear of rejection symptoms, work on self-confidence and self-esteem. Understand that rejection is a part of life, not a reflection of your worth. Challenge negative thoughts, practice self-compassion, and gradually expose yourself to situations that involve the possibility of rejection to desensitize yourself to it.
In a nutshell
In this article, we have covered some signs of rejection in relationships. If you are currently dealing with the fear of rejection (because of a past experience you had), please apply the steps we covered in the last section of this article to find healing.
Remember to take as much time as you need to get over the hurt that follows relationship rejection. You deserve all the self-love you can give right now.
Share this article on
Want to have a happier, healthier marriage?
If you feel disconnected or frustrated about the state of your marriage but want to avoid separation and/or divorce, the marriage.com course meant for married couples is an excellent resource to help you overcome the most challenging aspects of being married.
You May Also Like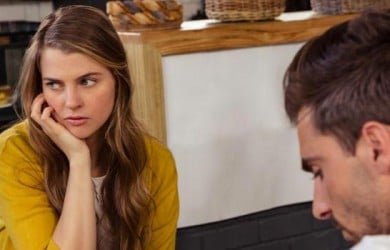 Popular Topics On Married Life