20 Signs He Doesn't Deserve You
When you are in a relationship and start to feel that he doesn't appreciate you, you may begin to ask yourself, "Am I too good for him?"
If you get the feeling that your boyfriend isn't valuing you or putting in the effort, you may even feel like he doesn't deserve me.
If this is the case, read on to learn about twenty signs he doesn't deserve you.
Understanding chemistry vs. compatibility
Before diving into signs he doesn't deserve you, it is helpful to understand the difference between chemistry and compatibility.
Chemistry is that initial spark that connects you spiritually and sexually to your partner, whereas compatibility means you have similarities in values, preferences, lifestyles, and overall interests.
Ideally, you and your partner should have both chemistry and compatibility.
Sometimes, you may have strong chemistry with a boyfriend, which attracts you to him and keeps you in the relationship, but if compatibility is missing, you may not be the best fit.
When you have strong chemistry with a person, you may stay in a relationship, even when you start to notice he doesn't deserve me, because you feel that head-over-heels rush of passion.
When you move on from a relationship where you aren't getting what you deserve, you open the door to new relationships, where you can find chemistry and compatibility and still be valued. Trust that it is possible.
20 signs he doesn't deserve you
When you are trying to decide the answer to, "does he deserve me?" you may find yourself settling for a relationship that is less than fulfilling because you would rather be in a bad relationship than be alone.
While it is human nature to want to establish intimate relationships, you shouldn't have to settle for less than you deserve.
Below are twenty signs he doesn't deserve you, and if you notice one or more of the following, this may not be the right relationship for you:
You put forth all the effort while he does little to nothing

.
A healthy relationship should be reciprocal, meaning that you both put forth an effort to make things work and make the other person happy.
If you are the one who is always apologizing after disagreements, reaching out to make plans, or taking time to do something special to make his day, but he gives you nothing in return, he doesn't appreciate you.
He's entirely self-absorbed.
Just as you should both be putting effort into the relationship, you should both be willing to make compromises and sacrifices for the good of the partnership.
This means that sometimes things may be about you, and sometimes they may be more about him.
If, on the other hand, your boyfriend is so self-absorbed that he never considers your needs or feelings, this is one of the key signs he doesn't deserve you.
Also Watch:

He has made you change who you are for him.
It is normal to grow and evolve during relationships. We may discover new parts of ourselves or take on new hobbies or interests when we explore them with our partner.
However, if your boyfriend rejects who you are as a person and forces change on you, such as by demanding that you change jobs, give up your passions, or alter your entire appearance, you are completely justified in feeling, "You don't deserve me!"
He's broken your trust multiple times.
When you repeatedly catch your boyfriend in lies, this means that he doesn't value you.
You should be able to trust what he says and trust him to follow through with his promises. If he's made a habit of lying, you deserve better.
He tries to make you feel like he's better than you are.
In a healthy relationship, two people should be equals. If he tries to make you feel inferior, you have a right to feel that he doesn't deserve me.
If he puts you down or tries to "one-up" you, this is a pretty clear indicator that he is pretty insecure himself.
He's been unfaithful.
This probably goes without being said, but if he cheats on you, this is a sign he doesn't deserve you.
At this point, it is time to move on and find a partner who can be faithful over the long term, especially considering the fact that studies show that people who cheat once are likely to do it again.
You have to defend him to your friends.
When you find yourself constantly making excuses for your partner in front of your friends, they have probably picked up on the fact that he doesn't care about you.
Maybe he's disrespectful, or perhaps he belittles you or doesn't give you the attention and effort you deserve.
Whatever the case, your friends care about you and want the best for you, so they are typically pretty good judges of when he doesn't deserve you.
You're not a priority.
If you feel like a backup option in his life, this is a pretty clear sign that he doesn't value you.
If he deserves you and your effort, he will make you a priority in his life, and not simply someone he calls when he is bored and has nothing better to do or no one else to spend time with at the moment.
There is a lack of support from him.
Your partner should have your back and be someone you can count on for support.
If he's not there for you when life gets tough or when you need advice, this isn't someone who deserves to be in your life. He should also be there to support you in your goals, so if this is missing, you have a problem.
He never takes you on dates.
This isn't to say that a man needs to take you out every weekend, but it is nice to go on dates once in a while.
At the start of a relationship, a man should be making an effort for you, which includes occasional dating at special places.
If you always hang out at his house or yours, he probably doesn't value the relationship very much, and you deserve more effort than that.
He doesn't engage you in deep conversation.
If you and your guy only discuss surface-level issues or make small talk, this isn't the relationship you deserve.
You should be getting to know each other, and your partner should be interested in the details of your life, as well as your deepest hopes and dreams if he has long-term potential.
Avoiding conversation can also lead you to ignore important problems that need to be discussed in the course of a relationship. If he won't try to discuss issues with you or resolve conflicts, this is a red flag that he doesn't deserve you.
He takes you for granted and shows little appreciation.
It's natural to do nice things for your partner, but it's also not unreasonable to expect some appreciation.
If you are putting forth effort for your man and he simply expects it but never says thank you, he doesn't value you as he should.
This is problematic because research shows that relationships are less satisfying when people make sacrifices for their partners and the sacrifices are not appreciated.
You start to doubt yourself when you're with him.
Your partner should uplift you and make you feel confident about your goals and life plans.
When he doesn't deserve you, you may notice that you start to doubt your abilities. Maybe he is highly critical of you, or perhaps he tells you that your goals are foolish or too lofty.
He's not committed to you.
If you are on the same page about being in a casual relationship, that is one thing, but if you have made it clear that you are seeking a monogamous, serious relationship, but he continues to talk to other women or says he isn't ready to settle down and see you exclusively, it's time to move on.
If you are seeking a committed relationship, this is what you deserve. You shouldn't continue to give him the benefits of being with you if he's going to string you along and just keep you around as an option.
It's clear that he isn't over his ex.
Whether he still brings her up in conversation, talks to her on the phone, or maintains a friendship with her, if he is hung up on his ex, you don't deserve to be caught in the middle of this.
He can't truly be in a relationship if he hasn't moved on from her.
He rejects you sexually.
We all have times when we aren't in the mood, but if he frequently or always rejects your attempts to connect with him sexually, this is a red flag.
Maybe you occasionally ask for sex, and the answer is always no, or perhaps sex is always on his terms, meaning it only happens when he is in the mood.
He doesn't introduce you to other people in his life, and he doesn't want to meet people in your life.
In a healthy relationship, it is natural to want to know the other people in your partner's world. If he avoids introducing you to his friends, he may not want to be seen with you.
Likewise, if he doesn't want to meet your friends and family, he probably isn't very invested in the relationship.
He expects your life to revolve around him.
Maybe you two live in different towns, and he expects you to drive to see him, but he never makes the drive to see you.
Or, perhaps he expects you to be available every time he wants to hang out, but he never makes adjustments to his schedule to spend time with you.
If he expects you to put him first but doesn't do the same for you, this is another red flag that you're settling for less than you deserve.
You communicate mostly via text.
While texting is convenient for checking in or staying connected when you are busy or have to spend some time apart, it should not be your main form of communication.
You deserve face-to-face interaction, and you should never settle for a relationship that exists only via text message.
Getting him to spend time with you is a fight.
If he cares about you and values the relationship, he should want to spend time with you.
You shouldn't have to fight with him or beg to spend time together. If he rarely wants to hang out, you deserve more.
Conclusion
No relationship is perfect, and everyone experiences rough patches from time to time. If you notice one or two signs that he doesn't deserve you, but the behavior improves after a conversation, the relationship may be salvageable.
On the other hand, if you notice most of the signs above, or your boyfriend continues to show that he doesn't deserve you, it is probably time to move on and make way for a relationship where your needs are met.
Share this article on
Want to have a happier, healthier marriage?
If you feel disconnected or frustrated about the state of your marriage but want to avoid separation and/or divorce, the marriage.com course meant for married couples is an excellent resource to help you overcome the most challenging aspects of being married.
More On This Topic
You May Also Like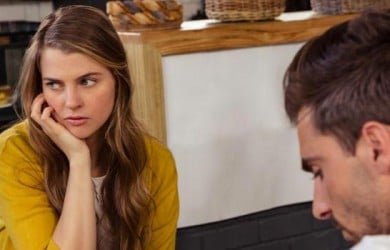 Popular Topics On Married Life