25 Signs He Respects You
For some couples, respect is one of the deal breakers in their relationship. When one party discovers that the other person does not respect them, they could revolt. This can, in turn, lead to conflict in the relationship that can go unresolved for a long time.
This article reveals some obvious signs that you need to look out for to be sure that your man respects you. After checking through these signs, you will be able to tell if he respects you or not.
Related Reading: 

21 Deal Breakers in a Relationship That Are Non-Negotiable
What is the meaning when a man respects you
When you begin a relationship with a man, you might be blind to some of his shortcomings and excesses. The reason is you're still overwhelmed with the tingling romantic feelings that you have little or no time to see where your man is missing it.
However, as the relationship gets older, you will notice some behaviors that do not sit well with you. One of these behaviors is respect. When a guy says he respects you, it can mean many things.
For example, it could imply that he loves and cares about you, putting you on a high pedestal in his life.
Another meaning that shows a man respects you is how he treats you in front of his family, friends and other categories of people.
Dr Jane Smart's book titled: 50 Telltale Signs Your Man is Taking you for Granted helps you understand if he truly respects you or not. This book also teaches how to make him love and respect you.
How does a man respect a woman?
One of the ways a man respects a woman is by letting her know that her opinion counts even if she is wrong. Some men mistake belittling their women when they give certain ideas or lines of thought.
Another sign he cares for you and respects you is how he gets involved in your affairs. If he truly respects you, he will show genuine concern in everything you do.
25 clear signs that he respects you
If a guy loves you, he will respect you. You will also observe the glaring signs when dating a guy who truly respects you. However, there could be moments of confusion when you're not sure of the signs he respects you.
Here are some telltale signs when a guy respects you
1. He does not forget little details in your conversations
One of the ways to know when a man respects a woman is when he doesn't take discussions as trivial. When you notice that he remembers every little detail and he brings them up at a letter time, he's a keeper, and he respects you.
Do not expect him to remember your words verbatim. What matters is recollecting the most important details of every conversation.
2. He provides solutions to your problems and needs
A man who respects you will not ignore your needs because he knows it improves the quality of your life.
Some men are observant to the point where you don't have to tell them what's going on. They can detect when you have a need, and they will surprise you by providing for it. This means that he is always thinking about you, and your needs are a priority.
3. He puts you in his plans
If you are looking for one of the top signs he respects you, it is when he includes you in his plans every time.
He might not have told you directly, but you have a big place in his life. This is why he cannot make some crucial plans without considering you. On the other hand, if he doesn't respect you, you might not hear about his plans until they've been executed.
4. He treasures your opinion
When a man says he respects you, one of the ways you can know is how he handles your opinion. You need to look out for yourself anytime you give suggestions. Does he consider them, or does he wave your opinions aside? If he promises to look into your opinions and he does, then he respects you.
On the other hand, if he doesn't revisit your ideas because he wants to do what's on his mind, he doesn't respect you.
5. He prefers to use "we" rather than "I."
If you notice that he likes using the word "we," it means that he has ingrained everything about you into his existence and ongoing plans. This means that he is looking forward to a future where you are playing a crucial role.
If you are looking at how to tell if someone respects you, watch out for how he uses the "we" and "I" words.
6. He loves protecting you
Protection is one of the signs he respects you, and it assures you that you're safe in his hands and the relationship. When the both of you are not in the same location, he ensures that everything is going fine with you. He only relaxes when he is sure that you are safe.
7. He is interested in your life's goals
If a man respects and loves you, he will always want to know how you are working on achieving your goals. He will follow up and request information on the detailed steps you're taking. If it is within his capacity, he can proffer suggestions or resources to achieve this aim.
A man who respects you knows that supporting your life's goals is better than being indifferent to them.
Related Reading: 

20 Steps to Becoming a Supportive Partner
8. He sees you as a partner, not a competitor
Another way how to know if a man respects you is when he views you as his partner rather than a competitor. Partnership is one of the proficient ways to make a relationship successful. If you and your spouse compete over almost everything, it would be hard to make headway in the relationship.
Also, there would be conflict because you and your partner are in an unhealthy competition to outdo each other.
9. He wants to know how your day went
If you have a man in your life who doesn't care to know the details of your day, then he most likely doesn't respect you.
One of the signs he respects you is caring to know how your day went. You need to know that he is not asking for every little detail, but he wants to be involved in your daily affairs even though he is not physically present.
10. He doesn't like to keep malice
When searching the signs he respects you, one of the things to look out for is his disposition when you have conflicts. A man who respects you is not open to avoiding you after conflicts.
Instead, he will be interested in making up so that the relationship can continue on a healthy note. Generally, men find it difficult to swallow their pride, but he will do it because he loves and respects you.
11. He tells his family and friends good things about you
One of the ways on how a man shows respect to a woman is by speaking good of her to his family and friends. This means that if anyone tries to badmouth her, he would stand up for her and defend her solidly.
Also, he would ensure that his loved ones continue to hear good things about you. He would even hide your shortcomings from the world.
12. He prefers to speak to you before he sleeps
When you notice that he calls or texts you before he sleeps, it shows he cares, and you're always on his mind. He is also respecting you by reaching out to you before he sleeps. This is because you're the center of his world, and he would not prefer to hear anyone's voice or see anyone's messages other than yours.
Related Reading: 

20 Signs a Married Man Cares for You
13. He gives you more attention in public
If you have asked questions like "does he respect me?" watch how he treats you in public. A man who respects you will treat you like a queen in public. On the other hand, if he only adores you in private but treats you shabbily in public, then he doesn't respect you.
He might have many family members, friends and acquaintances, but he will find it hard to leave your side. Rather, he would prefer you go along with him.
14. He remembers your special days
One of the strong signs he respects you is remembering special dates to you. So even if he is the forgetful type, he will set a reminder so that he will not forget those dates. This is because he understands that those dates mean a lot to you, and he cannot sacrifice your happiness for anything.
This is why some thoughtful men spend a long time planning how to surprise you with love and gifts on your special day.
15. He is sacrificial
Being able to sacrifice things that matter to him is one of the signs he respects you. For example, he might have an important engagement to handle, but he can be absent from them just to spend time with you.
This shows that he can go out of his way to make you happy even though it is inconvenient and not beneficial to him. Sacrificial men put their partners first, which is why their relationships are usually successful.
16. He tries to bond with your family and friends
If you are looking for the signs a man respects a woman or his partner, one of the things to look out for is his association with your family and friends. It can be difficult to blend in with a different set of people who are not related to you.
However, because of the love and respect he has for you, he can go all the way to become familiar with them. This would be difficult because it requires much effort. But, he would do all his best to fit in.
17. He likes talking to you about everything
When you want to be with someone who respects you, one of the things to look out for is how they tell you about their daily affairs. A man who respects you will tell you everything going on with him, even down to the most trivial plans.
Of course, not all guys are great at holding such informal conversations, but you can easily tell when someone is making a genuine effort to bring you in on everything going on with them.
18. He loves spending quality time with you
Even though quality time might not be your love language, being in love with your partner makes you look forward to spending ample time with them. If they are not always available, you might begin to think that they don't love and respect you.
Spending quality time with each other fosters the relationship, and it allows the union to remain on the right path. As a result, you will become closer, and the bond will get stronger over time.
Related Reading: 

11 Ways to Have Quality Time With Your Partner
19. He is your biggest fan
If you have asked questions like if a guy respects you does he like you, the answer is yes. Another sign you will observe is he will be your biggest fan. This means that he will always be there to cheer you up during your ups and downs.
If many people are saying unfavorable things about you, his case would be different. He will tell you to look inwards and keep believing in your capabilities.
20. He will go out of his way to make you smile
There will be times when you are not at your best, and you need someone to cheer you up. You might not want to bother your man because you don't want to sound selfish.
However, a man who respects you will observe that you are moody. And he will do everything within his power to plant a smile on your face. Doing this might be uncomfortable for him, but he has realized over time that your happiness is his priority.
21. He misses you when you are unavailable
When you watch how he behaves when you are absent, you can tell if it is one of the signs he respects you or not. If he tells you that he misses you and shows it, he respects you a lot!
In comparison, if he tells you he misses you and doesn't make up for it with good communication and other signs of love, he might be deceiving you. Some men go to the point of traveling down to where you are so that they can make up for the absence.
22. He is a provider
Some men know when you need something, and you might not have to ask before providing it. They are observant to take cognizance of your crucial needs, and they don't remain blind to them.
Even if it is not in their capacity to provide for you, he will find other means to get it available. And he can even apologize to you and accept the blame for not being able to meet your needs at that point.
23. He ensures the sex life is great
One of the factors that keeps a relationship intact is great sex life. A man who respects you will always find ways to satisfy you in bed. He trusts you enough to know that you cannot cheat on him, but he doesn't use that as an excuse not to make you happy in bed.
Therefore, you'll always find him having conversations with you on how to step up your sex life.
24. He stays around on your bad days
Anyone can experience mood swings, and it takes a patient partner to stay by your side even though your behavior is sending them. If you notice that he doesn't keep his distance on your bad days, then he respects you. This means you can always rely on him to be there for you when needed the most.
25. He always tells you he loves you
One of the greatest signs he respects you is when he reiterates his love for you. He doesn't beat around the bush when he wants to express his feelings.
He will always come out plain to let you know how much you mean to him. Then, to further make you happy, he tries to supply you with an overdose of your love language. He already knows what appeals to you, and he can go to lengths to make that happen.
To know if a man loves you, here's a guide by Amanda Reid to help you figure this out. Her book is titled A Woman's Guide to Knowing if Your Man Loves You.
What motivates a man to respect a woman
Treating your partner with respect goes a long way to determine how healthy the relationship will be. Unfortunately, some men do not respect their women because they have not received the right motivation.
One thing that motivates a man to respect a woman is when she apologizes for her mistakes instead of cowering. Men love genuine partners, and it makes them respect you more.
To make your man respect you, check out Daniel Okpara's book titled: Make Him Respect You. This book shows you why men disrespect women, and some surefire ways to make your man treasure and respect you.
Related Reading: 

10 Essential Tips to Foster Love and Respect in Your Marriage
Conclusion
It might be challenging and tricky when you are trying to know a guy's true intention, especially if you don't know what you're searching for. However, with the signs he respects you in this article, you can know if he truly respects you or not. These signs will guide you on how to spot his true feelings for you.
To know the signs a guy is secretly in love with you, watch this video:
Share this article on
Want to have a happier, healthier marriage?
If you feel disconnected or frustrated about the state of your marriage but want to avoid separation and/or divorce, the marriage.com course meant for married couples is an excellent resource to help you overcome the most challenging aspects of being married.
More On This Topic
You May Also Like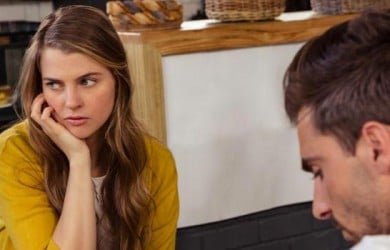 Popular Topics On Married Life