May-December Relationships: 15 Ways on How to Make Age-Gap Relationships Work
It's indeed true that all is fair in love and war. You might've heard others say that age isn't important in love since it knows no limits. This holds for May-December relationships. Similar to other romantic relationships, some fail, and some succeed.
If you have this kind of relationship now or are considering having it, you would want to read all about it and some ways to make it work.
What does it mean to be in a May-December relationship?
According to Mark Twain, age doesn't matter if you don't mind it. This sums up a May-December relationship. So, what is a May-December romance?
This is a romantic relationship between two people with a significant age difference. The name itself was believed to be similar to the seasons. Spring in May signifies youth, and Winter in December signifies wisdom.
Is it important who's older in a May-December affair?
Though May-December love is applicable in various situations, such as an older man falling in love with a younger woman or vice-versa, it doesn't matter who's older. So, the simple answer to this question is no.
Depending on the couple's ages, one might be more focused on their career while the other is more interested in pursuing their passions, such as traveling the world.
There can be stereotypes such as women having more control in the relationship if they're dating younger men or men behaving like guardians if they're dating younger women.
What's important in May to December romance or other romantic relationships is to be truthful and open and feel comfortable with each other.
Do May-December relationships last?
Now, you have a better understanding of what a May-December relationship is. But can age-gap relationships work? Yes, they do. But this depends on the couple.
Watch this video for more insights.
May-December couples should establish a level of understanding without considering who's older. After all, relationships are all about communication.
In a fast-paced life, it's more important to put more effort into making relationships work. If there isn't initiative in a May-December relationship, this could result in feeling a significant age difference.
In a situation like this, a piece of May-December romance advice is to ask yourself if you want to deal with this kind of relationship every day.
But how long do May-December relationships typically last?
There's no single answer for this since it depends on the partners. But, the age difference can drastically affect how long the relationship will last. A study discovered that an age gap of fewer than ten years can bring more happiness. But remember that the happiness you'll get from a relationship can't be predicted.
What challenges can couples in a May-December Relationship have?
Though many experts say that May-December relationships can last, it doesn't mean there'll be no hardships. One of the most difficult things couples in this relationship face is the perception of other people such as their family, friends, and strangers.
May-December relationships can also be affected by the disapproval of society. For big age gaps, a challenge for couples can be blending their families. If they have children, there can be possible problems when integrating them, especially if there's a big age difference.
Aside from the disapproval, some experts say there can be challenges related to life changes such as careers or illnesses because of old age. When entering a May-December affair, these are some of the considerations you have to be aware of.
Being honest about career goals can prevent a bigger problem in the relationship later. You can ensure that you and your partner are on the same page by discussing your personal goals.
All of the mentioned challenges can be overcome and used to the couple's advantage as long as they're prepared.
From the moment you decide to be in this kind of relationship, you must work on building your relationship and making it strong. That's because this is the foundation you must rely on later if problems arise.
It would help if you didn't allow others to easily break what you and your partner have worked a lot on.
15 ways on how to make May-December Relationships work
In a May to December romance, more effort is needed to understand the connections and differences in the relationship compared to other kinds of relationships.
Here are some ways that can help your May-December relationship succeed:
1. Tell your expectations
Though this is applicable to all kinds of relationships, it is crucial to be aware of the expectations in the relationship if there's a significant age difference.
For instance, an older partner may not want to have a child, or the partner wants to focus on financial stability.
At the beginning of and through the course of the relationship, you should be honest with your expectations to prevent miscommunication. A couple's therapy can be helpful if you struggle to integrate expectations into the relationship.
2. Accept your differences
You and your partner likely have a lot of differences, such as your perspectives and interests. The most apparent difference in May to December romance is the different developmental life stages.
For instance, one partner may already have a well-built career while the other one is still currently building theirs.
This won't be an issue if couples are supportive of where they are in their lives. That means not forcing their partners to fit into their lifestyle.
3. Be interested in each other
Older partners should be careful not to lecture their younger partners or tell them what they should do.
Instead, they can show their curiosity by trying to make an effort to learn about their partner as they work on their interpersonal development.
They should concentrate on attentively listening to one another and reflecting on the things they shared so that they can better understand where their partners are coming from.
This means avoiding saying something invalidating what they need and concentrating on what you think they need.
A good tip to do this is to explore activities together that can help deepen your understanding and appreciation of each other more. You can try learning about your partner's past, such as their childhood or teenage years.
If you're the younger partner, you can also discuss your dreams and ask your partner what new interests they want to try or where they see themselves living after they retire.
Having genuine interest helps create stronger connections. With a strong foundation, you grow together instead of apart.
Related Reading: 

How Important Are Common Interests in a Relationship?
4. Think of yourself as a caretaker
For younger partners in May-December Relationships, they should consider that their older partner will need long-term care. That means not being able to do some activities you enjoyed doing together.
They have to ask themselves if they're ready to take the role of a caretaker in the relationship which means making sacrifices, being celibate, and doing additional house chores.
It can be easy to answer, "Yes" to all of these now. But, how about in 5, 10, or 20 years?
It's crucial to reflect and be honest with themselves in this situation. Then, they can discuss the possibilities with their partner depending on the relationship's seriousness.
5. Understand that maturity plays a vital role in the relationship
Older partners must see their partners as an adult instead of someone they need to guide and mold. No one wants to be told or criticized for saying something or behaving in a certain way.
Though they have more experience and wisdom, it doesn't mean their admonitions are always right.
Younger partners should remember not to refer to their partners as old-timers, boomers, or any name indicating that their partner is old. Age isn't the only factor of maturity.
Whether May-December relationships have an older-woman younger-man scenario or if the man is older than the woman, maturity and respect towards each other should be displayed.
6. Discover things you both like
You and your partner can work on the age difference by identifying things you both like. The difference in age won't be significant if you do things you love.
You can try hanging out with each other's friends and socializing with people in different age ranges. You can make your May-December relationship work by being more involved in each other's lives.
7. Make space
This means that balance is important. It would help if you gave time to yourself to recharge and reflect, go out with your friends, and do hobbies that don't entice your partner.
Yes, you and your partner should indeed do things together. But it's also important to have a sense of individuality in your relationship.
Related Reading: 

How Much Space in a Relationship Is Normal?
8. Give yourself time to get used to the relationship
As your relationship progresses, May-December romance becomes easier. The age difference can be overwhelming initially, but it can resolve itself if you allow it.
Since you find your rhythm as time passes, you'll find yourself being able to work around the quirks you and your partner have. Don't worry too much if you're new in the relationship.
9. Respect your relationship
Age won't be the only issue if couples in a May-December affair always fight. Regardless of age, gender, or culture, a strong physical and emotional connection is important in all kinds of relationships.
That means being confident in the person you're in a relationship with, whether they're young or old.
Like other relationships, there are times when things are going smoothly and times when they can be a bit frustrating. As long as both parties learn to value and respect the relationship, then petty arguments shouldn't break them apart.
Related Reading: 

10 Reasons Why Respect Is Important in a Relationship
10. Don't worry about other people's expectations
You'll feel happier by not allowing others to dictate who you should be in a relationship with. Though society might say that your relationship isn't acceptable, it's completely normal to fall in love with someone younger or older than you.
You shouldn't expect others to accept your relationship right away. People who are closest to you might not approve of the relationship first.
You can stay open about what they say about your relationship, but don't let their words affect you. You and your partner will always have the final say in your relationship.
11. Consider conflict as normal
There's no perfect relationship, so disagreements are inevitable. You shouldn't give up a relationship because of challenges except for severe problems such as unfaithfulness or abuse.
Your trust and commitment to each other deepen as you go through your relationship.
12. Give space to each other
All kinds of relationships need time to be alone. Healthy couples can be far from each other and do their own thing.
So, you shouldn't worry if your partner wants their alone time or have nights to themselves from time to time. It would help if you still were individuals with your own lives to live.
Related Reading: 

15 Signs You Need Space in Your Relationship
13. Try to deal with your problems internally
It's natural to call your family or friends when you have a relationship problem. But, sometimes, advice from them can be overwhelming. You have to keep in mind that your voice is the most important. It's best to meditate, have a quiet time, and pray when relationship problems arise. But, you should learn to listen to what your heart says.
14. Be appreciative of each other
Being thankful to each other for simple things, such as doing household chores, reinforces good behavior and makes you and your partner realize why you love each other despite your age difference.
You can also say how appreciative you are that you're part of their life and how much they mean to you.
15. Don't dwell on the past
The past, especially if your partner was married before, is a potential cause for arguments. It's difficult for a relationship to develop if you always think of past issues or fights that were resolved or already discussed.
If you find something hard to forgive, it's best to reflect on yourselves and consider what you want to have from a relationship with your partner.
Related Reading: 

How to Let Go of the Past: 15 Simple Steps
FAQs about May-December relationships
What are the most frequently asked questions about May-December relationships?
1. What are the benefits of being in a May-December relationship?
This kind of relationship can be advantageous for both partners. The younger partner can achieve stability and become wiser because of their older partner.
The older partner can enjoy more exciting things in life and see a different perspective from their younger partners.
With enough understanding, support, and commitment, this kind of relationship can be more fulfilling than others.
2. What is the age gap for a May-December affair?
Though some people consider an age difference of 10 to 15 years significant, this depends on the age.
The age difference can be more significant if one partner is 18 years old and the other is 23 years old compared to one partner who is 75 years old and the other is 80 years old.
The age gap can be from 10 to more than 50 years for adult couples in this kind of relationship.
3. Do relationships with big age differences work?
If you're willing to put in the effort, it can work. Because of the difference in the generation, it can be more challenging. But, as long as your values are the same, a large age difference doesn't matter.
The takeaway
No one can determine if a May-December relationship is made to succeed or fail. Though there are things that can be done to make the relationship work, it all depends on the couple.
Partners need to remember to give themselves and their partner time and communicate what they want and their boundaries.
Share this article on
Want to have a happier, healthier marriage?
If you feel disconnected or frustrated about the state of your marriage but want to avoid separation and/or divorce, the marriage.com course meant for married couples is an excellent resource to help you overcome the most challenging aspects of being married.
Learn More On This Topic
You May Also Like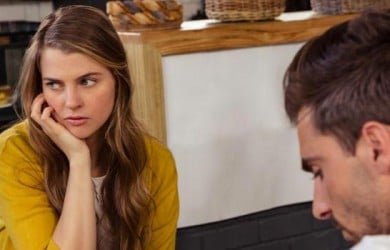 Popular Topics On Married Life