Good Old Marriage Tips That Never Get Old
Today's era is quite different from that of our grandparents. We live in sci-fi movies (or novels, rather) of that time. So many of our daily experiences are nothing like anything our grandpa and grandma could have imagined. Technological advances cause our relationships to be different too. The kinds of relationships that are normal today would have been unthinkable. Even traditional marriage sometimes barely resembles what used to be a norm back then. Yet, there are some pieces of advice that were given to your grandparents that just can't get old.
The division of labor and finances
In the days when our grandparents (and especially their parents) were young, the most usual thing was for a man to work and for a woman to take care of the household and the children. Or, if a woman was working, the jobs were such that they could never even come close to what a man was earning. The division of labor and finances was clear.
At the very mention of a similar arrangement to a modern couple (especially women, of course), most people's instinct screams NO. Nonetheless, this advice can be tailored to fit our era, as it is founded on a principle of equality – even if it doesn't appear so. How come? It promotes that both spouses share their rights and obligations so that none is overburdened. And this is a good thing.
So, in your modern marriage, don't get stuck on "women's" and "men's" chores, of course. But, do consider who gets more free time and energy, and divide your responsibilities justly according to that.
Furthermore, if one is bringing more money into the household, it's fair for the other to find ways to contribute equally by couponing, or by making healthy home-made meals, for example.
Pick your battles
In the old days, this advice mostly implied for women to be tactful and, some might argue, overly submissive. In practice, picking one's battles meant for a wife not to initiate any discussion that wasn't especially important to her or she couldn't win it (gracefully, of course). This isn't what the advice means nowadays.
Nonetheless, you should still pick your battles in marriage. Human brains work in such a manner that they direct our focus towards the negatives. When we are living with another person, there will be a lot of (usually small) negatives on a daily basis. If we decide to allow our minds to concentrate on those, we will miss out on half of our marriage.
So, the next time you catch yourself ruminating about all the things your husband or wife didn't do or didn't do well, try and stop your mind from turning your relationship into a weakness-finder for your spouse. Remember why you married the person.
Or, if you need a more drastic thought exercise, imagine they were gone forever or terminally ill. You wouldn't care if they crumbled all over the place when they eat their toast. So, live your every day with such a mindset to make your marriage truly meaningful.
Small things that count
In the same way, in which we forget to see the positive sides of our life partners, we tend to disregard the importance of the small things in marriage. Small acts of kindness and gestures that show how much we care for them. Married people tend to lose themselves to many obligations, career, financial insecurities. We take our spouses for granted.
Nonetheless, our relationships suffer if we treat them as pieces of furniture. They're more like precious plants that need constant care.
In the old days, husbands would make sure to bring their wives flowers and buy them presents now and then. And wives would make their husbands' favorite meals or organize their birthday parties. You can still do that, as well as countless other small gestures to show your appreciation every day.
Be modest and fair
Being modest sounds like an insult to many modern men and especially women. It sounds repressive, and evokes an image of a submissive, defensive and mistreated spouse. Don't fall into this mistake and disregard valuable advice because of this misconception.
Being modest doesn't equal being abused.
In marriage, both men and women should try and be governed by a few timeless principles. These are truthfulness, moral correctness, and kindness. And if you're true to yourself and your spouse all of the time and practice gentleness in everything you do, you will inevitably find yourself becoming humble and unpretentious. And this is a virtue, not a disadvantage.
Share this article on
Want to have a happier, healthier marriage?
If you feel disconnected or frustrated about the state of your marriage but want to avoid separation and/or divorce, the marriage.com course meant for married couples is an excellent resource to help you overcome the most challenging aspects of being married.
More On This Topic
You May Also Like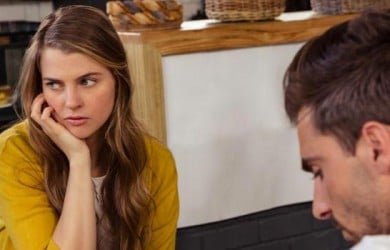 Popular Topics On Married Life