10 Steps for Marriage Restoration
Has your marriage changed over time?
Do you feel like you need to restore your marriage?
Do you feel abandoned and lost?
This situation happens to many people, but not all try to do something about it.
People tend to overlook it conveniently. They prefer to drift apart from their spouses than consider ways for marriage restoration.
It is normal for a marriage to lose its zing over time. Marriage, like life, has ups and downs, but it doesn't mean that it's the end of the road.
So, how to revive your marriage?
Look no further if you have been wondering how to restore a marriage. In this article are given some steps for regaining the joy and excitement in your marriage that you once had.
Read along for some essential tips on marriage restoration.
What is marriage restoration?
Marriage restoration, as the name suggests, is the process to restore your marriage. Troubles in marriage are very natural. However, getting over them and coming out stronger on the other side is also an important aspect of marriage.
Under marriage restoration, you undergo various processes and steps to regain the initial characteristics of your marriage. With time, trust in your marriage may be compromised. Then, under marriage restoration, you will work on that.
Similarly, you may have lost the spark in your relationship. In that case, bringing back the excitement will be a part of marriage restoration.
Ten steps to restore your marriage
1. Have faith
How to fix my marriage? Trust God.
God restores marriages if you have faith in him. If you have that belief, you can take the help of marriage restoration or troubled marriage prayer or consult 'restore marriage ministries' that help restore marriages.
But, if you are not a Christian or don't believe in God, you can choose to have faith and believe in the positive outcome of any situation.
All you need to do is put some honest effort into restoring a broken marriage.
So, please don't give up on your marriage and work on it by making an honest effort. This is the first step you need to take toward marriage restoration.
Related Reading: 

15 Ways to Make Interfaith Relationships Work
2. Recognize the problem
Every problem has a solution, but to solve the problem, you first need to locate it. It is essential to understand what is causing trouble in your marriage.
Feel free to take help from your close friends or family to help you with your issues or guide you in case you are not able to detect the root problem by yourself.
Sometimes, a third-party intervention can help you gain an unbiased perspective of your lingering issues.
Also, consider taking the help of a professional counselor or a therapist to help locate your problems and eliminate them from the core.
3. Work on yourself
It is not right to say that only your spouse is wrong or your partner should be the one to initiate the process of restoration of marriage.
There can be emotional or physical abuse cases where your partner can be entirely at fault. But, in most other cases, the marriage can't be broken because one of the partners is making it worse. Both of you must be doing something wrong.
Simple fights are often converted into a perpetual nasty game of actions and reactions.
It would be best to stop somewhere, analyze, and work on yourself before you expect something from your spouse. So, try to see what you're doing wrong and fix it to rebuild your marriage.
4. Talk to each other
It's impossible to know what your partner dislikes in you or convey to your partner what you dislike about them if you don't talk.
Conversation is a remedy; if the talking is civilized, it can lead to solutions.
When you talk to each other, problems are placed in the open and ready to be resolved. If you have any apprehensions at the inception, involve a mediator to help you begin a conversation.
To learn more about how to find happiness in your marriage, watch the following video.
https://www.youtube.com/watch?v=zhHRz9dEQD8&feature=emb_title
5. Experiment in bed
How to restore your marriage? Have an open mind.
One of the most common killers of a healthy marriage is boring sex.
Lack of passion for physical intimacy could be because of kids or workload, or the presence of other family members in the house. For whatever reason, couples lose their passion in time, which is normal.
You must work on your sex habits to make the bedroom more exciting. Experimenting is always a good idea.
Try role-play, different positions than usual, or find out what your partner likes and surprise them.
6. Find time just for the two of you
If you have kids, it is hard to find time for yourself. Constant work and taking care of the children are killing the joy of life. If you don't enjoy life, you won't enjoy marriage too.
So, however worked up because of the kids or office or other family issues, make sure you find time just for the two of you.
Hire a babysitter or find a different solution but get some time for yourself as a couple. Go to a party, visit a motel, or whatever makes you happy as a couple.
And, if you cannot find time for romantic dates, at least spend a little time away, just in the presence of each other, by going on a stroll, cooking dinner together, or doing anything that the two of you like.
7. Workout
After some time in marriage, the partners tend to forget about how they look. It is normal, and there's much more to love than looks.
But, by working out, you not just keep your partner attracted to you; workout also helps maintain your emotional and physical well-being.
So, working out is something that helps to restore marriages as well as your health. Win-win!
8. Don't blame the other
As previously mentioned, it takes two to tango, so don't put the blame only on your spouse for the problems. Nothing will be solved by blaming, but by realizing the issue and working to fix it.
Blaming only makes the situation worse, makes the other person more nervous, and adds more problems.
Moreover, criticism does more harm to you than the other person by putting you deep into negative thoughts that are corrosive to your happiness.
So, avoid the blame game if you are going about marriage restoration!
Related Reading: 

How to Stop the Blame Game in Your Relationship
9. Repent
It is very important to recognize your contribution to the trouble caused in the marriage and genuinely repent it. If you do not acknowledge what you have done and do not understand where the problem is, marriage restoration may not be a cakewalk.
Acknowledge your mistakes, and try to communicate your complaints to your spouse healthily. Marriage restoration can begin when you both have accountability for your actions and words.
Related Reading: 

Repentance and Forgiveness in Marriage
10. Try counseling
Last but not least, try counseling. Couples therapy now has many options for situations like this. Therapists know how to make broken marriages work again with several scientifically established methods.
Also, online counseling sessions are available by licensed therapists. You can opt for such therapeutic sessions from the comfort of your own home and begin the process of marriage restoration.
The hurdles and benefits of marriage restoration
Marriage restoration is a process, but it might be a challenging one. There are various problems that you might encounter during marriage restoration. However, it is still worth it when you weigh the benefits of marriage restoration.
The struggles of marriage restoration may include a lack of trust and faith. Other struggles can include a lack of acknowledgment or a sense of insecurity in the marriage.
However, it would be safe to say that the benefits of marriage restoration far outweigh the struggles.
If you can get through the hurdles of marriage restoration, the benefits can include a more open mind and honesty, love, and trust in the marriage.
To know more, read this article.
15 powerful prayers for marriage restoration
The power of prayer cannot be negated. People of faith can always rely on prayer to improve their marriage and help them in the process of marriage restoration. Here are 15 prayers to save a marriage from divorce.
Proverbs 3:33-35 The Lord's curse is on the house of the wicked, but he blesses the home of the righteous.
Dear Lord, protect our marriage from outside forces trying to bring us down. Keep every negative energy that tries to harm our marriage away from us.
Malachi 2:16 For the man who does not love his wife but divorces her, says the Lord, the God of Israel, covers his garment with violence, says the Lord of hosts. So guard yourselves in your spirit, and do not be faithless.
God, I have faith in you and our marriage. I want to work toward building a healthy and happy life with my partner. Bless us so we can overcome all the struggles we are going through.
Ephesians 4:32 Be kind and compassionate to one another, forgiving each other, just as in Christ God forgave you.
Dear Lord, I forgive my partner for any wrongs they have done. I seek forgiveness for my mistakes from you and them.
Ecclesiastes 4:9-10 Two are better than one because they have a good return for their labor. If either of them falls, one can help the other up. But pity anyone who falls and has no one to help them up.
Dear God, give us understanding and compassion for each other. Help us restore our marriage with more empathy and love for each other.
1 Corinthians 13:7-8 Love always protects, always trusts, always hopes always perseveres. Love never fails.
Lord, we pray that you give us the strength to improve our marriage. I pray you to bestow upon us more trust and hope that we can include in our marriage.
Hebrews 13:4 Let marriage be held in honor among all and let the marriage bed be undefiled, for God will judge the sexually immoral and adulterous.
Dear God, forgive me for any intentional or unintentional adultery I may have committed while married to my partner. Please guide me to restore my marriage.
Matthew 5:28 But I say to you that everyone who looks at a woman with lustful intent has already committed adultery with her in his heart.
Dear Lord, I pray that you give me strength and love, so I never look at another person with lust. Give me power and love to restore my marriage and love my partner.
Matthew 6:14-15 For if you forgive men their trespasses, your heavenly Father will also forgive you. But if you do not forgive men their trespasses, neither will your Father forgive your trespasses.
Dear God, give me the strength to forgive any wrongs that my partner or anyone else may have done that have harmed our marriage. I was hoping you could give me the trust to forgive myself for any actions that may have impacted my union with my partner.
Romans 12:19 – Do not take revenge, my friends, but leave room for God's wrath, for it is written: 'It is mine to avenge; I will repay,' says the Lord.
Lord, help me forgive anyone who has harmed our marriage. May all negative feelings of revenge and mistrust leave my heart. May I move on happily in my marriage.
1 John 4:7 Beloved, let us love one another: for love is of God, and everyone that loves is born of God and knows God.
God, help us remember our vows to love one another and restore our marriage to the happy life we once had.
Peter 3:1-2 – Wives, likewise, be submissive to your own husbands, that even if some do not obey the word, they, without a word, may be won by the conduct of their wives, when they observe your chaste conduct accompanied by fear.
Dear God, the struggles of the world have affected our marriage negatively. Help me become a better partner, remove mistrust from my heart, and support my partner through this journey of marriage restoration.
Ecclesiastes 4:12 – A person standing alone can be attacked and defeated, but two can stand back-to-back and conquer. Three are even better, for a triple-braided cord is not easily broken.
Dear God, give me love, compassion, and strength to stand by my partner as we try to restore our marriage. Help us remember that we are a team, and together we can overcome any challenges that life throws us.
Ephesians 4:2-3 – with all lowliness and gentleness, with longsuffering, bearing with one another in love, endeavoring to keep the unity of the Spirit in the bond of peace.
Lord, we have started to feel lonely and unsupportive of each other. Help us restore our love for each other and stand by each other as we fix the troubles in our marriage.
Bless my marriage with the fruit of the womb. Remove this barrenness from me. I beg that You plant a seed into my womb Lord. Not just any seed, but a holy and healthy seed of God.

You can restore what the enemy is trying to destroy. You strengthen me at my weakest moments.
FAQs
Here are some frequently asked questions about marriage restoration.
1. Can a toxic marriage be restored?
Yes. a toxic marriage can be restored. However, you must work on removing the negativity from your relationship. Acknowledging that the marriage has become toxic, identifying actions that have made it toxic, and working on them can help restore a toxic marriage.
2. What does God say about marriage restoration?
Marriage restoration is promoted in the Bible.
God is in favor of marriage restoration. However, spouses have free will when restoring a marriage, and God will not force them to do something they do not want. It would be best if you were willing to do right by your partner and your marriage.
God says that if your marriage faces conflict, do not give up. You can work on your marriage until you both intend to improve it. (Ephesians 5:33)
The takeaway
Marriage restoration is a challenging process. It requires a lot of forgiveness, rebuilding of trust and love, and a very big heart to give a failing marriage another chance.
It might be a difficult thing to do alone. Talking to your friends and family and taking their advice may be helpful. However, if you feel you require professional help, marriage therapy is also a good idea.
Share this article on
Want to have a happier, healthier marriage?
If you feel disconnected or frustrated about the state of your marriage but want to avoid separation and/or divorce, the marriage.com course meant for married couples is an excellent resource to help you overcome the most challenging aspects of being married.
More On This Topic
You May Also Like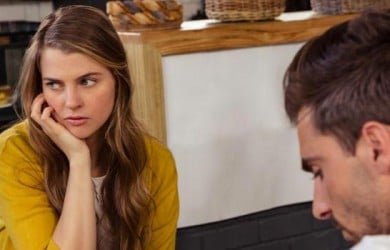 Popular Topics On Married Life