How to Talk to Your Boyfriend about the Future Without Freaking Out
The most discussed topic between couples is "the future."
There is a lot of stuff to talk about with your boyfriend but future talks among all are the most frustrating. At times the conversation gets heated and turns into a debate rather than reaching a mutual consent on one point.
There is no doubt that talking to your boyfriend about marriage and kids is hectic, as these conversations require a lot of thought and attention.
Staying on the same page is not quite easy for both partners. Especially when the relationship is new and you both require time to understand each other and develop intimacy.
The problem is that how to talk to your boyfriend about the future when you are in love and your relationship is going smooth.
The partner may not feel the same as you do, and his reaction may be unpredictable.
Being a girlfriend, you may feel shy and confused about what to talk about with a boyfriend of how to talk to your boyfriend regarding the future? Anyway, keep it easy and delightful.
Here are a few easy tips to help you know how to talk to your boyfriend about the future.
The foundation of any serious relationship is honesty.
Loyalty and honesty of both the partners define how serious they are about the commitment.
There is nothing wrong with discussing marriage with your boyfriend. However, it may be scary to you, you may feel as if it is too early to talk about it, but you have to at some point in the relationship.
Your boyfriend's reaction and participation in this discussion will help you recognize what you are looking for in your future.
There is no need to hesitate while opening up about the future.
This discussion often opens many doors to re-evaluating your boyfriend. Remember, whatever you talk about with him, do it confidently and with full honesty.
Relax and do not overthink
Do not overthink your boyfriend's response to this future talk.
The best thing you can do is relax your mind. You may feel scared to hurt your boyfriend's feelings and end up having an emotional outburst. Therefore, it is better to sit back and jot down the points you want to talk about with your boyfriend.
Go with the flow, while it is tempting you inside to throw a hundred questions on him. Keep yourself calm and cool and let the conversation proceed naturally, as you know that hasty decisions and conversations end up making you regret it.
A future talk should not always be on a fine evening, holding hands with your boyfriend and looking into each other's eyes.
How to talk to your boyfriend about the future?
Keep the marriage topic casual; discuss it in normal conversations. Express the expectations keeping in mind your boyfriend's dreams and goals.
Planning a particular day, making an event about marriage talk, will gain nothing.
And you will end up making your boyfriend uncomfortable and hasty. This conversation should make you and your boyfriend feel blessed and enthusiastic. Talk about marriage in a low-pressure environment, make it sound fun and exciting.
The only way to get a positive outcome from serious topics is by listening to what your boyfriend has to say.
Avoid all the judgments, and control your anger during the discussion.
Things are not always meant to happen your way, so be prepared for anything unexpected. Talking about the future always makes the two uncomfortable.
Therefore, keep your tone low when talking to your boyfriend on how to bring up marriage.
Listen to what your boyfriend has to say about the future; analyze what he has set for you both.
Give a pressure-free floor to him. Maybe he never wants to get married, what if he has to move to a different country.
Listen and talk about future aspects in a mutually understandable way.
Also watch:
The goal of the marriage discussion is to know what your boyfriend has thought about it.
You ask him about his plans because you love him truly and want his genuine participation. How to talk to your boyfriend nicely? Stop being mad at points that do not go your way.
This shows that you are not here for mutual talk; instead, you want everything to happen the way you have thought of.
Do not sit and think that this talk to your boyfriend about marriage would cause problems in the relationship.
A serious commitment will last long forever.
Discuss this with your experienced mates; they can help you how to bring up marriage with your boyfriend. There will be a point when you may get hurt but remember to stay focused and respectful!
Final verdict
The decision is in your hands.
No matter how the conversation goes, you still have the chance to re-evaluate. Conversation to start with your boyfriend should not always be of planning future.
Make your future talk sound amazing and soothing, by bringing other subjects to your talk.
However, relationship talks can still skip to some other day if he does not feel good.
Your boyfriend may not be ready for marriage at an early age because he might have some goals about his career too.
Support him to achieve his goals, so that he can seek a perfect partner in you. Show him reasons to think of you as a woman whom he should marry.
Do not panic when you talk about the future with your boyfriend; take it easy and be patient while discussing such issues.
Share this article on
Want to have a happier, healthier marriage?
If you feel disconnected or frustrated about the state of your marriage but want to avoid separation and/or divorce, the marriage.com course meant for married couples is an excellent resource to help you overcome the most challenging aspects of being married.
More On This Topic
You May Also Like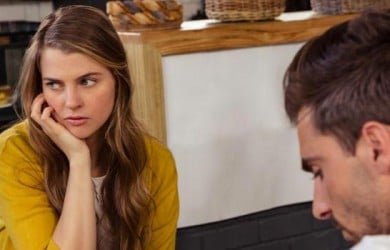 Popular Topics On Married Life