How to Stop Overreacting in a Relationship: 10 Steps
Dealing with someone who overreacts to almost everything can be challenging. You have no idea what you've done that was so horrible to make your partner react that way. It's even harder to see that sometimes you might be the one who's overreacting when your emotions are flying high.
Do you tend to blow things out of proportion every time you have a disagreement with your partner? If you've said yes to it, it can do lasting damage to your relationship. How do you know that you're overreacting, and more importantly, how to stop overeating in a relationship?
Keep reading to understand why you may be overreacting and know the signs so that you can stop overreacting and have a happy and healthy relationship.
5 signs you are overreacting in a relationship
Wondering how to know if you're overreacting in a relationship? Pay attention to these 5 signs to know for sure.
1. You're struggling to control your emotions
If you're asking yourself, 'am I overreacting in a relationship?' check if you're feeling overly emotional. If you have no control over the way you're talking or dealing with your partner, you might be overreacting.
Related Reading: 14 Tips on How to Control Your Emotions in a Relationship
2. You're feeling irritable and on edge
Whatever your partner says or does seems to make you feel like blowing up at them. There's nothing that seems to make you calm down at the moment.
Related Reading: 5 Valuable Tips on Managing Anger in Relationships
3. You're making a big deal out of almost everything
You can feel that you're getting angry over small things but can't seem to stop doing that. You get upset over things you usually wouldn't.
Also Try: Do I Have Anger Issues Quiz
4. You feel like your partner is being insensitive
You start to feel like your partner is invalidating and dismissing your feelings instead of listening to you. You may feel your partner is against you and start assuming the worst.
5.You're experiencing bodily sensations
Your heart rate might increase, and you might start to feel tightness in your chest. You might also feel flushed and start to have headaches and/or stomach pain.
5 examples of overreacting
Let's look at 5 examples of overreacting in a relationship to understand overreacting clearly:
Crying hysterically and yelling at your partner without giving them a chance to explain

Difficulty seeing partner's point of view and dismissing their feelings

Feeling disconnected from the present moment and not being able to accept reality

Calling your partner names or screaming at them

Completely shutting down
10 causes of overreactions in a relationship
To figure out how to stop overreacting in a relationship, you first need to know what causes overreaction in the first place.
1. Feeling disrespected
Often, an overreacting girlfriend or overreacting boyfriend is someone who's feeling disrespected by their partner for some reason.
Related Reading: 20 Signs of Disrespect in a Relationship and How to Deal With It
2. Dealing with illness and pain
Your partner may show signs of overreacting if they've been dealing with chronic health issues.
3. Making assumptions
Not being able to communicate effectively makes people assume instead of knowing their partner's intents. It can make a person overreact to their partner for misunderstanding and blaming them.
4. One or both partners are HSP(highly sensitive person)
A highly sensitive person can feel overwhelmed when dealing with relationship issues that can make them overreact to their partner.
Related Reading: Am I Too Sensitive in My Relationship Quiz
5. When partners are contemptuous of each other
Disregarding a partner's thoughts or opinions while constantly criticizing them can cause a strong emotional reaction in a relationship.
Related Reading: How Seeing Things From Your Partner's Perspective Can Boost Your Love
6. Lack of effective communication
If partners don't know each other's feelings and expectations due to poor communication, they might be prone to overreaction.
Related Reading: What Are the Effects of Lack of Communication in a Relationship
7. Not knowing each other's love language
If You feel like your wife overreacts to everything, check if you're speaking her love language and meeting her emotional needs.
Related Reading: What Are The 5 Love Languages? Everything You Need to Know
8. One or both partners are stressed
People may struggle to act rationally and overreact when they're under a lot of stress.
Related Reading: 20 Causes of Stress in Relationships and Its Effects
9. Mental health disorders like anxiety disorder or bipolar disorder
If you or your partner suffers from an anxiety disorder, cognitive distortions can make it harder to control your emotions.
10. Basic and psychological needs are not adequately met
When someone's hungry, sleep-deprived, as their basic human needs(food and rest ) aren't met, they may struggle to function rationally, and it can make them overreact to their partner. The same holds true for someone feeling lonely and unloved in a relationship.
How to stop overreacting in a relationship: 10 Steps
Here are 10 effective coping strategies for calming your emotions and preventing overreacting in a relationship.
1. Identify your emotional triggers
You may have emotional triggers responsible for stimulating a strong emotional response even when it's totally unwarranted. A trigger can be anything from certain people, memories, places to specific words, tone of voice, and even smells.
You might feel triggered by your partner's word choice, actions, or tone. For instance, you may not like when your spouse cuts you off and doesn't let you finish what you were saying. It might make you feel hurt and dismissed.
This behavior may trigger your overreaction, and you might find yourself yelling at them so that you can feel heard. Once you figure out the source of your strong and intense response, you may start to manage it effectively instead of lashing out.
Related Reading: 11 Ways to Successfully Navigate Triggers in Your Relationship
2. Use 'I-statements' instead of 'You-statements'
Studies have found that, while 'you-statements' provoke anger, 'I-statements' can reduce hostility and defensiveness. If you want to stop overreacting in a relationship, practicing 'I-statements' can be a good place to start.
If it's your partner's defensiveness that gets you all worked up, don't encourage their defensiveness by saying things like,' you always…, or you never…'. Stick to statements like, 'I need…, or I'm feeling…' while you share your feelings and thoughts in a calm manner.
Yelling or screaming at your partner will only put them on the defense, and they won't be able to focus on your feelings. They might get occupied protecting themselves from your anger. That will only add to your frustration and feeling of invalidation.
 Related Reading: 15 Ways to Help Your Partner Understand How You're Feeling
3. Improve your communication skills
Effective communication is key to resolving conflicts without hurting each other. But during a heated conversation, both you and your partner may hear things differently than what was said. Probably your partner simply asked you if you have watered the plants today.
But, you probably started to get all defensive as you heard them accusing you of not doing enough around the house and started complaining that they never water the plants and never help you with anything.
This incident had little to do with your partner's tone of voice but everything to do with how you see yourself and hold yourself to impossible standards. That's why it's essential to give your partner a chance to explain or rephrase the criticism you heard in their tone of voice.
It may take a lot of practice, but you might learn to talk to your partner about what's bothering you over time instead of flying off the handle. The key is to have a conversation instead of an argument.
4. Take a time-out
When you're upset and can't think clearly, your relationship might benefit from taking a time-out. Take some time to disengage from the fight and tell your partner that you plan to reconvene the discussion once you've calmed down.
Leave the room and try to get some perspective. Ask yourself if what's bothering you will matter to you in a few days, months, or years. What if you're just hungry, sleep-deprived, or had a bad day? Do you want to put your relationship in jeopardy due to your overreaction?
Taking a time-out and removing yourself from the situation is an effective strategy to prevent overreaction and resolve conflict in a relationship.
5. Make self-care a priority
Sleep deprivation, hunger, and illness can compromise our ability to control how we react to triggers. If you feel yourself getting all worked up over minor issues, check in with yourself first and see what you'd need to fulfill your basic needs.
If you've skipped a meal or didn't get enough sleep last night, you're more likely to snap at your partner at the slightest provocation. That's why you need to make sure to sleep well and take some time out of your schedule to relax and recharge your mind.
Also, eating regular meals is crucial as blood sugar fluctuations caused by starvation can make you irritable and angry. You need to figure out the reason behind your strong emotional response so that you don't end up overreacting to your partner.
Also Try: How Important Is Self-Care Quiz
6. Avoid making assumptions
None of us can read our partner's mind, and that's why you need to ask your partner for clarification instead of thinking that your presumptions are the facts. Chances are your partner wasn't implying what you thought they did, and you might have overreacted over nothing.
When you make an assumption and overreact based on that, your partner may feel attacked and start overreacting as well. It's best to give them the benefit of the doubt when they tell you what they actually meant to say or do.
7. Don't bottle up strong feelings
Do you tend to suppress your feelings and later blow up at your partner when you can't hold them in anymore? A study conducted by the University of Texas has shown that repressing our emotions can make us more aggressive.
When you don't address relationship issues head-on, they keep piling up, and your negative emotions only get stronger. That's why it's a good idea to talk to your partner about what is bothering you, no matter how uncomfortable that feels.
8. Be empathetic
Be compassionate to yourself and your partner when you're working on controlling overreacting in a relationship. Stop expecting your partner to solve all your problems and take responsibility for your role in the relationship.
Set realistic expectations for your partner, and don't project your problems onto them to avoid working on yourself. Perfectionism can make you overreact to your partner when they can't live up to your expectations.
Try to see things from your partner's point of view. Once you take a step back and put yourself in your partner's shoes, whatever it is that they've done to generate your reaction will start to make sense.
9. Take deep breaths
When you find yourself getting all worked up over something, take a minute to breathe and calm yourself before you respond in a way that you'd end up regretting later. When you get angry and start shallow breathing or upper-chest breathing, it triggers your body's fight-or-flight response.
Your body believes that you're in some kind of danger and need to fight or run away. It's only natural for you to respond with heightened emotion in a time like that. To stop overreacting during that time, try deep breathing to calm your nervous system.
There are many breathing exercises that you can try to manage stress and catch yourself before you start overreacting again.
Watch this video to learn how to change the way you react.
10. Seek professional help
If your overreaction has started to affect your relationship, it's time to get help from a licensed therapist. If you have pre-existing mental health problems like anxiety disorder, a therapist can help you find out more effective ways to cope instead of overreacting.
They can help you understand the root causes of your intense emotional response so that you can control them more effectively. With professional help, you might be able to break the bad relationship habits that have been holding you from having the relationship of your dream.
Not only can a professional therapist help you to develop better cognitive and emotional skills, but they also can offer you guidance to deal with relationship issues and help you process your emotions in a healthy way.
Conclusion
Effects of overreacting in a relationship can be quite detrimental as it hurts you as much as it hurts your partner. Overreacting might look different in different relationships, but knowing the signs can be helpful to prevent it in its tracks.
Being willing to recognize when you're overreacting and seeking professional help so that you can navigate the situation in a healthier way helps you and the relationship in the long run.
Share this article on
Want to have a happier, healthier marriage?
If you feel disconnected or frustrated about the state of your marriage but want to avoid separation and/or divorce, the marriage.com course meant for married couples is an excellent resource to help you overcome the most challenging aspects of being married.
Learn More On This Topic
You May Also Like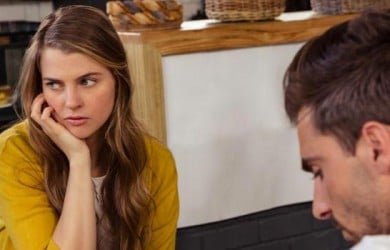 Popular Topics On Married Life