How to Stop Self Harm in My Relationship: 10 Ways
Confusion, confrontation, fear, and a crushing sense of helplessness might ensue when dating someone who self-harms. You don't have to try to figure out why this is happening.
Sometimes, we can't provide for the ones we love the way we'd like to. The fact is that we might still be insufficient.
For both you and your partner, this must not be very comforting. No matter how difficult their situation is, you can always do something regarding how to comfort your partner.
You are not obligated to alleviate their suffering or attempt to alter the emotions that are causing it.
It's not broken, so there's no need to fix it. No matter how much you might want to help if, for instance, your girlfriend cuts herself or you are dating someone who self-harms, you might not be able to help.
You can't heal someone else for them, but your presence is crucial. As long as you are kind and gentle support that keeps things steady and makes the world a little less painful while they heal, that is more than enough. With that said, this article will guide you on how to stop self-harm in your relationship and how to talk to someone about self-harm.
Why do people self-harm?
There are many potential reasons for self-inflicted wounds, none of which can be pinpointed with absolute certainty. The experiences of different people can vary substantially. Specific individuals use self-harm as a coping, often related to a recent or past event.
The rest of us don't always have such a crystal-clear understanding of the causes, making it more challenging to comprehend what's happening. You may not always understand what led to your injuries in the first place. Even if you don't know why you hurt yourself, there are ways to get help. You can also get help to recognize if your partner might be self-harming.
To understand the reasons of self-harm further, watch this video.
Signs your partner might be self-harming
Although it's impossible to generalize about any one combination of symptoms, certain ones are typically present in situations where the individual is at risk of hurting themselves.
Behavioral signs
Putting on clothes that aren't suited for the season, like long sleeves when it's hot outside.

Stopping practices that expose one's body, such as swimming.

Having less success in social, academic, or occupational settings.

Being injured but without plausible explanations for such wounds.

Keeping weapons or other potentially harmful items out of sight.

Hiding self-harm through clothing garments
Psychological signs
Showing signs of anxiety

Showing signs of depression
Psychosocial signs
Loss of enthusiasm for past interests

Isolating oneself from other people

Shifting emotions drastically

Shifts in the regular pattern of their eating and sleeping
Physical Signs
Overdosing on medicine when it's not needed

Evidence of self-injury, such as cuts or wounds

Hiding self-harm or any evidence linked to them
How to stop self-harm in my relationship: 10 ways
You are now aware of why some people inflict self-harm, and you know the signs when someone is going through it. What should you do if you see all the signs in your partner? To save your partner and your relationship, how do you comfort your partner?
If my partner shows signs, here are some things you can do if you want to know how to stop self-harm in your relationship and how to improve your partner's self-control.
1. Ask your partner out for a date
Changing the environment could help your partner learn how to stop self-harm. Leaving the usual surroundings can provide a warm diversion and buy your partner some much-needed time away from self-harming implements.
Due to this diversion, the temptation to use them may pass. It's advisable to take things slowly at first and gradually build momentum but refrain from forcing your partner to do anything.
Getting some exercise together can be a welcome diversion from negative thoughts and a release from the stress they can cause to your partner. One reliable source says that many people who self-harm use sports and other forms of physical activity to help them control their impulses.
Of course, going to the gym may be the last thing on their mind when they don't feel like doing anything at all. Crowded places can be intimidating at first, but after a while, they may find that the constant buzz of other people makes them feel more at ease.
Even temporarily, being in the company of others can be enough to reduce the urge to hurt themself.
2. Please encourage them to talk to their closest friend
The benefits of receiving emotional support from close ones are numerous. Whenever they're feeling suicidal, you can encourage them to talk to their friends or even to you as their partner. Talking to someone about self-harm is essential for their happiness and yours.
It can be challenging to talk about their feelings, but confiding in a single person who would listen without judgment can be an excellent first step. Pandemic-safe alternatives to in-person visits include video calling apps like Zoom or the old-fashioned telephone.
Although FaceTime and other video chats can't replace in-person interactions, their extra distance may help people feel more comfortable discussing sensitive topics.
Related Reading: 

10 Ways to Help a Friend in a Bad Relationship
3. Listen to music with them
Listening to music often serves as a momentary respite from intense emotions. Putting on the music you both enjoy can distract your partner from the temptation to self-harm, think about what's bothering them, and devise different coping strategies.
Music affects anyone's mood so listen to music that fits their mood and might be comforting when they feel depressed, overwhelmed, or lonely.
This can be useful in some situations if your boyfriend cuts himself or tries to self-harm. Listening to mournful or nostalgic music may assist if they're grieving the loss of a loved one, friend, or pet.
Nonetheless, listening to music that shares feelings of pain may not always help. Listening to gloomy music could worsen things if they're already feeling down.
4. Please help them to experiment with guided imagery
If your girlfriend is suicidal and is struggling to deal with uncomfortable or distressing thoughts, meditation can help her. However, not everyone will benefit from meditating.
If they are already feeling down, it can make them feel even worse, increasing their propensity to self-harm. One possible alternate strategy that you can do to help your partner is guided imagery.
Making up nice mental scenes is one way to practice this visual method of relaxing. For stress relief, a distraction from thoughts of self-harm, and a sense of inner serenity and quiet, try to make them imagine a rich scene with sensory elements.
5. Do something creative together
Turning to art can help communicate feelings and divert destructive impulses when words fail. The therapeutic benefits of art extend well beyond that. So making your partner do something creative together will be a big help.
The term "flow state" describes the mental and emotional condition one enters when thoroughly absorbed in an activity. When in the zone, the other sensations, like hunger, weariness, pain, fear, and emotional anguish, tend to melt away.
The pleasant emotions of inspiration and contentment can also be increased in a flow state.
6. Hide anything that your partner can use to harm themselves
Anything you think could lead your partner to do self-harm, hide it. Put the key to your tool chest in a place where your partner won't be able to find it easily.
Even the sharp things around the place should be where they can't reach or lock all the drawers and hide the key where they will never find it. So if you want to learn how to improve your partner's self-control, it all comes down to hiding all equipment and tools they can use to hurt themselves.
7. Please don't force them to say they won't do it again
Most of the time, if your boyfriend or your girlfriend is suicidal, asking someone to stop engaging in self-harm is futile since it becomes a habit.
Putting such emotional pressure on them can make them even worse, as they may start to worry that you'll be disappointed in them if they repeat the behavior. Remember that this has nothing to do with you or your bond with them.
Your boyfriend or girlfriend who self-harms needs to figure out why they do it and devise alternatives. Try to look past the actual acts of self-harm and into the motivations and feelings beneath them.
8. Stay away from fights and unreasonable demands
It would help if you didn't frighten them away by confronting them even while discussing their self-harming behaviors with them.
It's essential to keep in mind how the other person must be feeling even though it's likely that you are unhappy, puzzled, or even angry about the situation and would like to complain to them about it.
Take your time and demonstrate how compassionate you can be by carefully listening and refraining from passing judgment. This will prevent you from leaping in and making things much more difficult.
It's in everyone's best interest to avoid conflict and avoid making demands, as doing so is never helpful.
It's impossible to convince someone to cease self-injuring by coercion if your girlfriend or boyfriend self-harms. Research indicates that attempting to convince someone to stop before they are ready is typically futile.
It would help if you did not take it personally that they are hurting themselves because it's not because of you in any way, shape, or form.
Related Reading: 

How to Avoid Fighting and Managing Disagreements with Love
9. Maintain open communication
Communication is extremely important in any relationship, but it's especially important in a partnership where one person engages in self-harm. Suppose you do not feel comfortable discussing the topic of self-harm with them.
In that case, you may find it preferable for them to talk to a mental health professional or someone with more experience dealing with self-harm. Remember that intentionally hurting oneself is nothing more than a coping strategy that your beloved one has acquired.
10. Motivate them to seek out professional advice
It's wonderful that they have confided in you, but because you are not trained in mental health, you can only provide limited assistance to them. They may also seek support from a therapist or another professional in the field of mental health.
When you're wondering what to do when someone cuts themselves, always encouraging someone to seek the assistance of a professional is a great starting step. They should be encouraged by the fact that you are supporting your partner throughout the entire process.
Related Reading: 

15 Best Websites for Online Relationship Advice
The takeaway
While coping methods to stop self-harm might sometimes reduce the need to engage in self-destructive behavior, they rarely address the underlying issues causing the suffering. This indicates that you may experience recurring thoughts of hurting yourself later.
A knowledgeable and compassionate therapist's assistance is frequently essential in bringing about good long-term transformations. In a therapeutic environment, it's possible to initiate the process of working toward long-term solutions to problems such as the cycle of self-harm and other unpleasant feelings.
So if your girlfriend self-harms or your boyfriend self-harms, it's best to encourage them to seek professional help.
Share this article on
Want to have a happier, healthier marriage?
If you feel disconnected or frustrated about the state of your marriage but want to avoid separation and/or divorce, the marriage.com course meant for married couples is an excellent resource to help you overcome the most challenging aspects of being married.
You May Also Like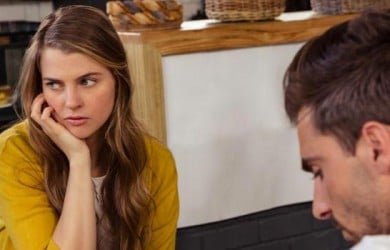 Popular Topics On Married Life