Common Relationship Struggles
Even if Hollywood produces movies that often make it look otherwise, everyone who is in a relationship experiences relationship struggles.
In other words, no relationship is picture-perfect, with the handsome man who brings home roses each week, is fully engaged in all the household tasks, and always remembers your mother's birthday.
What is interesting is that there are some common points of struggle in all relationships; conflicts that most couples meet at various points in the relationship life cycle.
Let's examine what these typical struggles are, and look at some suggestions on how to fix things
You spend more time apart than together
Remember the early days of your courtship, when you could not wait to spend time with your beloved, sacrificing the time you used to spend on your friends, hobbies and workouts just to be with your crush?
Of course this behaviour doesn't last, which is a good thing, but now you find yourself on the other end of the spectrum, spending more time apart than with your partner.
Perhaps this is due to your professional life, are you climbing the corporate ladder?, or perhaps you are taking your relationship a little too much for granted.
Whatever the reason, don't neglect the importance of dedicated time together.
Lack of connection with each other
While it is healthy to have your own passions, you need to nurture your special couple's bond by carving out time each week to be one-on-one. It can be a date night, or just working out together at the gym, with a nice shared sauna afterwards, but do make a concentrated effort to connect intentionally with each other at least once a week if you want to avoid relationship struggles.
Your fights are always about the same things
You and your partner seem to return to the same themes each time you argue. You are experiencing a serious a serious relationship struggle here.
The inequality of who does what around the house, his untidiness or you never taking the hair out of the shower drain; whose turn it is to take the kids to soccer, or someone's online shopping habits. These aren't big, life-impacting disputes, but they reoccur over and over again.
How to stop this cycle of a vicious relationship struggle?
There are a couple of solutions to this. The first is to realize that none of these things is a big deal, and just accept that this is the way things are.
Are these relationship struggles worth getting worked up over?
If the answer is yes, you'd rather clean these areas up in your relationship, then take some time to sit down and talk about how the issue is important to you and how you'd like your partner to be on board with the resolution.
Make sure the discussion is done calmly, avoiding any emotional outburst.
Ask them to suggest a way to reach resolution for household chores, maybe a chart that shows who is responsible for what each week? Same for who is driving the kids to soccer practice and be open to their ideas, or at the very least, acknowledge their contribution to the conversation.
You can't stand your partner's family
Whether it is their parents, or just a certain brother-in-law, not feeling close to your in-laws is a common complaint.
This is a difficult situation as these are people you are forced to interact with and gives rise to more relationship struggles.
You want everything to be pleasant for your partner's sake, as well as yours and your children. This is one of those situations where you might want to take the high road, acting "as if" everything is fine.
If your father-in-law is a loudmouth racist, spouting ideologies that you find abhorrent, you can quietly say that you respect his opinion but do not agree with it emphasizing "his opinion" and not "him"—don't make it personal or just ignore his rants.
There is also the option of not attending events where the offending person is present.
If you feel the in-laws will find it constructive, a good honest airing of grievances can make a difference, but the conversation must be managed with excellent listening skills.
Ask yourself if they are capable of participating in this type of discussion before setting it up. In any case, take comfort in the fact that you are not alone.
Your partner has vices that you do not like
Maybe your partner has developed an alcohol or drug addiction, or he spends every evening playing World of Warcraft.
Maybe he's got a porn addiction that is impacting your sex life.
Whatever the vice, you are resentful of the space it is taking in your relationship. Is there a solution to this? This is a challenging situation, because when someone is in the throes of an addiction, they rarely see things as problematic until they hit bottom.
You need to take care of yourself.
First, address the issue with your partner. Start gently: "You seem to really get a great deal of pleasure from those video games you are playing every night. But I feel neglected. Is there a way we can figure out how to give me enough attention and you still can indulge in your World of Warcraft hobby?"
For an alcohol or drug addiction, you can find a lot of information and support with groups such as AA and NA and their special meetings for families affected by the addiction.
Your sex drives are not aligned
You want more sex than your partner, and it is becoming a real issue. All couples go through sexual deserts or moments when one partner just isn't feeling it.
Ask yourself if this is just a temporary situation. Perhaps your partner is stressed at work. Perhaps there is an underlying medical issue that is impacting libido, such as antidepressants or blood pressure medication.
Aging can have an effect on sex drive. Make sure you both look at the big picture and talk about what might be going on before you make any life-changing decisions such as leaving, or having an affair.
Share this article on
Want to have a happier, healthier marriage?
If you feel disconnected or frustrated about the state of your marriage but want to avoid separation and/or divorce, the marriage.com course meant for married couples is an excellent resource to help you overcome the most challenging aspects of being married.
Learn More On This Topic
You May Also Like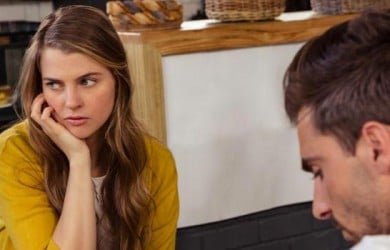 Popular Topics On Married Life